The fall approaches and it's a slower week than usual in local government. Not that it ever really slows down. Even with a pandemic and a host of other national crises, the nuts and bolts of municipal matters still need to be fastened and inventoried. The resources provided in this weekly report are intended to help get you up to speed with how to get involved.
This work is supported in part by the Piedmont Environmental Council, as well as contributions from the audience. Please let me know if you have any questions!
Monday, September 14
So far, there are no meetings that I can find, but I'm sure one will turn up. In the meantime, I've got a lot of stories in the works from recent meetings. Last week I was able to write up a story on the possibility of new rules to promote "missing middle" density in Crozet. So much happens each week and I am finding ways to boost my capacity to write about as much of it as I can.
---
Tuesday, September 15
The Charlottesville Board of Architectural Review convenes at 5:30 p.m. for a meeting that mostly deals with specific properties. In one item, the BAR will be asked to weigh in on the proposed interpretive text for a plaque to be installed on the Coal Tower on East Water Street. The structure is a historically protected site that was built in 1942 and decommissioned in 1986. The developer of the mansions on East Water Street agreed to preserve the tower as part of the project. (staff report) (meeting info)
Another item is a preliminary discussion on restoration of an historic structure in Fifeville that is one of the city's individually protected properties (IPP). The Barksdale-Coles-Hailstock House dates back to the 1860's and the request is to demolish several outbuildings constructed in the mid 20th century. (staff report)
A third item of note also involves an IPP. Wyndhurst is a two-story house on Preston Place near the University of Virginia. There is a proposal to build a new apartment building in the yard. (staff report)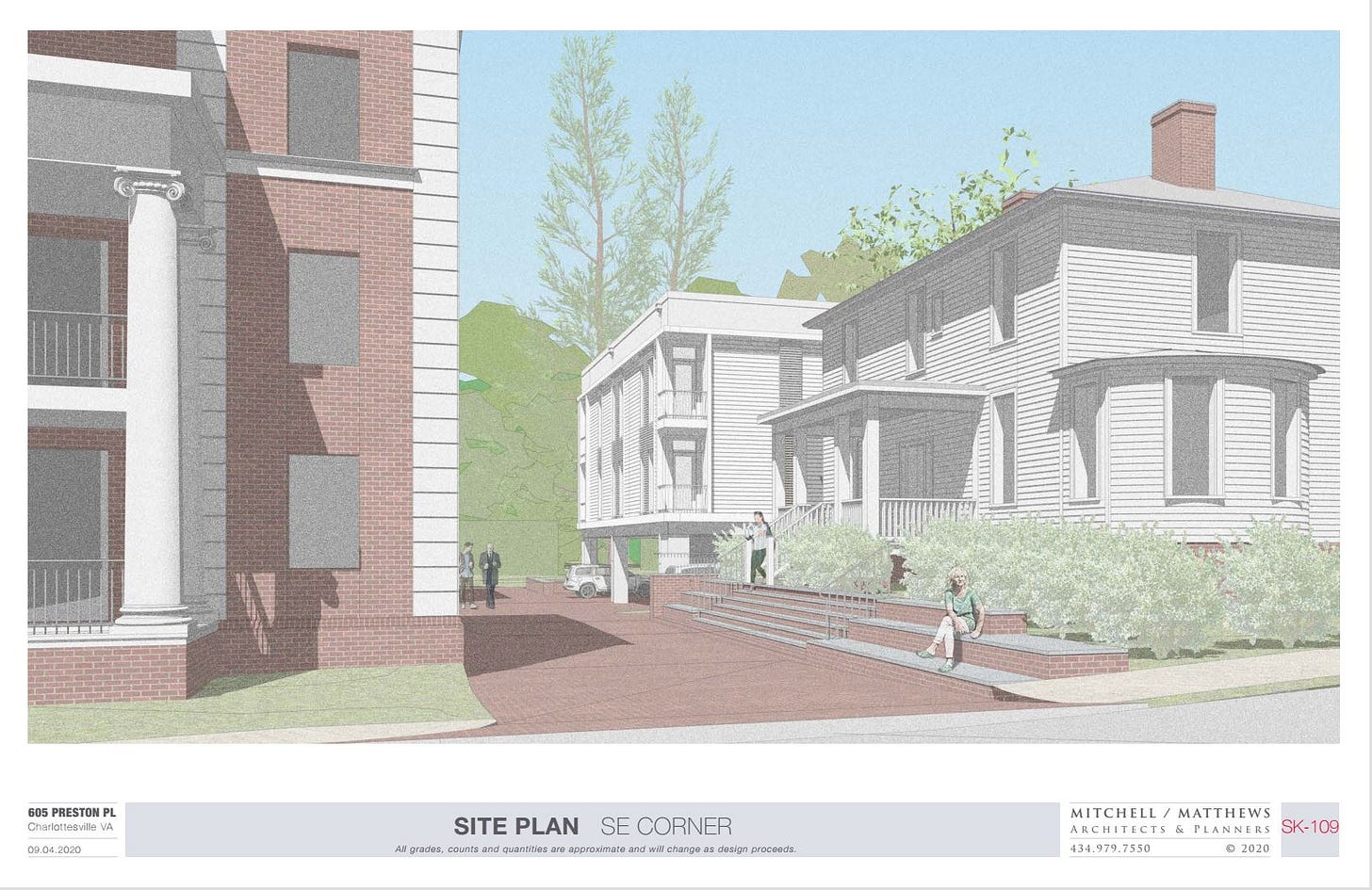 *
If you've ever wanted to get involved with the finer details of transportation planning in the community, a good place to start would be to watch the Albemarle Planning Commission beginning at 6 p.m. (agenda)
The Commission will hold a work session on how applications for new neighborhoods calculate the number of vehicle trips they will generate. The Albemarle Board of Supervisors received a briefing on September 2 on the"traffic impact analyses" (TIA) that go into land use planning.
"TIA's are also sometimes referred to as traffic impact statement, and they evaluate a proposed project's effect on the transportation system," McDermott said. "They are done for rezonings and special use permits and they are requested when a development would substantially affect transportation on public roadways."
These studies can also help developers and planners come up with ideas for ways to mitigate the impacts on the new development, currently usually discussed in terms of proffers.
"They have to be specifically attributable to the development that is proposed, they have to be reasonable, and they are offered by the applicant, so we can't require those," McDermott said.
In another work session, the president of Jaunt will give a presentation on the on-demand service his agency will pilot in the coming months. (presentation)
*
At 11 a.m., Charlottesville's in-house talk show will feature a discussion on how the city is preparing for the elections. (info)
---
Wednesday, September 16
The Albemarle Board of Supervisors meets at 1 p.m. for another virtual meeting. Among the items is a recognition of Bruce Dotson, a former member of the Albemarle Planning Commission. (BOS agenda)
The first item is another request for a special exception to the county's home stay ordinance. The property owners at 2405 Northfield Road are seeking the ability to have five guestrooms, up from the two allowed under the code. Staff is recommending denial. (staff report)
Next, Supervisors will get an update on the work plan for the Community Development Department, something that last happened on March 4. Since then, the pandemic hit and that had an effect on staff capacity to complete much of the work that had been agreed upon. Supervisors will be asked to give direction on large initiatives that may have to wait, such as a strategic update of the county's Comprehensive Plan. (staff report)
In the evening are several public hearings:
The consent agenda has much of note this time around:

Supervisors will set October 21, 2020 date for public hearing on changing county code with respect to how gender is referenced (staff report)

Developer of Woolen Mills seeks further delay to meet obligations in performance agreement with Albemarle's Economic Development Authority (staff report)
*
The Fluvanna Board of Supervisors meets at 7 p.m. in person at the Fluvanna County Library in Palmyra. Items on the agenda include a request for a new electrical substation from the Central Virginia Electric Cooperative, a reduction in late tax payments, and a replacement historic marker for one that was destroyed when a vehicle ran into it. (agenda)
*
Something called the Community Policy and Management Team meets at 3:30 p.m. You can get to it from either the Charlottesville link or the Albemarle link. The latter has a handy explanation.
"The Albemarle CPMT meets jointly with the Charlottesville CPMT once a month to conduct business related to the Childrens Services Act (CSA)," reads the website. "The CPMT is the responsible entity for all CSA policies and programs to ensure accordance with all state mandates and local CSA policies."
*
The Charlottesville Housing Advisory Committee meets at noon. (meeting info)
Thursday, September 17
The Natural Heritage Committee meets at 5 p.m. Among the items on the agenda is a discussion of using volunteers to clear out invasive species in county parks. (meeting info) (agenda)
The Places 29 North Community Advisory Committee meets at 6 p.m. There was no agenda available at production time. (meeting info)
The 5th and Avon Community Advisory Committee meets at 7 p.m. The group will get an update on the High School Center II that is planned for county-owned property off of Mill Creek Drive near Monticello High School. (meeting info)
The Charlottesville Human Rights Committee meets at 6:30 p.m. (meeting info)
Friday, September 18
So far, nothing on the calendar. What am I missing?

And of these items, what would you like to have written about? What do you want to know? What would you want to get involved with?