Sep 11, 2020 • 19M
Special edition: Tarron Richardson resigns as Charlottesville City Manager; City Attorney Blair to serve as interim
Regular updates of what's happening in local and regional government in and around Charlottesville, Virginia from an award-winning journalist with nearly thirty years of experience.
This is a special edition of the Charlottesville Community Engagement newscast and newsletter for September 11, 2020.
Charlottesville City Council met today at a meeting that brings to a close a brief chapter in the city's government history. At the beginning of the meeting, Dr. Tarron Richardson was the city manager, the top administrative official and Council's main hire.
"I move to approve the resolution accepting Dr. Richardson's resignation," said Vice Mayor Sena Magill.
City Attorney John Blair will serve as acting city manager and deputy city attorney Lisa Robertson will serve as acting city attorney.
Richardson's resignation is effective September 30, but Blair will take over duties tomorrow. Here's Charlottesville Mayor Nikuyah Walker.
"On behalf of the Charlottesville City Council I would like to thank him for his service and I wish him well in his future endeavors," Walker said.
"For the past sixteen months it has been an honor to as your city manager," Richardson said. "I would like to thank City Council, the residents, and business owners for the opportunity to serve this community. Due to personal reasons I have decided that the time is right for me to tender my resignation."
Mayor Walker said a robust search for a replacement would be found. In the meantime, John Blair will work with Richardson as he assumes the position in the short-term.
"I would like to thank the Council for the honor to serve as a temporary bridge until we get a new city manager hired for Charlottesvlle," Blair said. "I deeply believe that this city, its residents, its Council and its workforce can work together and we can make this city a more just, fair, equitable and prosperous place."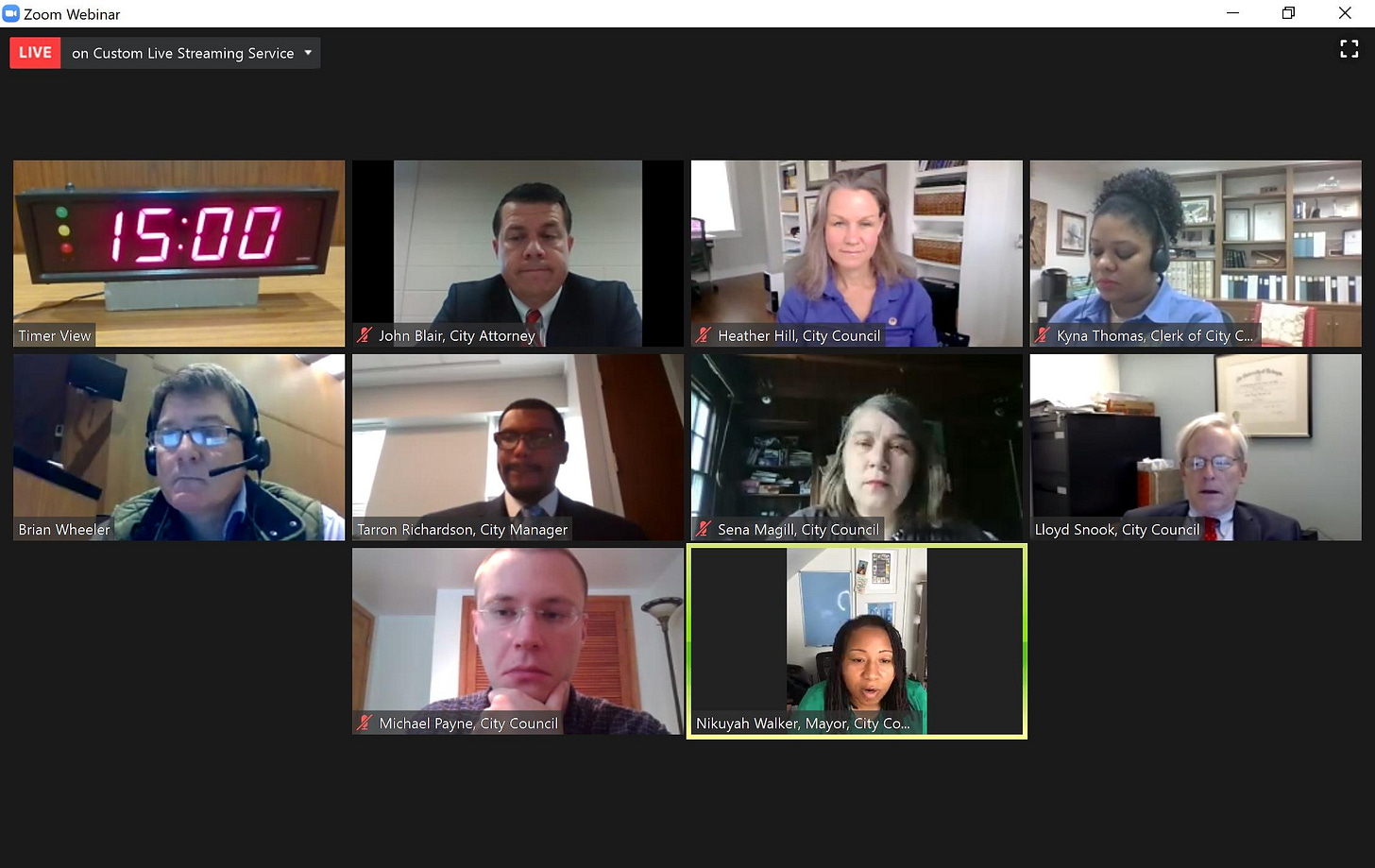 Richardson said he was ready to leave.
"We worked through COVID which took up a lot of time," Richardson said. "We worked a lot of hours and then from that with the untimely death of George Floyd we started having a number of protests and different things like that in the city and working day in and day out, many many hours, takes a toll on you mentally and physically."
The audio version of edition this contain consists of questions and answers from the press and the public. Take a listen, and share with your friends, family and co-workers.