Sep 4, 2020 • 9M
September 4, 2020: Charlottesville's positive COVID rate is higher than surrounding counties
Regular updates of what's happening in local and regional government in and around Charlottesville, Virginia from an award-winning journalist with nearly thirty years of experience.
Today's Patreon-fueled shout-out is for Abundant Life Ministries, "working hard to create a better future for the Charlottesville community."
*
There are another 1,111 cases of COVID-19 reported this morning by the Virginia Department of Health and another 10 deaths. The seven-day average for positive tests has increased to 7.8 percent. There are another 35 cases in the Thomas Jefferson Health District with 26 of those listed as being from Charlottesville, seven from Albemarle and two from Louisa. Another Albemarle resident has died for a total of 57 in the district to date. The positive rate for the district has increased to 7.3 percent.
Last night, the Charlottesville School Board was briefed on local conditions by Dr. Beth Baptist, the director of city schools. She has access to VDH health metrics that are not available to the public. She reported that the city of Charlottesville on August 31 had a much higher seven-day positive rate than surrounding counties.
"For the overall health district we are at 7.1 percent," Baptist said. "Charlottesville is 9.7 [percent]. When we get to ten, that's when it becomes a red indicator and so we're very close to that. Last week it was 3.6 [percent]." 
City schools open virtually on Tuesday, the same day that the University of Virginia will open to in-person instruction.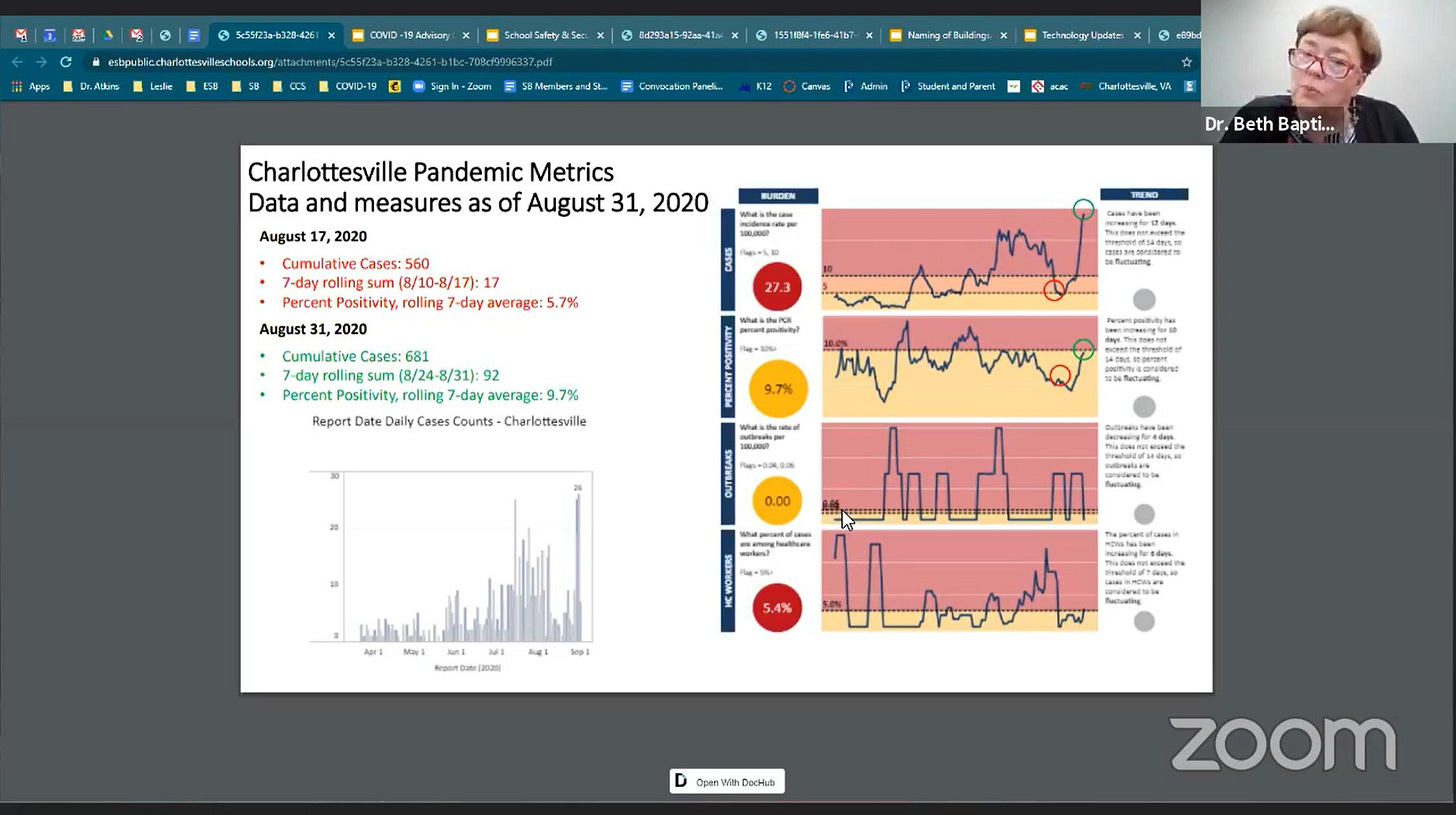 This morning the University of Virginia COVID Tracker has recorded another 20 cases reported, all of them students. That brings the official total to 194 total cases, with 155 of them students. Students are expected to move into residence halls this week. Meanwhile, James Madison University students are moving out of dorms there as that school has opted to go virtual for at least the month of September. 

The image below is a screenshot taken this morning before the tracker was edited.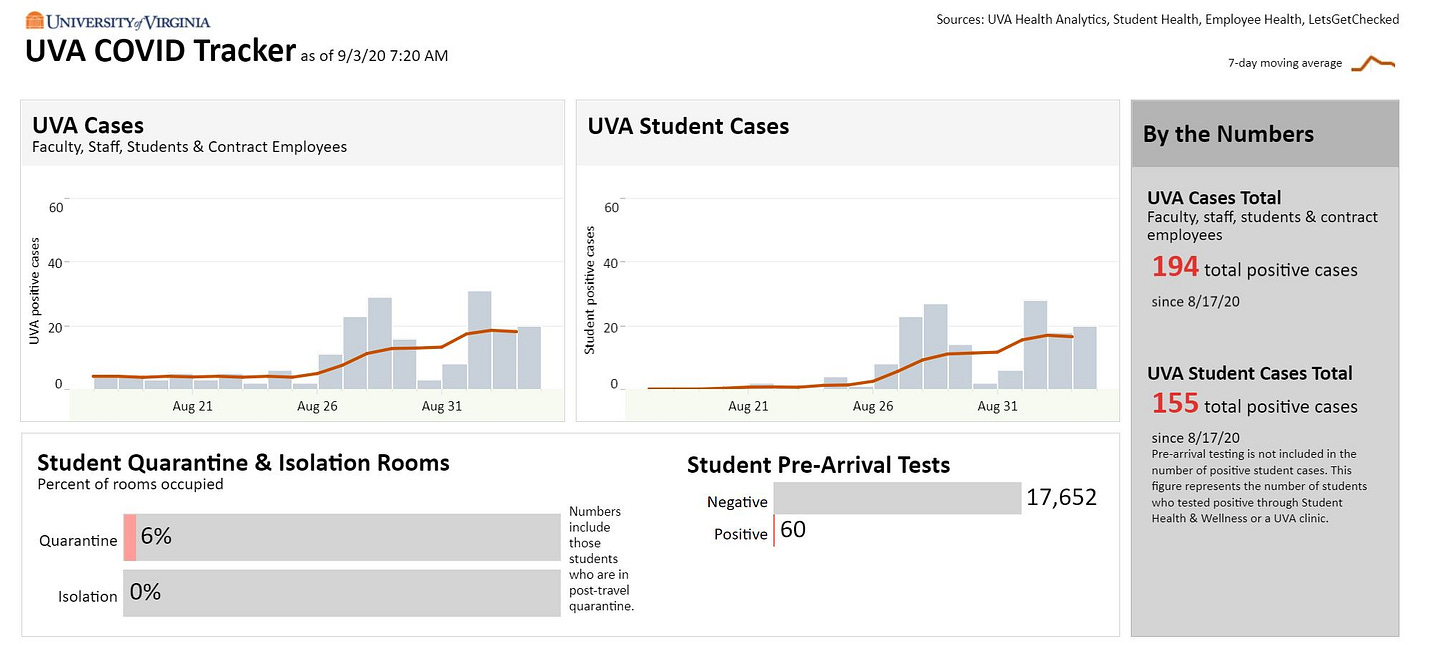 * 
Governor Ralph Northam has asked the Virginia Supreme Court to extend the moratorium on evictions in the Commonwealth. A temporary halt on eviction notices expires at midnight on Labor Day. The Governor wrote Chief Justice Donald Lemons to point out that the General Assembly is still in session with a bill pending to address the issue, and new federal directives on a nationwide eviction moratorium is still being assessed. That action came this week in the form of a Centers for Disease Control directive. 
"While my administration works with our federal counterparts to understand the implementation of the CDC order, and while we continue to work with the General Assembly on protections that  will enable more landlords and tenants to utilize the rent relief funding, I write to seek additional time from this Court," reads the letter. 
Northam specifically wants the moratorium to last through the end of September. (Northam's letter)
*
The General Assembly remains in special session this week, and members of the Thomas Jefferson Planning District Commission got a brief update last night. David Blount is the legislative liaison for the TJPDC. 
"They have a over $200 billion budget gap to fill for the rest of the fiscal year 2021 and fiscal year 2022," Blount said. "I think they're going to cover that largely by using the money that was frozen from this past regular session and they went and reduced that to largely fill the gap." 
Blount said he did not anticipate the state will tap into a reserve fund at this time. Both the House of Delegates and the Virginia Senate meet at noon. (General Assembly schedule)
TJPDC Directors had the opportunity to update their counterparts from across the region. Albemarle Supervisor Donna Price relayed the news about the decision to remove Confederate markers in Court Square on September 12.
"We expect that we will have several applications in [from] groups or organizations that are interested in receiving those items and we've been very pleased with the community engagement we've had in keeping our constituents informed of the process," Price said. 
Price said the Albemarle Board plans to continue to keep meeting virtually as cold and flu season approaches and with no concrete plans for a vaccine. 
Fluvanna County is using its CARES money for economic development and expanding Internet coverage along Route 6 and U.S. Route 15. Supervisor Tony O'Brien said the county is also hopeful for more businesses to locate in the community, especially now that public water is coming to Fluvanna's portion of Zion Crossroads. 
"We continue to see some positive growth on the economic development site," O'Brien said. "We should have some announcements coming out in the near future but we're getting a lot of momentum there and we're sharpening up our economic development package."
Nelson County is also investing in broadband with a recent $1.25 million investment to expand access to the Internet, and another package is underdevelopment. 
"We're looking at doing that again and trying to get to another 500 plus households within the next 12 months," said Jesse Rutherford of the Nelson County Board of Supervisors. 
Dale Herring of the Greene County Board of Supervisors updated the TJPDC on the impasse over Greene's proposed water supply plan. In July, the Rapidan Service Authority voted to stop collecting facility fees intended to pay for the impoundment of White Run for a new reservoir. The RSA consists of officials from Madison and Orange counties as well as Greene.
"We voted to pull out," Herring said. "They voted to not allow us to pull out. The resolution that the board has approved stated that if we were not allowed to pull out of the authority, we would seek legal action. At this point in time we are trying to determine what needs to be done. The bottom line is they have the authority to say there's not enough water to approve our project, and they also have the ability to say they will not expand the water access."
Herring said the RSA has offered another solution but it not acceptable to the Board of Supervisors. The Greene County Board next meets Tuesday.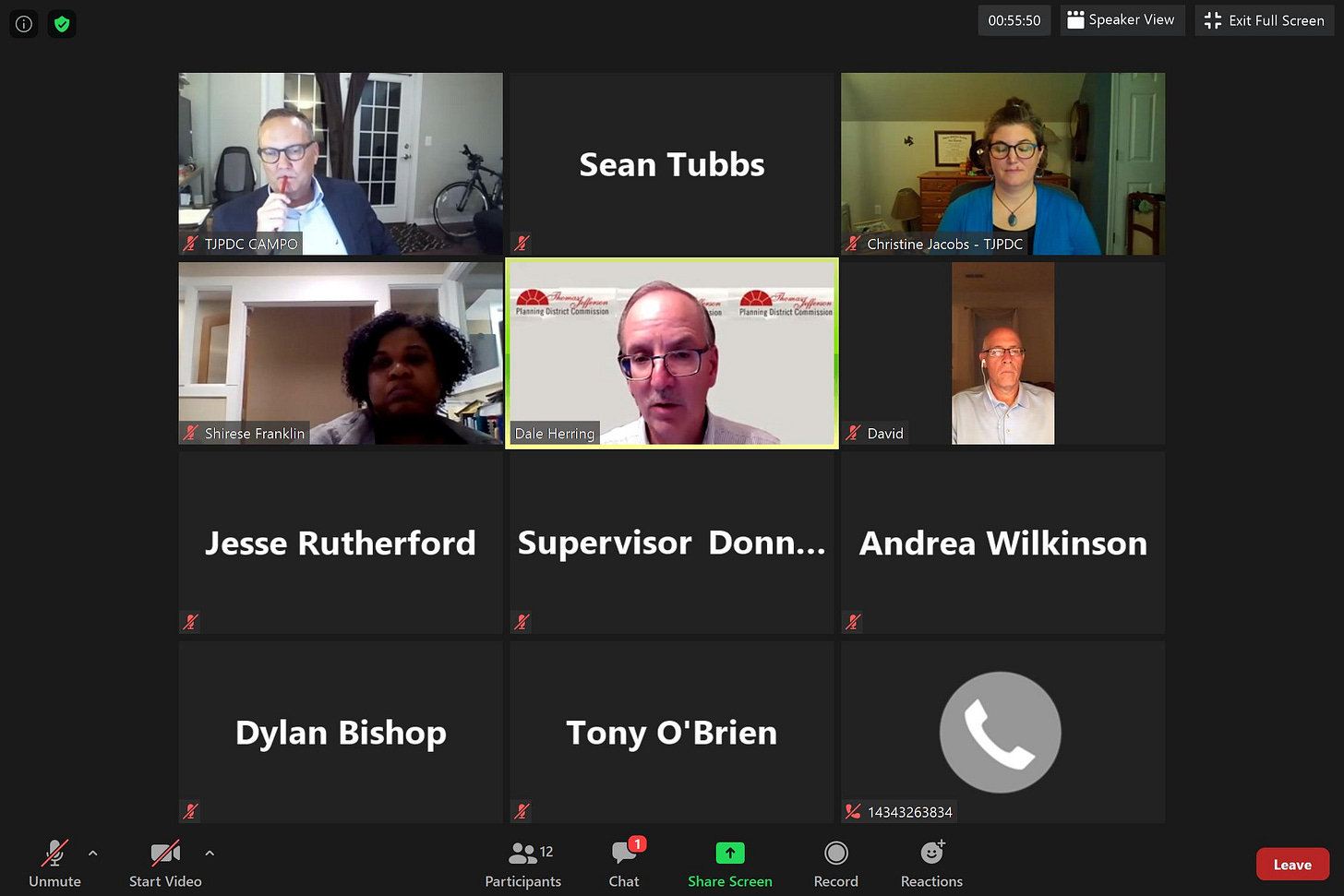 *
Tonight, Live Arts will hold the first in a series of Friday events the theater company plans to use to stay engaged with its patrons. Darryl Smith is the Box Office Manager at Live Arts.
"This season, Live Arts is embracing First Fridays in our lovely community here," Smith said. "Every first Friday of the Month, I will go out into the community of artists and performers and do a little of snippet, an interview about their art and the inspiration about their art." 
Tonight, Smith will speak with writer Jocelyn Nicole Johnson who will read from some of her work, including a story in the form of a list called "Buying a House Ahead of the Apocalypse."
"I'm going to read a super, super short reading," Johnson said. "I actually wrote this last summer before the pandemic and before quarantine. I was thinking about even last summer about how to plan for a future that seems particularly fragile or even tilting towards catastrophe." 
Tonight's interview is free to the public and will be streamed on Facebook Live, but you don't need an account to access it. 
"This will be a way to give people a taste of what a Virtual Studio Visit will be like," said Katie Rogers, marketing coordinator for Live Arts. The company is switching to a Season Pass model for programming that offers weekly content including radio plays and more.