Sep 17, 2020 • 7M
September 17, 2020: COVID cluster in UVA dorm; more cases at Fluvanna prison
Regular updates of what's happening in local and regional government in and around Charlottesville, Virginia from an award-winning journalist with nearly thirty years of experience.
Support today comes from Soul House Love, Charlottesville's Guide to Alternative Wellness. This Friday, Soul House Love is taking reservations for a New Moon Ceremony in a gorgeous outdoor location, with powerful guided meditations to cleanse your energy. Visit soulhouselove.com for more information and to reserve your spot.
*
There are more positive cases reported from the Fluvanna Women's Correctional Facility today and the first cluster of cases has been reported at the University of Virginia. 
Of the 84 new cases reported in the Thomas Jefferson Health District today, 48 of those in Fluvanna County. Yesterday there were 41 new cases in Fluvanna. Testing has been conducted at the women's prison this week, including all inmates and staff. 
"The facility will conduct internal contact tracing for the women in the facility," said Kathryn Goodman, spokeswoman for the TJHD. "Once the contact tracing on the inmates are completed, they share the information with TJHD. It would be a challenge for us to speak with the inmates so this is the best practice for these types of facilities. TJHD will conduct the contact tracing on staff as we do with any other cases."
There has been another COVID-19 death in Albemarle, for a total of 20 in the county and 63 in the district. There were 26 cases reported in Charlottesville.
The Cavalier Daily reports there is an outbreak at a University of Virginia residence hall with testing revealing that five students tested positive. The 188 students in the Balz-Dobie dormitory have been told to quarantine while waiting for the results of tests that were conducted last night. It is unclear whether these cases are captured in the COVID-19 tracker, which was updated yesterday to add another five cases for a total of 378 total positive cases since August 17. The outbreak was also detected through monitoring of wastewater.  
The Virginia Department of Health is reporting another 1,101 cases of COVID-19 today, and another 36 deaths. The higher-than-usual death rate stems from a data backlog according to officials. The statewide seven-day average for positive tests is at 6.7 percent today, down from 6.9 percent yesterday.   
Before the news was announced, the Albemarle Supervisors were briefed by officials from the TJHD, including Ryan McKay. (download the presentation)
"We're certainly seeing increased number of cases among students," McKay said. "We're beginning to see some cases that are occurring on Grounds. Working with UVA, we meet with them on a daily basis to make sure we are communicating regularly, with transparency between what we're seeing in terms of numbers, what they're seeing, and then how we're trying to support students." 
McKay told Albemarle Supervisors that the area is moving towards more community transmission in urban areas. 
"And I think this is largely attributable to case counts that have been seen and positivity rates certainly in Harrisonburg and Rockingham County," McKay said. "We are seeing increased numbers here in Charlottesville."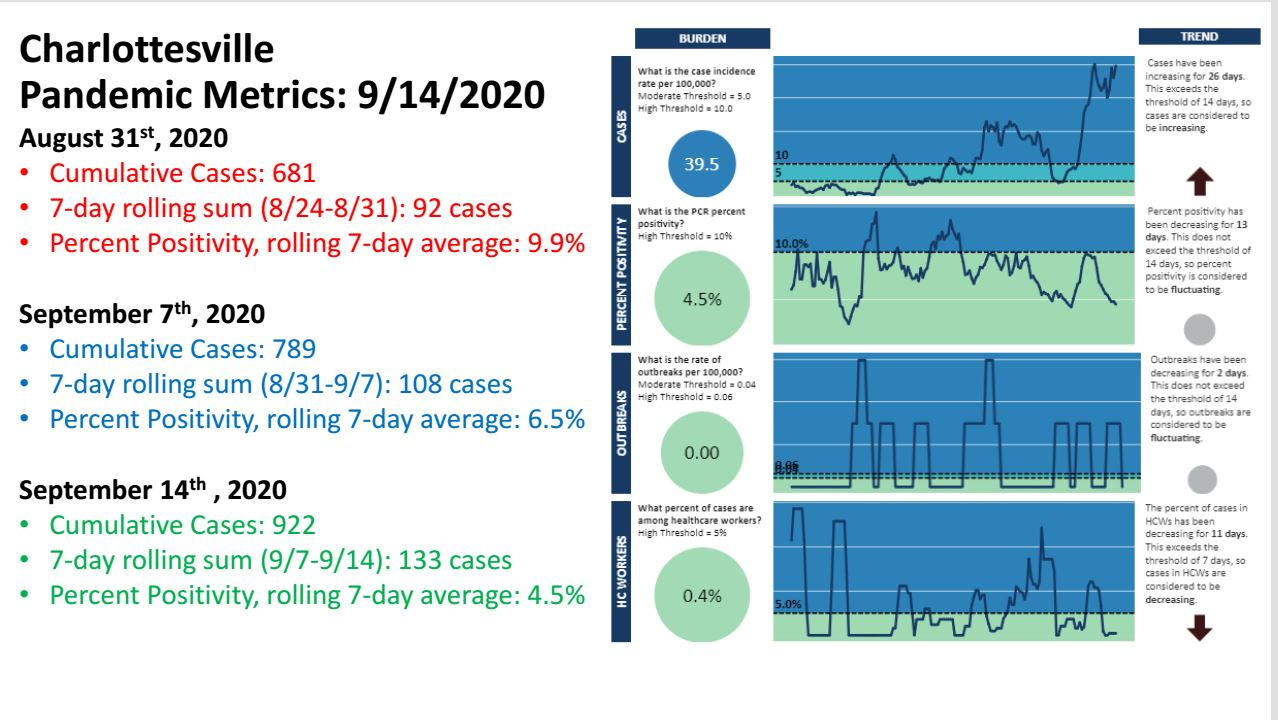 *
The Virginia Senate has passed legislation requiring most utilities to develop debt repayment plans for those who have not been able to pay for electric, gas, or water service. The legislation sponsored by Senator Jennifer McClellan (D-9) was approved 24 to 12 with one abstention. (bill)
*
The Virginia Department of Historic Resources today will meet to consider nominations for two area properties to be listed on the Virginia Landmarks Register and the National Register of Historic Places. One is Jackson P. Burley High School on Rose Hill Drive.
"Opened in 1951 as a joint high school for African-American students in both Charlottesville and Albemarle County, Burley graduated its last high school class in 1967," reads the Burley nomination. 
"Burley is great, and that it continues to function as a school is I think fantastic and I can say as a coach in the city schools and at Charlottesville High School, I wish the student athletes would go over there and walk the halls at Burley and see the accomplishments of back in the fifties and early sixties," said Jeff Werner, the city's historic preservation planner. "It's just an extraordinary place."
The other is River View Farm, which is now known as the Carr-Greer House at the Ivy Creek Natural Area. 
"River View Farm was established by Hugh Carr, born enslaved, with an initial down payment on land in 1870 near the confluence of Ivy Creek and the Rivanna River," reads that nomination. "By the time of his death in 1914, Carr had amassed a farm totaling 108 acres, and was among the largest African American landowners in Albemarle County." 
The State Review Board meets at 1 p.m. (agenda)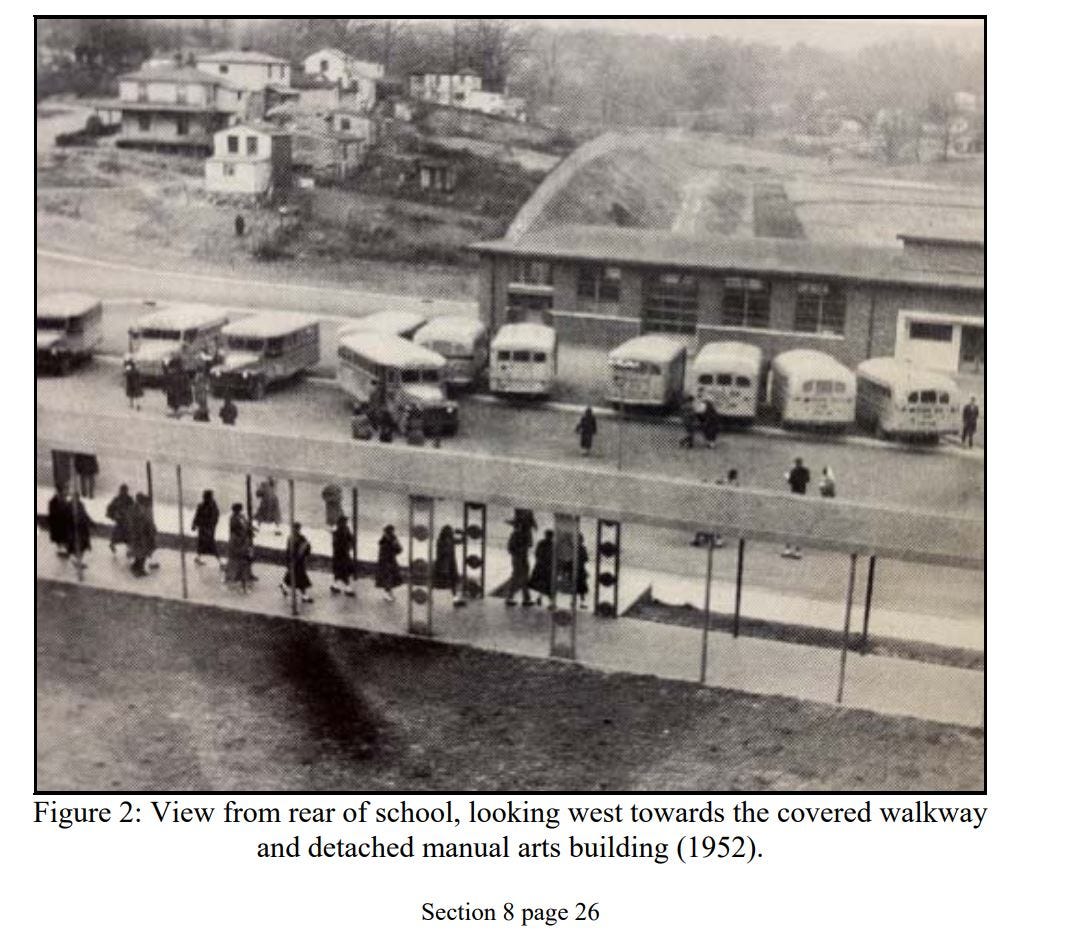 *
The Jefferson Madison Regional Library has announced it will reopen some library branches for limited hours by appointment, and that curbside service hours will be extended at the others. The in-person hours wil bel offered at rural branches in outlying counties. 
"JMRL has worked hard to be able to re-open some doors, and is looking forward to the opportunity to serve the people of Greene, Louisa, and Nelson inside library buildings again," said JMRL director David Plunkett in a statement. "The Library knows that the people in these communities need access to the resources in their local libraries, and are glad to be able to offer these again on a limited and safe basis." 
Beginning Monday, the limited in-person appointment services can be used for up to 45 minutes by five individuals at a time. This is a move to tier 3 service, down from tier 4. Additional curbside service will come to Northside and Crozet libraries beginning on September 28. Call for more information.
Louisa County Library: 540.894.5853

Greene County Library: 434.985.5227

Nelson Memorial Library: 434.263.5904


In local meetings today, The Albemarle Natural Heritage Committee meets at 5 p.m. Among the items on the agenda is a discussion of using volunteers to clear out invasive species in county parks. (meeting info) (agenda)
The Places 29 North Community Advisory Committee meeting that had been scheduled for tonight has been canceled. The 5th and Avon Community Advisory Committee meets at 7 p.m. The group will get an update on the High School Center II that is planned for county-owned property off of Mill Creek Drive near Monticello High School.  (meeting info)
The Charlottesville Human Rights Committee meets at 6:30 p.m. (meeting info)
At 2 p.m., the Center for Politics at the University of Virginia will take a look at Sabato's Crystal Ball in a virtual event. (watch)