October 8, 2020: Albemarle adopts climate plan; Albemarle School Board to consider return of early elementary students
Today's edition is made possible through contributions through Patreon or subscriptions through the newsletter. Your support enables the research and the writing and helps us all create a community resource.
---
After two days where the number of new cases COVID-19 were below the seven-day average, the Virginia Department of Health has reported 1,844 cases this morning. The statewide seven-day average for positive cases remains at 4.8 percent for a second day.
Seeing a potential anomaly, I contacted the VDH and got this response.
"The case count reported on Thursday, October 8, includes 689 cases that should have been reported on Wednesday, October 7, but were not because of a surveillance system reporting issue," reads a notice posted on the website. "A reminder: cases are not reported on the day the patient became ill, but on the day they have been classified as meeting the case definition for COVID-19. In order to observe the spread of illness most effectively, please review the charts that show cases by date of symptom onset."
Likewise, the number of new cases in the Blue Ridge Health District is also higher than the seven-day average, with 64 cases. In Charlottesville, there are another 35 cases, above the city's average of 21 new cases. In Albemarle, the new cases reported today is 19, above the county's average of 13 cases.
(A reminder: the Blue Ridge Health District is the new name for the Thomas Jefferson Health District, effective January 1. )
The University of Virginia reports 217 active cases as of Tuesday, with 190 of them students. Twenty-one percent of quarantine rooms are in use, and eight percent of the isolation rooms are in place.
*
The Albemarle County School Board will be briefed tonight on a plan to return kindergarten through third grade students to in-person class for two days a week. What is known as "Stage 3" would involve around 4,000 students, or 2,000 students a day. Virtual learning would continue for most pupils, though optional in-person access would be extended to English learners, special-education students, and "students exhibiting a lack of engagement in the virtual experience." This stage would also allow athletics and extracurricular activities to recur upon individual approval.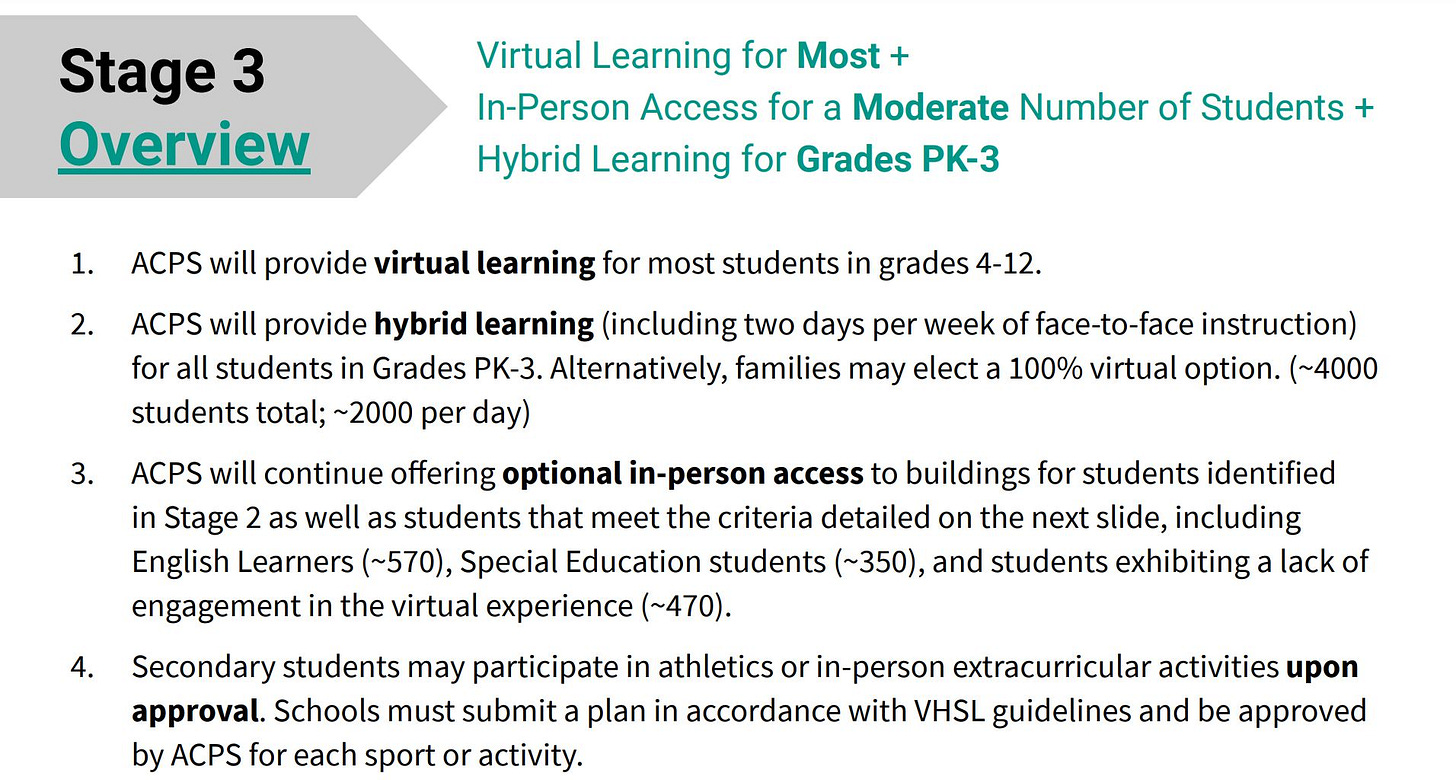 Slides provided in advance of the meeting state there would be no more than 12 students in each classroom at any time. One of the metrics the School Board will be asked to take into account a dashboard provided by the Centers for Disease Control with core indicators including the total number of new cases per 100,000 in the past 14 days, and the percentage of positive tests during the past 14 days. On the dashboard, the former is colored in the "higher risk" category and the latter is in the "moderate risk" category.
Dr. Denise Bonds of the Blue Ridge Health District has issued a statement about the recommendation by Superintendent Matthew Haas to proceed to stage 3.
"The value of in-person education for preK - 3rd grade is critical to this age group's overall development and growth. Providing the opportunity for students to return at this time is important and the current public health conditions in the community support a decision that enables parents and guardians to send their children to school for in-person instruction. The public health considerations that are being met and support this decision include the implementation of masking and distancing policies, widespread access to testing, quick turnaround for results, and as of right now lower community transmission among Albemarle County residents than in July. Based on the current public health conditions and Albemarle County Public School's plan for minimizing risk within school settings, the Thomas Jefferson Health District supports a decision to implement a hybrid teaching model for preK - 3rd grade."
Read the slides for more information.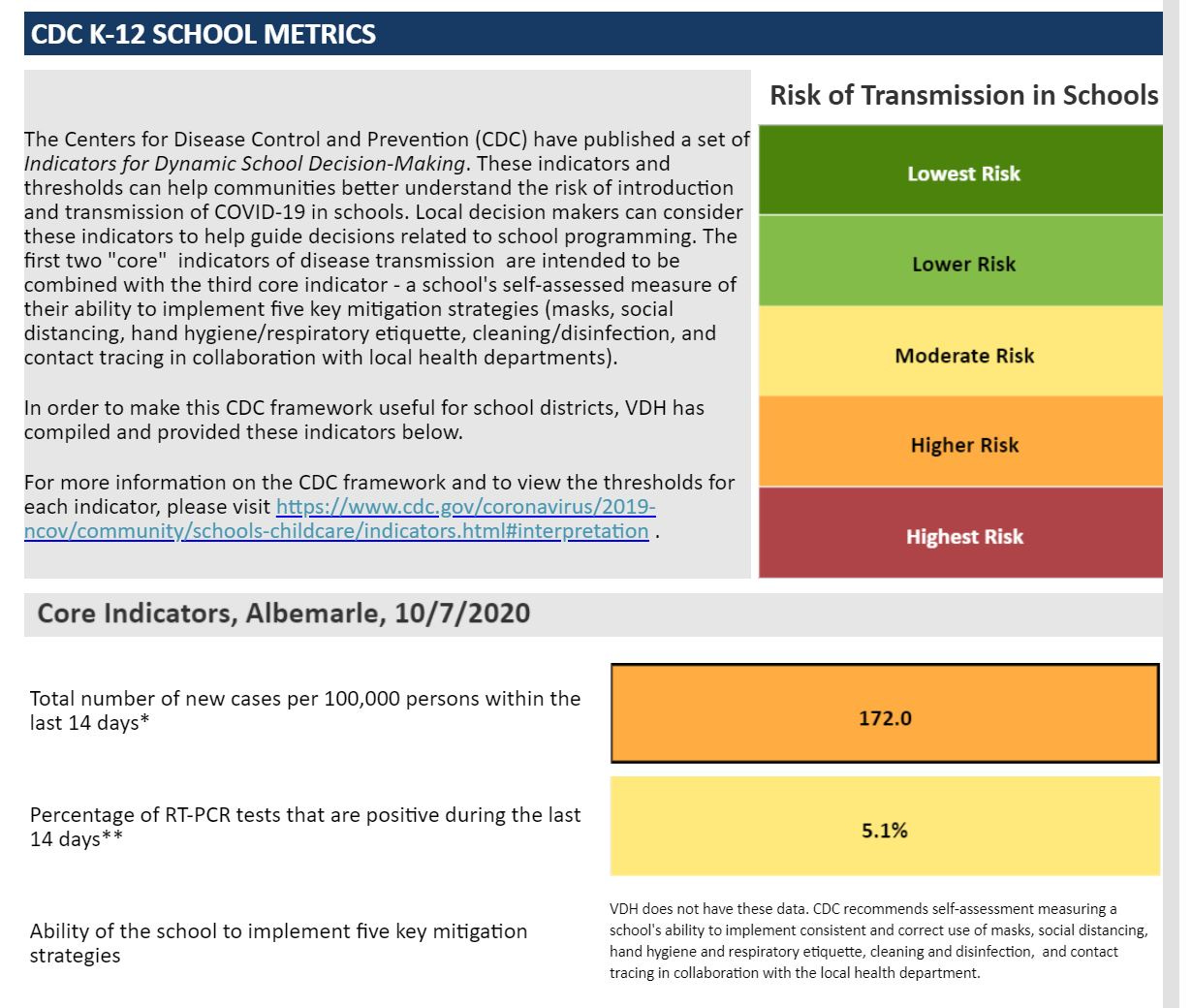 *
The Albemarle Board of Supervisors has adopted a plan that offers a wide array of strategies to help the community reduce greenhouse gas emissions in order to meet the ambitious goals of a 45 percent reduction by 2030, and to be "net zero" by 2050.
"The list of strategies and actions that make up the heart of the plan were developed from ideas suggested by the community," said Greg Harper, the county's chief of environmental services. "At its most reductive level the plan is a list of strategies and actions designed to contribute to the mitigation of global climate change through decreases in community-wide greenhouse gas emissions and increases in carbon sequestrations in the county's landscape."
The vote on the plan was unanimous, but Supervisors also gave notes to staff on what they'd like to see improve. Supervisor Ann Mallek said she was concerned the plan did not adequately cover one area.
"I am worried that solid waste seems to be completely set aside in here except for some mild-mannered paragraph, so if that's coming in some way, that's great, but if there is a way to focus on very specifically cutting the use of single-use plastic," Mallek said.
The next step is for the county to conduct a new inventory on greenhouse gas emissions. The last was conducted in 2008. Supervisor Donna Price said the plan demonstrated how many of the county's plans and initiatives can work together if coordinated.
"My hope is that we will collect objective data and metrics that will allow us to provide detailed analysis of the progress and shortcomings for future improvement to the plan," Price said.
Supervisor Liz Palmer suggested that the plan should also help inform what legislation the county seeks in the General Assembly.
"There's a lot of things we could be doing if we had help from the state," Palmer said.
Notably, Palmer would like Virginia to encourage glass recycling by requiring beverage producers to participate in programs, thereby increasing the potential market.
Supervisors also approved a rezoning for the Albemarle Business Campus, a proposed mixed-use development across from the county's office on 5th Street Extended.
*
Charlottesville City Council has agreed to keep an advisory board intended to provide guidance on how Charlottesville Area Transit is operated. Garland Williams is the director of CAT.
"I do think that we need to particularly look at how it is constructed," Williams said. "I think it doesn't have the mix that we need to have it move to more of a regional model. There's no individual from the business community at all."
Williams said there is an opportunity to use the CAT Board to figure out how the agency might secure more funding in order to become a regional model. CAT is in the running for a planning grant, while the Thomas Jefferson Planning District Commission is seeking funding from the Virginia Department of Rail and Public Transit for a vision plan for regional service, including a transit plan for Albemarle County.
Two other transit agencies in our community are Jaunt and the University Transit Service. Garland Williams explained some of how transit works currently in the region.
"You don't have oversight over the University Transit System, but you have total ownership over CAT and I think we just need to position CAT that we really dive into it and figure out how we can position an advisory group of peers and individuals in this region to really put CAT in the position to put CAT to go to the legislature three to five years from now and say, this is what we want because we've done the hard work and we want potentially to position ourselves like Richmond to get dedicated funding for CAT for the region."
Council discussed the matter at an October 6 meeting where they discussed the future of various boards and commissions.
There is also a Regional Transit Partnership that has been meeting for three years. The next scheduled meeting is on October 22. Councilors Lloyd Snook and Nikuyah Walker are the city's representatives. Council will meet with the Albemarle Board of Supervisors and top University of Officials on October 28.
*
In meetings today, the PLACE Design Task Force meets at noon for a gathering that includes another discussion of its own future. On Tuesday, Council opted to convert this board to a staff-advisory panel. (agenda)
The Charlottesville Police Civilian Review Board meets at 6:30 p.m. (meeting info)
Correction time!
In the Building Goodness Foundation segment yesterday, I used the incorrect word to describe the disposition of the group's international projects. They paused those projects and hope to resume them when they can.