Oct 6, 2020 • 8M
October 6, 2020: Health director briefs City Council on increase in cases; new name for health district
Regular updates of what's happening in local and regional government in and around Charlottesville, Virginia from an award-winning journalist with nearly thirty years of experience.
Tuesday, October 6, 2020
Today's edition is made possible through contributions through Patreon or subscriptions through the newsletter. Your support enables the research and the writing, and I am deeply humbled and thankful to those who have stepped up to date. Thank you!
*
The director of the Thomas Jefferson Health District told the Charlottesville City Council last night that COVID cases at the University of Virginia do not appear to be spreading to people not affiliated with the school, but the recent rise in cases is a cause for concern. 
"We have not seen a large number of cases amongst community members that we've been able to link back to students," said Dr. Denise Bonds. "That being said, we are seeing more cases among individuals who work at UVA either as faculty or over in the hospital and they are our community really but they also affiliated with UVA." 
Since UVA announced a return to in-person classes on August 28, Charlottesville has added 758 new cases and Albemarle added 366 cases. 
Dr. Bonds said she could not rule-out cross-spread, but contact tracing has linked UVA cases back to other UVA staff, faculty or personnel. She said she and her staff work with UVA Health and she is supportive of the school's efforts to place further restrictions on person to person contact.
"They are beginning to think about the cold weather and what's going to do that to what where their students go and hang out," Bonds said. "I think they are trying to be very proactive about it but this is not the only University town and it's not the only University town seeing an increase in cases amongst University students." 
Charlottesville Mayor Nikuyah Walker said she wanted to know the extent UVA was considering the safety of people who transfer infected UVA students to quarantine and isolation rooms. 
"What does the cab driver know about this transport and how are we protecting them?" Walker asked. "I just think in those conversations with the University if we're just making sure that we're covering everybody that's involved in this situation." 
Dr. Bonds said she would follow up. She also encouraged everyone to wear masks, even when outdoors in part aerosol droplets still carry outside. She also said it was important for people to get a flu shot. 
"It's really important particularly this year for everyone to get a flu shot," Bonds said. "The symptoms of flu and COVID overlap significantly and we really need everyone to be protected against the flu. It's a very effective way of either preventing yourself from getting the flu or certainly reducing your flu symptoms."
Dr. Bonds also encouraged people to begin to think through their holiday plans. For more on Council's briefing, look for a new episode of the Charlottesville Quarantine Report later on today.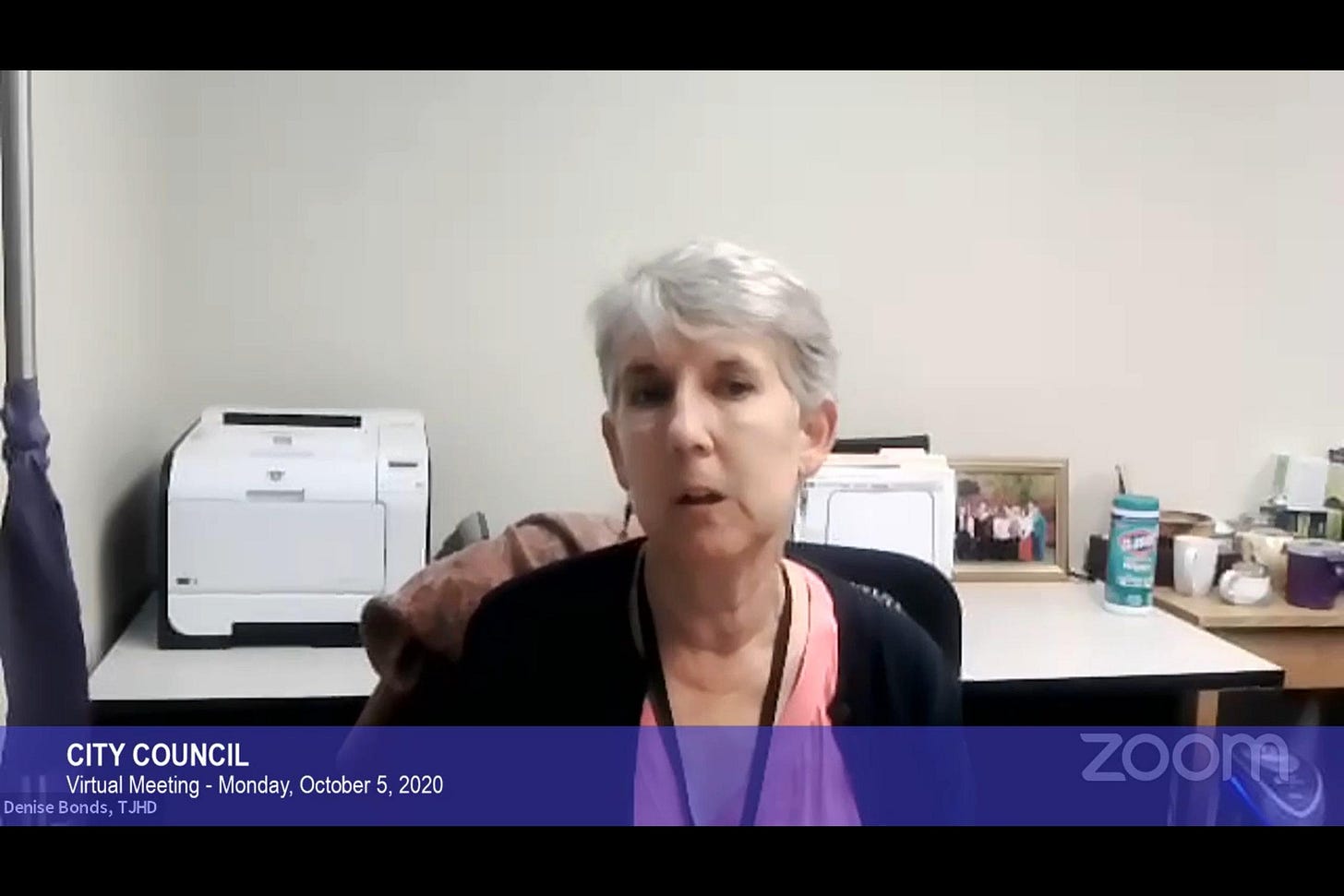 *
The Virginia Department of Health reported another 625 cases of COVID-19 today, with another ten cases in the Thomas Jefferson Health District. That's the lowest one-day total since September 15 when three new cases were reported. The district reported another two fatalities with one in Charlottesville and another in Louisa. There have been 73 deaths to date in the district and 3,291 deaths in the state since March.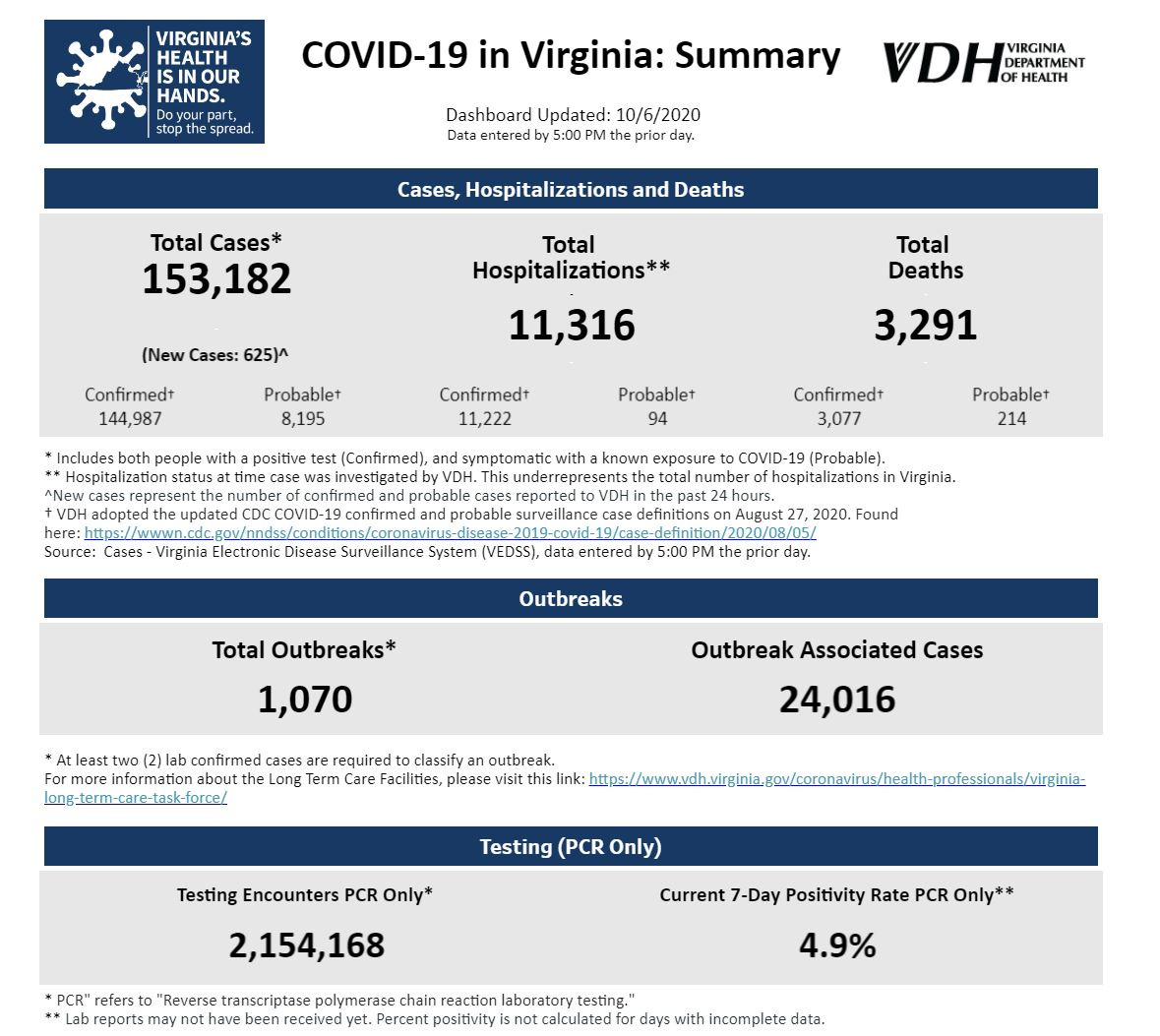 *
Speaking of the local health district, its name will change to the Blue Ridge Health District effective January 1 according to a news release sent out this morning. 
"Changing our name is symbolic of the deeper work we are doing as an organization to create an inclusive, equitable environment for our staff and clients and to acknowledge and address the impact of racism on health," said Dr. Denise Bonds, TJHD District Director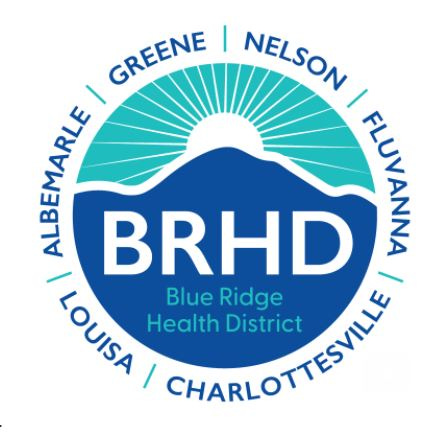 Bonds requested permission to change the name last fall. Only two other health districts in Virginia refer to a person while the rest refer to geography, Lord Fairfax and Mount Rogers. The move continues a trend in our area away from naming things after Thomas Jefferson. 
*
City Councilor Lloyd Snook paid tribute to John Conover at the beginning of the City Council meeting last night. Conover died last week after a long career of community services, including serving on the board of Live Arts. He served one term in Council from 1980 to 1984 and during that time helped prevent the Virginia Department of Transportation from widening a bridge on Ridge Street that would have led to a four-lane highway running south from downtown.
"He noted that we already had a history of running four-lane roads through Black neighborhoods like Preston Avenue and Ridge-McIntire and Fifth Street Extended, and we should not do it again even if only for a few blocks because he did not want Ridge-McIntire and Fifth Street Extended to be shown on maps as a cut-through between U.S. 29 and I-64," Snook said. 
For more on the life and times of John Conover, read Bryan McKenzie's article in today's Daily Progress. 
*
A nonprofit organization of developers has announced a new program to help cover the cost of building repairs for low-income residents, small businesses and others struggling during the pandemic. The Building Goodness Foundation is seeking $300,000 for C'Ville Builds, which seeks to finish 25 projects between now and the spring of 2022. So far they've collected about a third of their goal. 
*
A pilot project to increase space for pedestrians and cyclists on the Belmont Bridge is now in its second week. The city's bicycle and pedestrian coordinator said there has been initial support. 
"There has been a lot of enthusiasm for the pilot," Said Amanda Poncy. "We received a number of thank you emails before the barrels even went up. We [have] also installed count equipment and will be further evaluating over the coming weeks."
Construction of a new replacement for the Belmont Bridge is currently scheduled to begin next year. 
*
2020 has been an atypical year for Charlottesville's City Market, but the market has placed second in a contest held by the American Farmland Trust.  According to a news release, more than 1,250 markets across the country entered. The market will receive $500. 
"In 2020, the Charlottesville City Market had to make several operational changes due to COVID-19 and switch from an in-person downtown shopping experience to a pre-order and pick-up model at several locations throughout the year," wrote City Market Manager Justin McKenzie in a release. "The market staff would like to thank the vendors and loyal customers for continuing to make the market a success during these trying times."
The City Market usually operates on a city-owned parking lot downtown. The market will likely not do so again until physical distancing measures are repealed. 
*
Today in meetings, the Albemarle County Planning Commission will have a virtual public hearing on a rezoning to expand the Forest Lake Shopping Center. Charlottesville City Council will hold another meeting at 4 p.m. to discuss the future of Boards and Commissions.