Oct 28, 2020 • 9M
October 28, 2020: I-64's exit 124 to convert to a "diverging diamond"
Regular updates of what's happening in local and regional government in and around Charlottesville, Virginia from an award-winning journalist with nearly thirty years of experience.
Before we begin today's program, I want to mention that Decades Arcade will have a costume contest and scavenger hunt for Halloween this Friday and Saturday. Details are in this instagram post. Visit decadesarcade.com for more information on how you can book and for their COVID-19 rules. You'll also learn that for $200, you can rent the place for two hours for a private party. Visit decadesarcade.com.
The Virginia Department of Health reports another 1,345 new cases of COVID-19 in the Commonwealth Today, or a seven-day average of 1,140 daily cases. The percent positivity rating for PCR tests has increased to 5.1 percent from 5 percent yesterday.
In the Blue Ridge Health District, there are another 31 cases with 15 from Albemarle, nine from Charlottesville, three from Louisa, two from Fluvanna, one from Greene, and one from Nelson. The percent positivity rate for PCR tests is at 2.7 percent today, up from 2.4 percent on Monday. The seven-day average for new cases is 30.
The University of Virginia had 56 active cases listed on their dashboard as of yesterday afternoon, with 42 of those students. Four percent of quarantine rooms are in use, as are two percent of isolation rooms. Later on today, Dr. Denise Bonds of the Blue Ridge Health District will address the issue today at a joint meeting of Charlottesville City Council, Albemarle Board of Supervisors and top UVA officials. (agenda)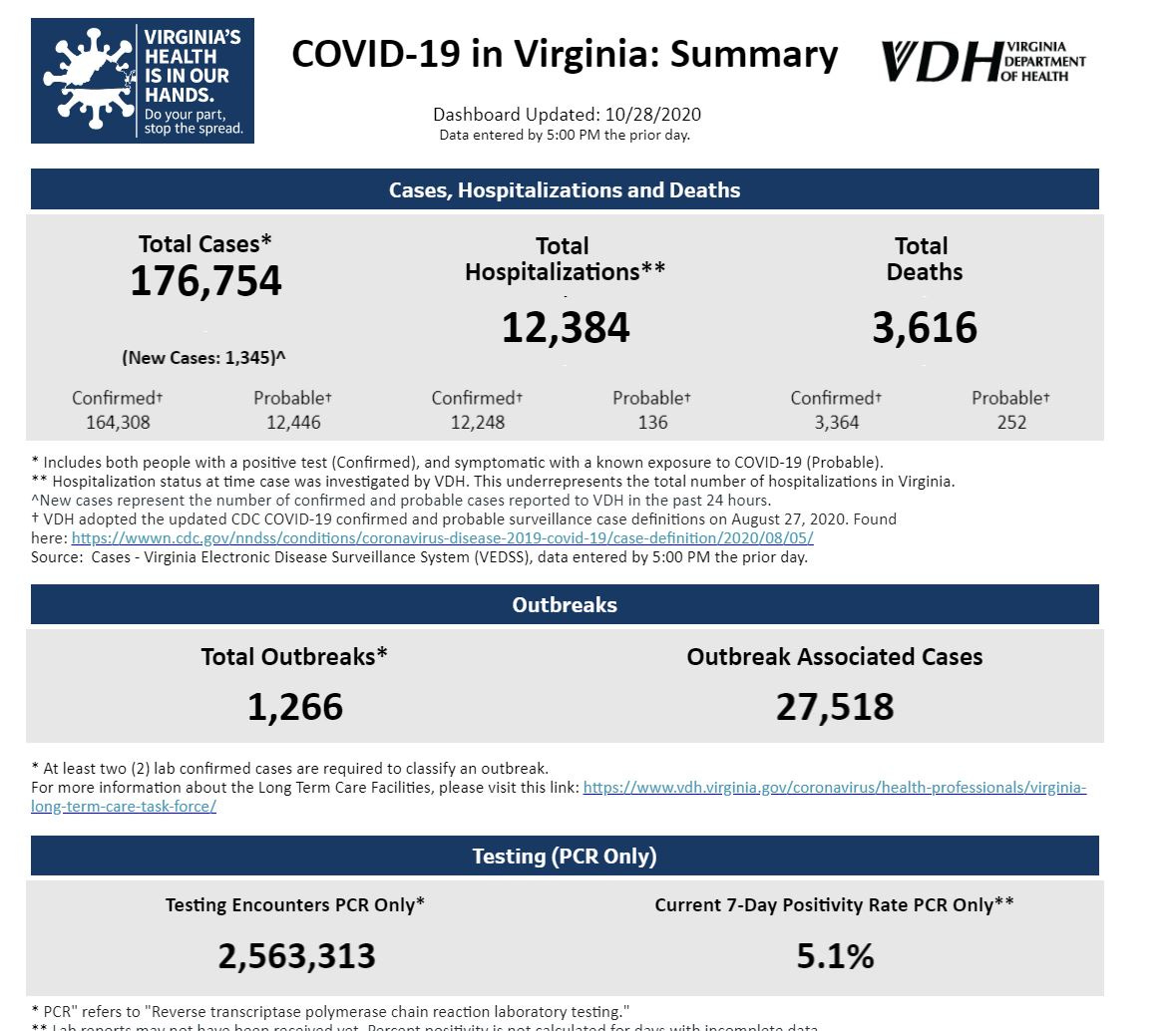 -
The Virginia Department of Transportation is expecting to begin the first phase of construction work at Interstate 64's exit 124 this December. The traditional intersection is being reconfigured into a diverging diamond interchange (DDI), which allows for higher traffic volumes.
"The DDI improves safety by reducing the number of spots where vehicles could collide and can handle more than 600 left-turn movements per hour, twice the capacity of a conventional interchange," reads VDOT's project page.
VDOT constructed one at Zion Crossroads in 2014, and the Commonwealth Transportation Board approved this project in the second Smart Scale funding round. This project and five others are being built by Curtis Contracting of West Point on a $28.5 million design-build contract.
VDOT officials gave details last night to the Pantops Community Advisory Committee. The first phase will be mostly in the medians.
"The real meat of the project is going to happen in phases two and three so that construction will likely ongo for the peak season next year into fall," said Steve Ordung, project manager with Curtis Contracting. "The work itself will be at night if it requires any lane restriction other than the normal traffic flow that goes through that intersection. The restrictions are from 9 p.m. to 5 a.m. and will likely be for Sunday evening through Thursday evening."
The project is expected to be complete by May 2022, though those dates could change.
Other projects include a roundabout at Route 151 and U.S. 250 and another at Route 20 and Proffit Road. (project page)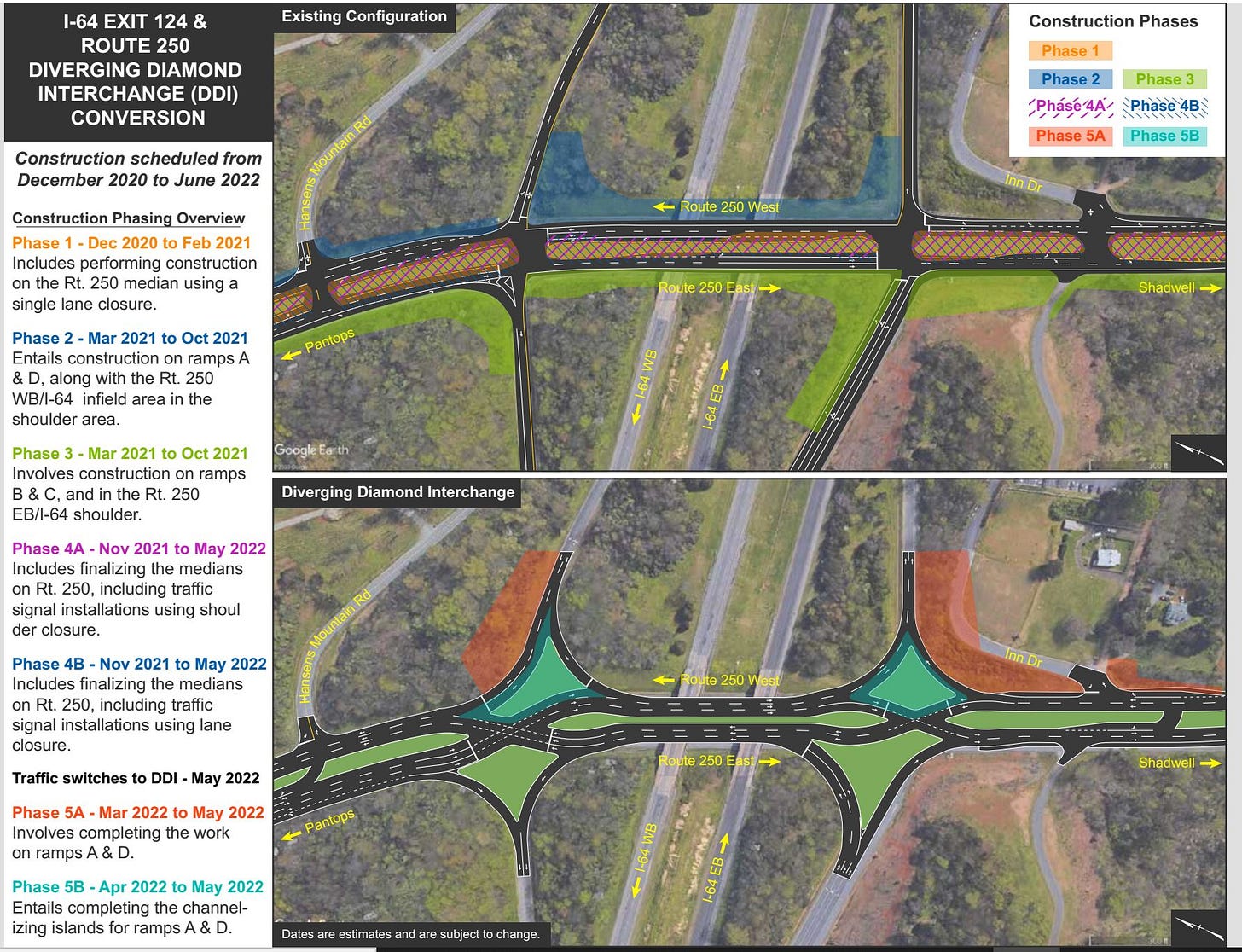 *
The Greene County Board of Supervisors and the Rapidan Service Authority are in a legal battle over the future of the community's water supply plan. This summer, the RSA refused to proceed with a plan by Greene County to build a new reservoir.
"Greene County has a solid approved water supply plan to provide for our future and made agreement in 2005 with the Rapidan Service Authority, our regional water and sewer operator, to build our future water supply consistent with our regional regional water supply plan for our community," said Mark B. Taylor is the county administrator.
However, the Orange and Madison members of the board voted against Greene and opted to stop charging facility fees that Greene was counting on to pay for the project, which had an estimated cost between $45 million and $60 million. Greene asked to leave the RSA but were denied. The RSA then denied the ability of Greene to participate in its meetings.
"The decision to not release us from the RSA partnership but to refuse to allow us to speak at RSA meetings and to refuse to allow us to vote put us in a regrettable prisoner status as a member of RSA," Taylor said. "We're still a member but the chairman of their board says they've cut ties with us."
Taylor said Greene has spent millions to move the project forward, including purchasing land and purchasing stream credits to comply with terms of the permit approved by the U.S. Army Corps of Engineers. That permit is valid through September 12, 2022. The two parties are now in litigation over the matter. (learn more)
*
The Greene Board of Supervisors also heard about efforts by the Rappahannock Electric Cooperative to bring broadband internet to its customers in rural areas.
"This was a big issue before the coronavirus hit and it's become a massive issue," said John Hewa, president and CEO of REC. "About a year and a half ago we launched a fiber backbone project."
Hewa said there is a potential chance for investment from the U.S. government. On Thursday, Federal Communications Commission will hold an auction for Phase 1 of something called the Rural Digital Opportunity Fund.
"The auction will award up to $16 billion over 10 years to service providers that commit to offer voice and broadband services in fixed locations in eligible unserved high-cost census blocks," reads the public notice for the auction.
Hewa said there was not much more he could say more, but that REC would be participating.
"We very much want to be part of the solution for our counties in terms of the broadband needs and we remain very focused on this issue," Hewa said.
*
The Rivanna Water and Sewer Authority (RWSA) is spending nearly $2 million on new lights at the Moores Creek Wastewater Treatment Plant to become compliant with Albemarle County's zoning ordinance. Scott Schiller is the engineering manager for RWSA.
"The facility is well lit," said Scott Schiller, the engineering manager for RWSA. "Unfortunately it is also well lit by some stadium type of lighting which is not in accordance with county regulations and needs to become compliant."
Those stadium lights will be replaced with what are known as "full cut-off" fixtures that help prevent light pollution and sky glow.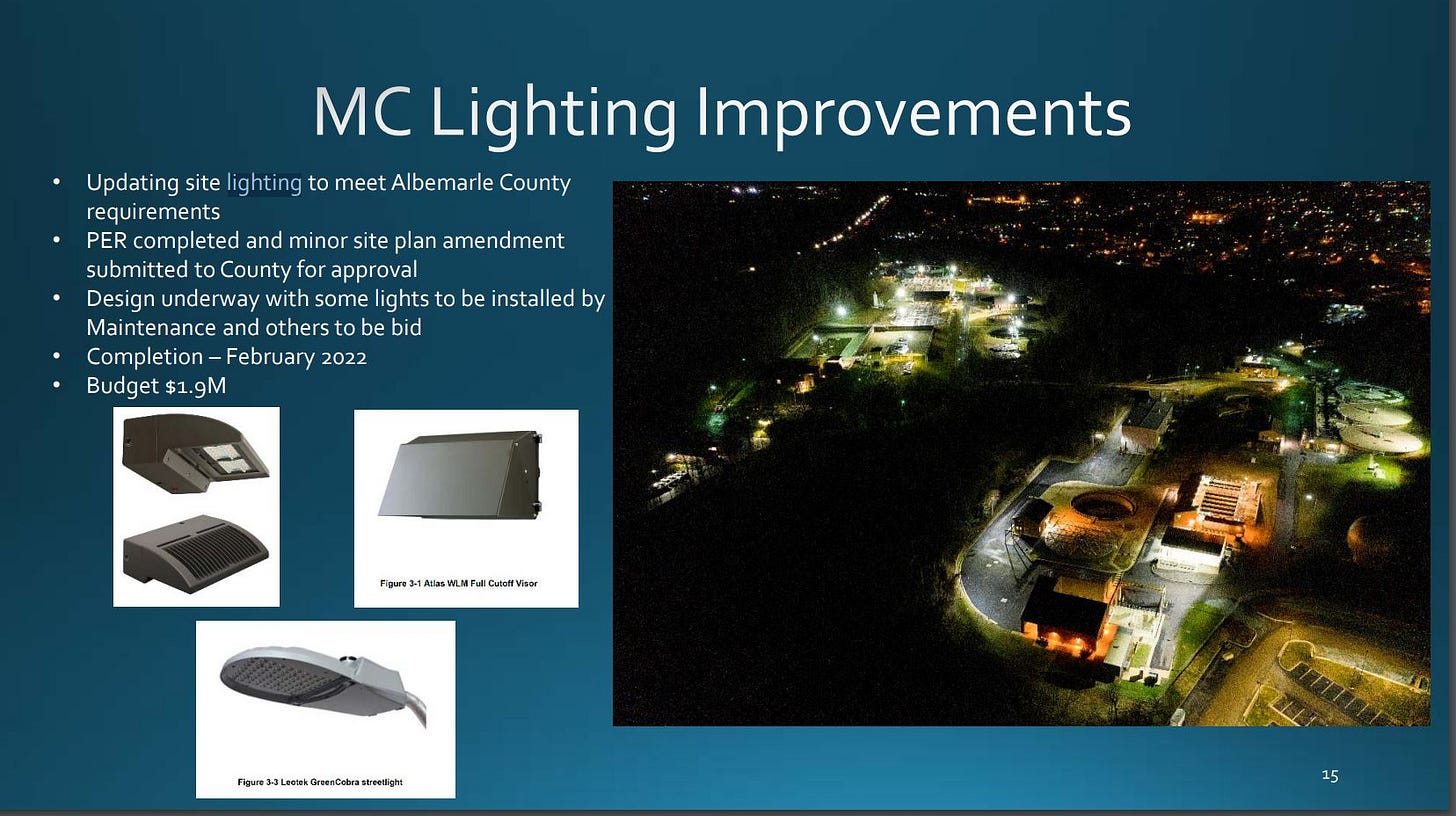 *
Today in meetings:
Thanks for reading and listening. If you'd like to support my research into local issues, and would like to get more of a behind-the-scenes look at how it all comes together, consider a donation through Patreon or subscribe. The daily newsletter will remain free as long as I produce it. Thank you!