Oct 20, 2020 • 14M
October 20, 2020: Public housing projects move forward after Council talks on CRHA financial sustainability, CCDC property tax liability
Regular updates of what's happening in local and regional government in and around Charlottesville, Virginia from an award-winning journalist with nearly thirty years of experience.
Today's show is supported through every contribution through readers and listeners, either through a Patreon contribution or a subscription through Substack. This newsletter and newscast will remain free as long as it's been produced, and your donation helps others learn information about the community as well. Thanks to those who have given initial support! 
This installment is a little unusual. I felt the main story is one that needed to be documented with more than soundbites. I'll be back to the usual format tomorrow.
*
There are another 926 cases of COVID-19 in Virginia as reported by the state Department of Health this morning. The seven-day average for positive tests has dropped to 4.8 percent today, down from 5 percent yesterday. 
For the third day in a row, the Blue Ridge Health District has reported 16 new cases across its five counties and the city of Charlottesville. The percent positivity for PCR tests is at 2.6 percent today, down from 3.3 percent yesterday. The University of Virginia is reporting 56 active cases at the moment with 36 of them students. Five percent of isolation rooms are in use, as are six percent of quarantine rooms.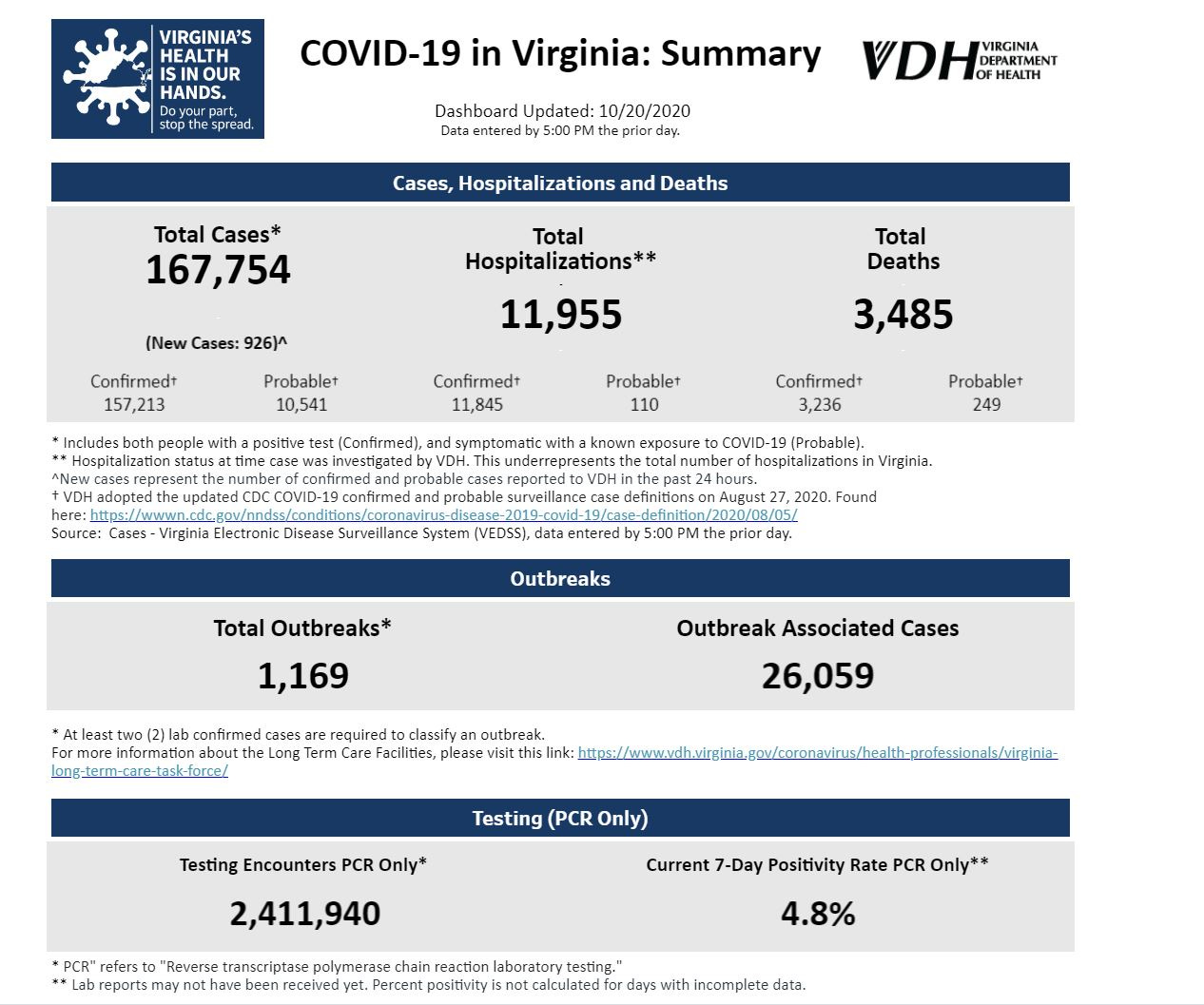 *
Charlottesville City Council had a full meeting last night that may take a few newsletters to get everything to you. This newsletter is a little different, because some of these subjects don't lend themselves to quick soundbites. 
Council first approved a plan to waive fees for outdoor cafes for March and April, and cut those in half through next March. As part of that plan, they've also agreed to charge half of the usual parking rental fee for any restaurant that wants to use an adjacent parking space for service. 
"This has been done by at least one restaurant and considered by one or two others and in the interest of trying to encourage outdoor dining while the season permits, we felt it was useful to reduce the fee for that rental space," said Chris Engel, the city's economic development director.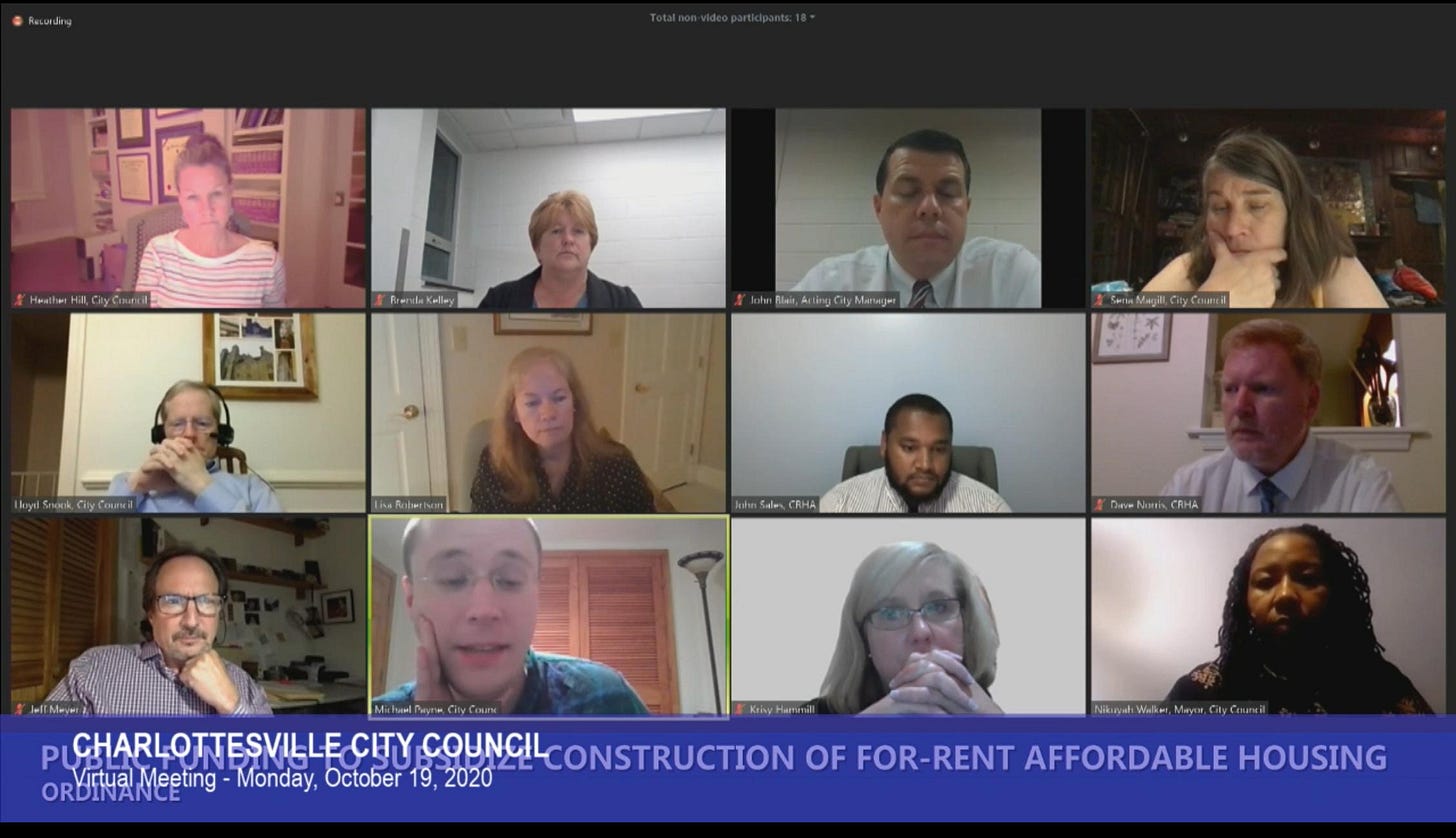 Council then began a long discussion of how to move forward with subsidized housing projects including the renovation of Crescent Halls and new units at South First Street. Those are public housing units operated by the Charlottesville Redevelopment and Housing Authority, which is a separate governmental entity from the city. 
CRHA currently is authorized by the U.S. Department of Housing and Urban Development to operate 376 public housing units, and many units were built in the 80's and have not been well maintained. Brenda Kelley is the director of redevelopment for the city, and she presented Council with an ordinance to grant the CRHA $3 million in city funds to help finance the work.
(read the staff report including the draft ordinance)
"CRHA and its partners have been engaged in robust resident-led redevelopment planning efforts," Kelley said. 
One of those partners is something called the Charlottesville Community Development Corporation, which is actually the CRHA Board of Commissioners, a body appointed by Council. The CCDC is a nonprofit entity that is eligible to receive and distribute Low Income Housing Tax Credits which help to subsidize the projects through private investment. 
"The funding will be disbursed as a grant to CRHA, CRHA will provide the funds to the CCDC, whereby the CCDC will lend the funds to the project as an interest-free 30-year loan," Kelley said. "One hundred percent of the units constructed will be provided for rental by low and moderate income persons having household incomes at or below AMI. No fewer than thirteen units will be public housing units at South First Street phase one, and no fewer than 53 units will be public housing units at Crescent Halls." 

Above
:
Project cost breakdown for South First Street Phase One
CRHA would not own the properties, but will continue to own the land and operate the buildings, but the CCDC will own the structures. That means they will be responsible for paying taxes. We'll come back to that in a bit. 
These details are worth documenting. 
"The private sector project owner has an investment member and the investment member has a right to sell its interest in the project prior to the end of the 30-year LIHTC term," Kelley said. "If the investment member's interest cannot be bought out by CRHA, this could potentially result in termination of an extended use agreement after year 15. So year 15 may be a significant milestone whereby CRHA has an option to purchase the project. This raises unknowns also including how much this purchase price would be and where will CRHA obtain the funding."
Council's discussion centered around two issues. 
One is a clause in the resolution that compelled CRHA to complete a financial sustainability plan that was requested by Council in February 2019. CRHA has to complete that plan anyway as part of a plan with HUD. The federal agency considers CRHA to be a "troubled" agency and the local authority must document how they can hit performance measures. 
The ordinance before Council required that plan to be in place in order for the CRHA to get a third payment from the $3 million. 
CRHA Executive Director John Sales said that requirement would prevent the project from breaking ground by the end of this year. 
"It's going to be really hard for us to close on both loans with that requirement in there because we won't be able to show a bank that we've satisfied that requirement in order to close, so that could really put both projects at a point where they would not go forward," Sales said. 
Council discussed a financial sustainability plan for CRHA in February 2019. Since then, it has gone through a leadership change, and Sales just became director in August. 
Councilor Heather Hill said she wanted the sustainability plan to be completed. 
"I want to know that by the time we get to that third draw which is our intention that we're seeing real progress made to a reasonable end to the sustainability study because I just think that the longer this goes on, it's not to our advantage," Hill said. 
Councilor Michael Payne said he would be willing to drop the requirement
"I'm certainly willing to be flexible," Payne said. "Our intention is not at all to have this jeopardize any funding or jeopardize these projects."
Council agreed to require the plan to be produced by the time a second phase for South Street moves forward. 
The other issue regarded the taxes. The CCDC will not be exempt from local taxes. 
Sales said the existing resolution did not give a guarantee that future Councils might stop paying an annual subsidy "equal to the dollar amount of the real estate taxes assessed and billed to the new project owner." Currently the CRHA makes an annual payment to the city in lieu of taxes. 
Jeff Meyer at the Virginia Community Development Corporation said the project will not attract investors if there is the potential for future liabilities that are not built into their proforma.
"No one is going to go forward with lending money or investing money into the project if we understand from the very beginning that they are not economically feasible because they have to pay the full liability for property tax," Meyer said.  "The concern would be that a future city council could overturn what's written in the ordinance here." 
Under Virginia Law, elected bodies cannot appropriate funding beyond one fiscal year. 
"You can budget for payment of your obligations from one fiscal year to the next but you can't enter into binding obligations over a long term that aren't subject to what we call a non-appropriations clause," said interim City Attorney Lisa Robertson. 
Robertson said there was no legal way for the city to waive the property taxes CCDC has to pay on the buildings. The CRHA will still own the land. 
One solution would be for the city to pay the next fifteen years of property taxes in one lump payment that could be put into an escrow fund that the CCDC could draw down from. 
Council chose to not go with that option. 
"Our budget picture is pretty brutal and there's still substantial uncertainty about what the impact of COVID will be this budget cycle," said Councilor Payne. 
Mayor Nikuyah Walker asked Meyer if the project would be halted if Council could not cover the cost of paying the next fifteen years of property taxes in advance. 
"I think we'll make every effort to go forward the with project but I can't say something won't come up once the language in the ordinance becomes something that our other partners and the others funders are going to read, and everyone who is going to review all of the documents," Meyer said. 
Walker pointed out that three current Councilors will serve until 2023. Payne said he would continue to support the city's annual subsidization of property taxes for CCDC. 
"It's not difficult fiscally for us to fund that each year and maintain that but to put it all up front in one year, especially at this time, is a challenge," Payne said. "I certainly get the uncertainty but I think the community and the Council has a 100 percent commitment to this."
As this was only the first reading of the resolution, staff will take a look at potential ways to address Meyer's and Sales' concern. One option is a line item in the capital improvement program.
"It would set forth the idea that there is a plan and the intent is that you are going to fund this over the five years," said Krissy Hammil, Senior Budget and Management Analyst for the city of Charlottesville.
Speaking broadly about public investments in housing, Walker said it was important to understand what these complex arrangements will mean for future Councils.  Later in the meeting they took action on $5.545 million request for Piedmont Housing Alliance for the first phase of the Friendship Court redevelopment. 
"It's important for us to understand what we're setting future councilors up for and when you talk about commitment to housing, then we have to say that this is our commitment to housing," Walker said. Walker is a member of the CRHA and CCDC Boards. 
Walker said Council also had to remember there would be future requests from CRHA and PHA for future phases.
"I just think if there's a vote in favor of this, and I think both of these projects are very important, and I think the other Councilors agree, then we need to understand our limitation on doing other major projects while we figure out these two projects," Walker said. 
I'll have more from this meeting in future installments of the newsletter, or possibly a special podcast just about this meeting. I've got four more hours to listen through. 
---
Now, today in meetings. 
The Commonwealth Transportation Board meets in Richmond all day, and among the items is an update on revenues that provide funding for infrastructure projects throughout Virginia. 
According to David Blount with the Thomas Jefferson Planning District Commission, budget committees in the General Assembly have given the CTB "flexibility to reprogram up to $1.1 billion in revenues from existing projects and the phased implementation of new allocation formula adopted in 2020, due to reductions in transportation revenues currently estimated at $871 million." (agenda) (Blount's weekly update)
The Parking Advisory Panel meets at 3:30 p.m. The group was created in the wake of a Parking Action Plan adopted by Council around the time in early 2017 when they spent $2.85 million to purchase land on Market Street for a future parking garage. The Charlottesville Board of Architectural Review will meet at 4:00 p.m. and will begin with a discussion of a refined process for design review. (agenda) (meeting info)
The consent agenda has details for an expansion of the Center for Christian Study site at 128 Chancellor Street. The BAR will have a preliminary discussion on renovations to buildings that will be used as part of the new joint Albemarle/Charlottesville General District Court. 
The Albemarle Economic Development Authority meets at 4 p.m. They'll get an update on the Albemarle Broadband Authority and the recent rezoning of the Albemarle Business Campus. The EDA and the county have a performance agreement with developer Kyle Redinger that was signed on April 15. One of the terms is that Redinger must reserve up to 25,000 square feet of space for a primary business in exchange for $100,000. In return, Redinger will also provide enhanced connectivity, provide bike racks, and construct an enclosed bus shelter. (meeting info) (agenda)
The Albemarle Planning Commission meets at 6 p.m. and will have a work session on transportation issues. No materials have been provided in advance, but transportation planner Kevin McDermott recently provided the Board of Supervisors with this quarterly report. (report)