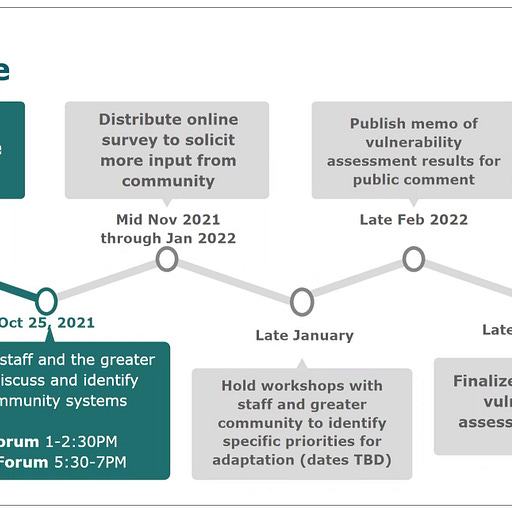 Oct 14, 2021 • 18M
October 14, 2021: Boyles resigns as Charlottesville City Manager; Friendship Court agreement reauthorized by EDA
In the past four years, there have been five people who have performed the duties of city manager...
Regular updates of what's happening in local and regional government in and around Charlottesville, Virginia from an award-winning journalist with nearly thirty years of experience.
Today's Patreon-fueled shout-out is for the Plant Northern Piedmont Natives Campaign, an initiative that wants you to grow native plants in yards, farms, public spaces and gardens in the northern Piedmont. The leaves have started to fall as autumn set in, and as they do, this is a good time to begin planning for the spring. Native plants provide habitat, food sources for wildlife, ecosystem resiliency in the face of climate change, and clean water. Start at the Plant Northern Piedmont Natives Facebook page and tell them Lonnie Murray sent you!
On today's show:
Charlottesville City Manager resigns, citing personal and professional attacks from Nikuyah Walker

The Charlottesville Economic Development Authority reauthorizes a performance agreement with the Piedmont Housing Alliance for the redevelopment of Friendship Court

Charlottesville moving forward with planning for climate adaptation
---
The Charlottesville Economic Development Authority has reauthorized a performance agreement with the Piedmont Housing Alliance for a loan for the redevelopment of Friendship Court. Piedmont Housing Alliance would pay the money back through the incremental tax revenue the city would get from a more intense residential development. Here's Economic Development Director Chris Engel. (staff report)
"Typically, our performance agreements are done to encourage business development, job creation, capital investment that creates office space or an industrial building," Engel said. "In this case, the public good if you will is the rehabilitation and addition of not public housing, but affordable housing that would be owned and managed on a long term basis by the Piedmont Housing Alliance."
The city is currently considering using this tool to finance improvements to Stribling Avenue. This is also the same mechanism that was proposed by the owner of the skeleton Landmark hotel.
In this case, the 11.75 acre property is assessed at $8.185 million this year, which yields $77,714 in property taxes for the city. When the first phase of redevelopment is completed, the value is projected to be over $20 million, which Engel said would bring in an additional $190,000. Piedmont Housing Alliance would get that increase through a transfer from the Economic Development authority.
"This is a very complicated, complex deal to get this to all come together," Engel said.
This is separate from the nearly $16 million in capital funds city taxpayers will contribute to all four phases of redevelopment. Under this agreement, Piedmont Housing Alliance would collect the funding up to $6 million.
"There's not a profit making opportunity here for anybody but it's an opportunity to see additional affordable housing added to the city again and an old site that needs rehabilitation," Engel said.
The EDA approved the reauthorization with little debate. The original agreement was written up by former city attorney John Blair before he became the acting city manager after former city manager Tarron Richardson resigned.
Engel said the Piedmont Housing Alliance is ready to begin construction. Their website has not been updated with information about redevelopment since last October when a December start-date for construction was expected. More information as it comes in.
---
Charlottesville's efforts to create a Climate Adaptation Plan move forward this month with a community forum to get input on potential threats from more extreme weather patterns. The October 25 event will be the first steps for the city to complete a Climate Vulnerability Assessment.
"As part of the city's climate action effort, it has committed to developing a plan to reduce greenhouse gas emissions and to prepare and respond to our changing climate," said Susan Elliott, the city's climate protection program manager..
Participants are being asked to review a webinar recorded on October 7 where representatives from ICLEI described Charlottesville's projected climate hazards and gave an overview of the process.
Another pre-forum webinar will be held on October 15. (register) The Community Forum on October 25 will begin at 5:30 p.m. (register)
---
Charlottesville City Council will have to appoint someone to serve as City Manager as of Monday, November 1. The five-member elected body held an emergency closed session Tuesday afternoon to discuss "Urgent Personnel Matters."
"I move that we accept the resignation of Chip Boyles, effective October 29, 2021 per the letter that he has sent to Council," said City Councilor Heather Hill as she read a motion coming back from closed session.
Council voted 5-0 to accept the resignation, but there was no sense of who would take over as city manager. There are two deputy city managers who were hired by Boyles, both of whom have a collective tenure of seven months. Ashley Marshall has been Deputy City Manager for Racial Equity, Diversity, and Inclusion since May and Sam Sanders has been Deputy City Manager for Operations since August.
Before we get back to Boyles, there was also news of another person leaving city government. In an earlier motion, Hill disclosed the departure of the city's Information Technology department, Sunny Hwang. He's served in that position since September 2018 according to his LinkedIn profile, which has not yet been updated. There are also vacancies at the tops of the parks department and the public works department.
Back to Boyles. Boyles was hired in January to replace John Blair, who served as interim city manager after Dr. Tarron Richardson resigned in September. In his resignation letter, Boyles said he had been hired to help the organization get back on its feet after a "time of turbulence and organizational instability."
"This success was disrupted with my decision to to change the leadership of the City Police Department," Boyles wrote. "I continue to support my decision taken on this matter, but the vitriol associated with this decision of a few vocal community members and the broken relationship with Mayor Walker have severely limited my ability to be productive towards the goals of City Council."
Boyles said personal and professional attacks from Walker and others were beginning to hurt his mental health. He resigned to protect himself and his family.
To recap, Boyles terminated the contract of Chief RaShall Brackney on September 1, 2021, triggering a ferocious outcry from Walker. She spent much of the September 7 meeting using her privileges as Mayor to force a conversation about the topic. For context, go back and listen to the September 8 edition of this newsletter.
The soundbites for the read of the newsletter today come from the October 4, 2021 meeting of Council, and the last hour or so of the meeting. The agenda listed a formal discussion of the matter at the conclusion of other business. Boyles defended his decision, which was his alone to make under the city's charter.
Boyles' explanation
Boyles said Brackney had moved the department toward being a more just and fair system, but said surveys conducted by the Police Benevolent Association indicated low morale.
"It became to me evident that some type of change needed to be made that while we had been making strides in one area, the implementation into the department itself was in jeopardy," Boyles said.
That soundbite comes from about an 11 minute explanation that Boyles gave. For some more background, I refer you to the August 20 "response from the city" to those PBA surveys. The statement also describes the resignations of two members of the SWAT team and the termination of a third. (read the statement)
What followed were questions from the rest of the Council. Councilor Michael Payne said he was concerned about the timing of the incident.
"It has to be stated that, one, the PBA is an organization that is one that is not friendly to reform," Payne said. "Those organizations across the country are not friendly to officers being disciplined and held accountable for mistreatment."
Vice Mayor Sena Magill said she wanted Boyles to write down his vision for the city.
"I have seen the team that you are building in City Hall and I believe that you are focused on a team that wants to bring Charlottesville into 21st century practices on a lot of things including a teamwork environment," Magill said.
Councilor Heather Hill.
"We're not condoning any of the behaviors that were rightfully dealt with in the police department and that we are committed to a very way of policing in the city of Charlottesville," Hill said.
In his comments on October 4, Councilor Lloyd Snook referred to a closed session from mid August after the disciplinary actions described in the statement were made.
"When Chief Brackney explained to use in closed session on August 16 I believe it was what the evidence was of the SWAT team officers conduct, showed us a few snippets of video," Snook said. "Every Councilor in the room, every senior management person in the room was satisfied with the chief's decision."
Snook said the City Manager has the right and power to fire the police chief.
"The only issue for us quite frankly is whether we fire the city manager for firing the police chief," Snook said.
On October 4, Snook said the answer was no.
But for Mayor Nikuyah Walker, the answer was not no.
Walker's cross-examination
Walker used her time to ask Boyles a series of pointed questions, including this one about internal surveys.
"How did you arrive from looking at the survey that the Chief was the issue based on those surveys," Walker asked.
"Most of the survey was built around the command staff and answers were regarding the individual command staff but it was just an overall leadership from both the questions that were included in the survey and then the chance for the officers to comment," Boyles said.
Let's skip ahead a little to another section.
"So these issues arose and you didn't afford her a conversation to talk with her about the issues that you had come to learn and create a plan with her to rectify those issues," Walker said.
"I did," Boyles said. "And one of our meetings after a lot of this started becoming evident, I asked her about preparing a plan to try to address some of these items. The response was that a plan wasn't needed and what did I have in mind to put into a plan."
Boyles said that was not his area of expertise. Let's skip ahead. Walker quoted from the September 17 op-ed Boyles wrote for the Daily Progress.
"So, in the immediacy of the decision in the op-ed piece that you wrote that the CPD was 'gripped in chaos'," Walker said.
"Yes, it was my understanding that some of the leadership positions were not going to be staying if Chief Brackney were staying," Boyles said.
This line of questioning continued. Walker said her information said only two of six members of the command staff were set to leave.
"So, you consider two of six people to be chaos?" Walker said.
"No, I think it extends beyond," Boyles said. "It's the statements from the survey of people looking for other jobs, wanting to be out of the police department. There is no smoking gun in this."
Walker went through many of the comments and read through them out loud. She also wanted to pin down Boyles on what conversations he had with regional leaders about policing issues. Boyles said those were conversations were private and in confidence.
"Okay, Chip, so since all of these people are secretive and you think that's okay, because what you want us to do on whether or not you want to stay here or not based on some random conversations we had without talking to you about?" Walker asked.
"That's a decision you all will make," Boyles said. "As I stated earlier, I'm here to fulfil the direction of Council. I took this job knowing. I think I've even stated for me there's a job evaluation every other meeting. I accept that."
The questioning continued. At one point, there was to have been a press conference after the release of the August 20 statement.
"And then, Chief Brackney arrived at a meeting, right, Chip? And you had changed course by that time that there's no longer going to be a press conference," Walker said.
"Yes," Boyles responded. "We had a disagreement over wanting to show the videos that you all saw in your closed session."
A little later on in the cross-examination, Councilor Hill brought a specific incident related to how former Police Chief Brackney responded to feedback. Go back to the tape to learn more about that but Walker asked Hill to read the email in question.
"Okay, do you want to pull that email up?" Walker asked
"I'm happy to find it, but I don't think it's necessary right now," Hill said. "I'm just saying you are trying to pick specific examples. I don't want to go down this path with you."
"I'm not," Walker said, her voice rising. "I was open to whatever you all presented. I asked and allowed you all you to talk first because I'm just trying…"
"We were trying to be respectful," Hill said.
"Excuse me?" Walker asked.
"We were trying to be respectful of the process," Hill said. "This is not the appropriate forum to get into all of this."
"You were not trying to be respectful of any process," Walker said. "I have been on this Council and I know how you operate."
"I'd like for us to move on," Hlll said.
The conversation went back to that meeting after the August 20 press release. Boyles explained the dynamic that was leading him to make a decision.
"That meeting was a good indication similar to what Councilor Hill was just talking about when we began to disagree over the videos and other issues, Chief Brackney just left the meeting which again gave me concern of being able to work with that type of interaction, with that type of relationship," Boyles said.
Boyles acknowledged that Brackney had told him that she had felt targeted by members of the community as well as internally.
"My knowledge of that comes from what she's told me and I certainly believe it to be true," Boyles said.
Walker was clear she was not going to let Boyles forget his decision to terminate Brackney.
"I can go on about every city manager that has been here, and you are never going to, I told you this, Chip," Walker said. "You're never going to live past this decision."
Soon after, Walker quoted from the book White Rage to make part of her point and chastised her fellow Councilors for trying to control her.
"Have I made 100 percent of the right decisions?" Walker asked. "No. Have you all made 100 percent of the right decisions? No. You haven't. But again, your white gaze gets to determine who wins in a situation like this."
Earlier this year, Walker wrestled with whether to seek a second term before announcing in May she would be a candidate. She withdrew from the race on September 8, citing the racism of her fellow Councilors. Walker raised no campaign funds this year.
The conversation on October 4 continued, and the rest of the discussion is available to watch. Now it's perhaps a better use of our time to think ahead to Council's next meeting on October 18, as well as the four regular meetings of the year. Two new Councilors will join in January when Walker and Hill's terms are up. Who will be the city manager? Who will be mayor? Who will be running the city