Oct 1, 2020 • 8M
October 1, 2020: COVID updates, street sweeping in Albemarle, new library hours, and more community news
Regular updates of what's happening in local and regional government in and around Charlottesville, Virginia from an award-winning journalist with nearly thirty years of experience.
Today's show is brought to you by the generosity of supporters who have made a monthly contribution through Patreon or signed up for a paid subscription through Substack. Thank you for supporting community journalism and the launch of this new venture. Now, on with the information.
*
There are another 450 new cases of COVID-19 reported by the Virginia Department of Health today. That's the lowest number since July 6, when 354 cases were reported. However the seven day average for new daily cases is 747. The statewide seven-day average for positive PCR tests remains at 4.5 percent today. 
In the Thomas Jefferson Health District there are another 46 cases, bringing the seven-day average for new cases to 42. That's another 28 cases in Charlottesville and 15 in Albemarle. Charlottesville's seven day average for new daily cases is 22 while that figure in Albemarle is 15. The district's seven-day average for positive PCR tests is also at 4.5 percent today.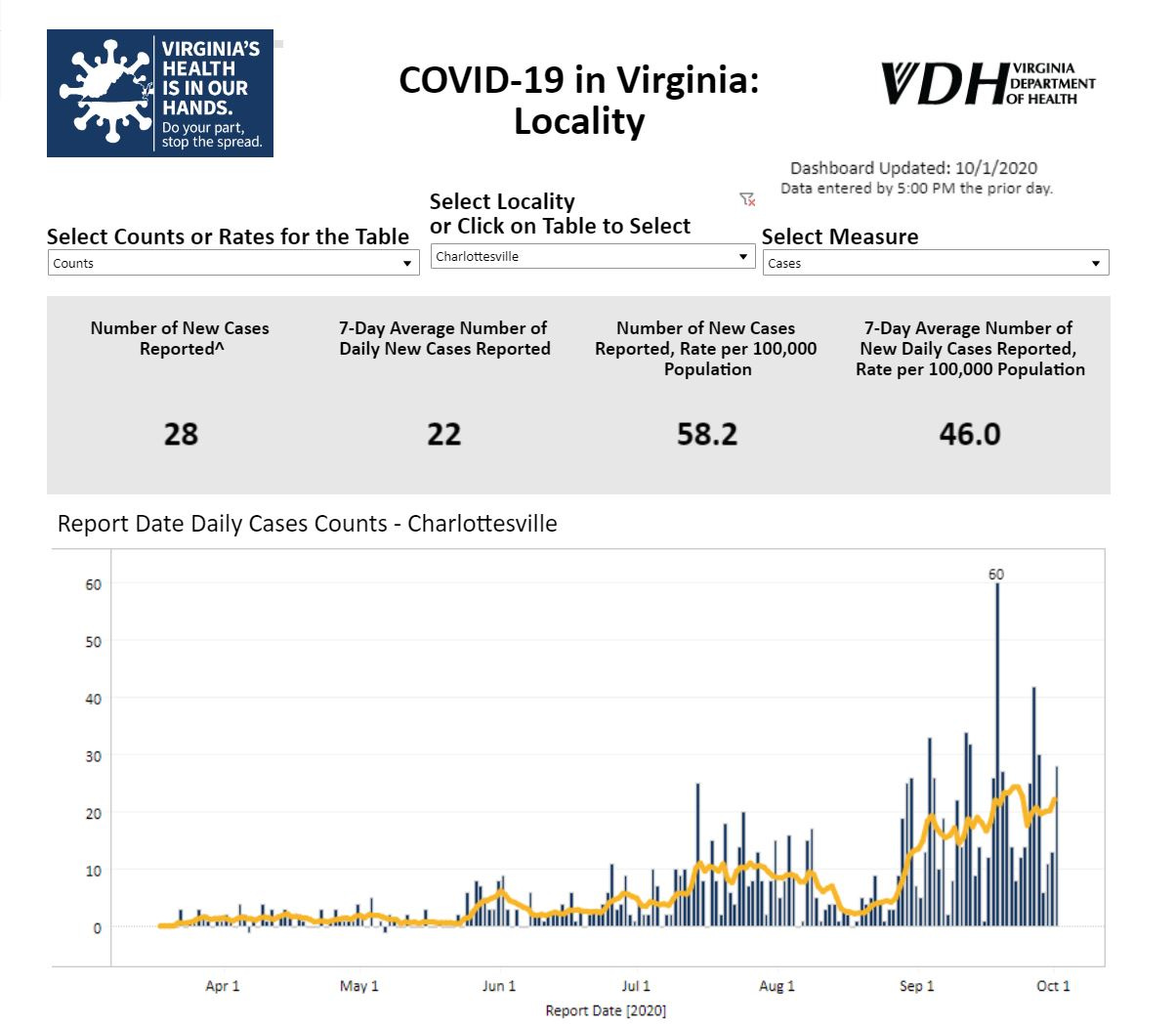 The University of Virginia reported another 45 cases yesterday, with 42 of them students. The officials COVID tracker lists 224 active cases, with 214 cases of those students. The number of people in isolation rooms has dropped to five percent and the number of quarantine rooms remains steady at 29 percent. 
Some of those quarantine rooms are in local hotels, as reported by Raghda Labban and Ava MacBlane in the Cavalier Daily yesterday in a story about what life has been like for the students in residence halls where outbreaks have occurred. 
The Cavalier Daily also has a story today by Sierra Martin about how coursework and examinations are changing during an academic term in which only one quarter of classes have an in-person component. 
Last week, UVA President Jim Ryan imposed a five-person limit on students gatherings on and off Grounds to help slow the spread of COVID. If cases were to become less manageable at UVA, there is another level of further mitigation that could be triggered. The in-house publication UVA Today has a Q&A with officials about the "Short-Term Restricted Operations" that would include ending in-person classes. 
* 
Charlottesville City Council has reiterated a desire to remove the Lewis and Clark and Sacagewea statue from the intersection of West Main Street. The topic came up during a work session on the future of a road improvement project for the street, which has seen construction of at least seven multistory buildings in the past ten years. 
The statue is within the first phase of the project, which runs from Ridge Street to 6th Street NW and has a cost estimate of $17 million. That's the result of an urban design study that began in 2013 and was approved by City Council in March 2016. The work will involve removing the slip lane that allows vehicles to travel south onto Ridge Street in favor of a public park. Council discussed how to move forward with removing the statue, and directed staff to proceed with cost-reductions through a "value-engineering study." 
"Being one of the newbies I was not around during any previous discussion but part of what I want this project to do is to connect the University of Virginia to downtown at a bike and pedestrian level in a way that is inviting," said City Councilor Lloyd Snook. 
I'll have a longer story and podcast about this available for paid subscribers shortly. 
*
This weekend, Charlottesville public works crews will begin using street sweepers to clean selected roadways in Albemarle County's growth area. This is a pilot program where the county is paying to use city resources in order to avoid having to purchase their own machines. A quick web search reveals that the cost of a used 2016 model is $170,000. According to an email from the county's director of Facilities and Environmental Services, the work this weekend will attempt to sweep the John Warner Parkway, Rio Road East and West, Hydraulic Road, Georgetown Road and Barracks Road. 
"Combined those roads are the longest of the three work areas, and the widest, so it will be a challenge to complete the work in a single weekend," said Lance Stewart "It also represents the kind of assumption we want to test as part of the pilot – how long it will take per lane mile of busy commuter roads." 
In addition to making bike lanes safer, street sweeping helps remove sediment and debris that would otherwise enter into the watershed as pollutants. They are considered one of several dozen Best Management Practices (BMP) in the long-going quest to improve water quality in the Chesapeake Bay. 
*
This weekend, the Jefferson Madison Regional Library will add Sunday hours back at the Central branch downtown. However, the library doors will remain closed and items will be circulated through curbside pick-up. The goal of opening from 1 p.m. to 5 p.m. is to give additional opportunities for those unable to some during the week or on Saturday. 
"This is the ONLY Sunday service in JMRL, so it is a crucial piece of customer service for working families," said David Plunkett, the system's director. 
*
In meetings today, The Thomas Jefferson Planning District Commission's Board of Directors meets at 7 p.m. with two items related to pandemic relief. That includes a vote on an agreement with the Virginia Department of Housing and Community Development and an update on the Rental and Mortgage Relief Program administered by the TJPDC. 
As of September 22, the program had received $664,704 in funds and distributed $565,000 in relief. The TJPDC uses 15 percent of the funding to cover its internal costs. In Albemarle, 165 households have received a cumulative $240,087 in funding with another 291 applications pending. Ten were denied. In Charlottesville, $45,778 has been distributed to 32 households with another 171 pending. Twelve were denied. 
You can see the details in the packet. (agenda packet)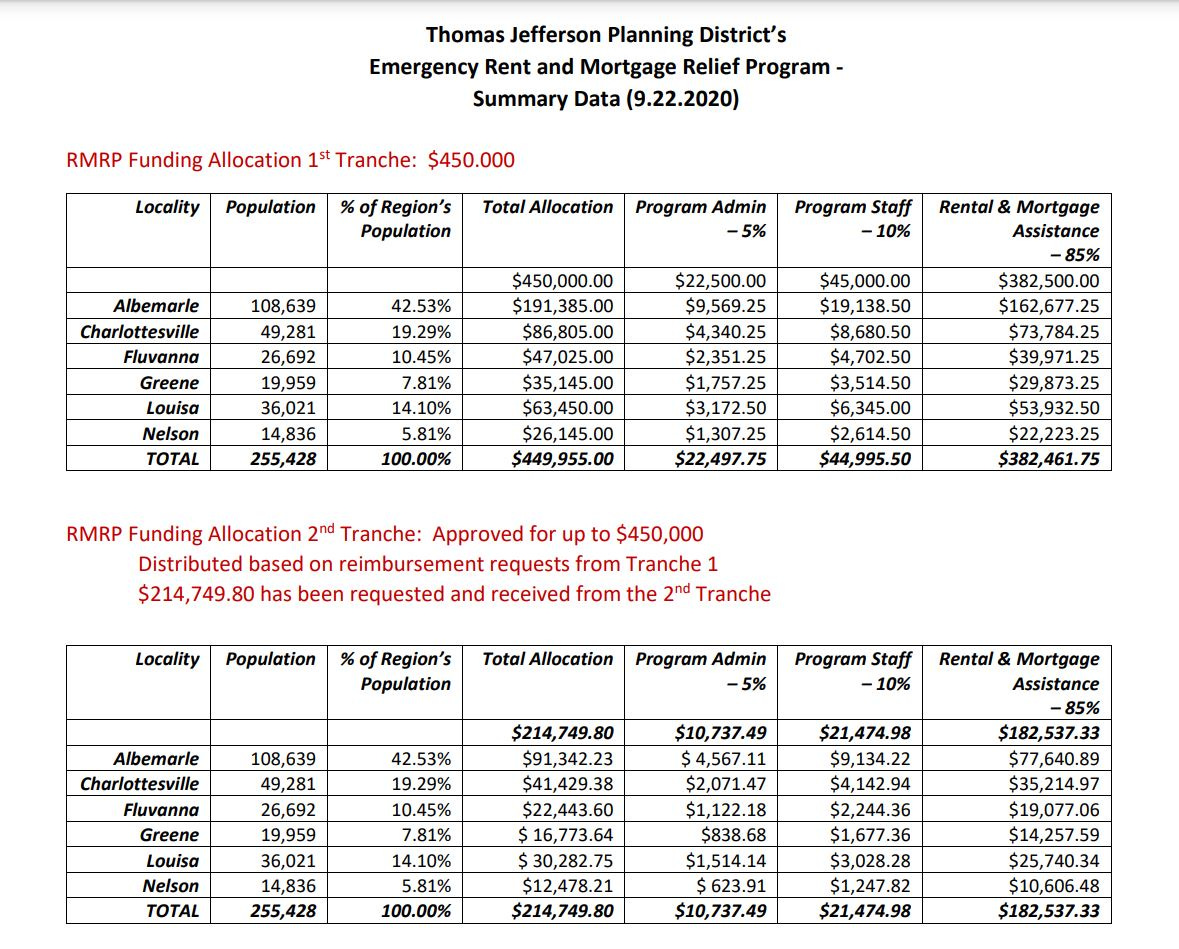 You can also find out how Tuesday's presidential debate may have affected predictions about the outcome. The Center for Politics at the University of Virginia will take another gaze into Larry Sabato's Crystal Ball at 2 p.m. in an event that can be watched live on the center's YouTube channel.