Jul 31, 2020 • 6M
July 31, 2020: Virtual start to the school in Albemarle and Charlottesville, Virginia Humanities announces new HQ
Regular updates of what's happening in local and regional government in and around Charlottesville, Virginia from an award-winning journalist with nearly thirty years of experience.
Today's episode is supported by the Kindness Cafe, open for curbside pickup Wednesday through Saturday from 8 am to 11 am at the Brooks Family YMCA in McIntire Park. Visit the Kindness Cafe website to place your order. 
*
The school boards in Albemarle and Charlottesville have both voted to proceed with virtual instruction for the first nine weeks of school year, though some Albemarle students will attend in-person if they have either special needs, are learning English, or do not have any access to the Internet.  This is known as Stage 2 of the county's reopening plan and was recommended in part out of a concern that there is not enough testing capacity.
"This is of concern," said Rosalyn Schmitt, chief operating officer for Albemarle County Public Schools. "Access to testing remains limited and those that are tested are seeing much longer delays in the results and we know a key strategy of keeping our students and staff safe will be able to identify cases quickly and isolate them and quarantine them quickly, and our testing will not allow that." 
Two-thirds of staff who responded to a survey said they did not feel comfortable with returning to school. However, two-thirds of parents surveyed said they wanted schools to open. 
Superintendent Matt Haas recommended Stage 2 at this time, and any returning staff and teachers would be volunteers. After being presented with the options, School Board Member Katrina Callsen made the motion to move forward with Stage 2.
"I move that the Albemarle County Public School institute Stage 2 to begin the 2020/2021 school year encompassing the first nine week marking period and further that four and a half weeks prior to the end of the marking period the superintendent shall make a recommendation to either continue stage 2 or initiate the educational program of another stage for the following marking period," Callsen said. 
School Board Member Ellen Osborne said she could not support Stage 2.
"I just don't feel like I can put our most vulnerable students into the middle of a grand experiment and then have them take that home to their communities which are already being disproportionately affected," Osborn said. 
The motion passed four to three, with School Board Member Dave Oberg changing his vote from initially voting against it. 
In Charlottesville, the School Board voted unanimously to proceed with an online option. They did so after a long public comment period. Both communities will begin online learning on September 8. 
*
There are another 984 new cases of COVID-19 in Virginia today, for a cumulative total of 89,988. The death toll rose by another 33 fatalities today for a cumulative total of 2,174. The seven day positive testing rate remains at 7.2 percent for a second day. The numbers for the Thomas Jefferson Health District were not available at recording time.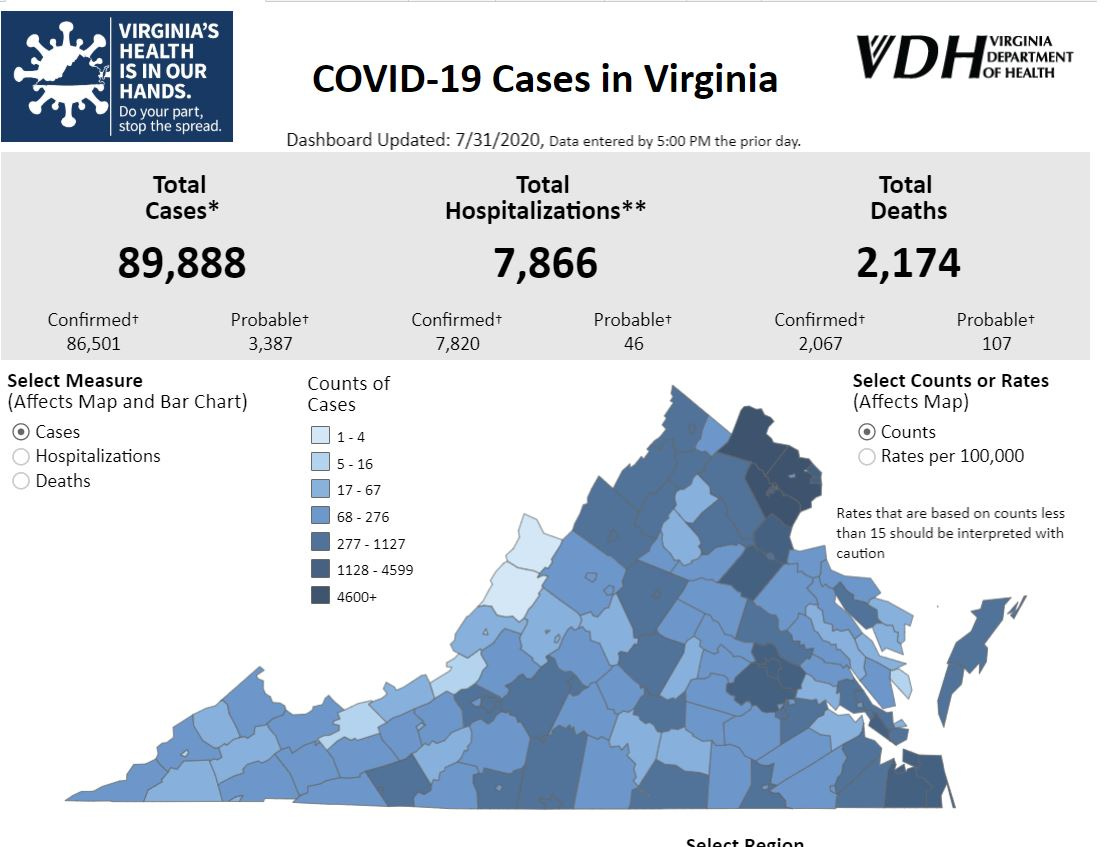 *
The organization that encourages and promotes the humanities in the Commonwealth will move its headquarters to the redeveloped Dairy Central building at the corner of Preston Avenue and 10th Street. Virginia Humanities is moving to the location in part because it is more centrally located and will allow more space for public discussions. Dairy Central a redevelopment of the old Monticello Dairy building, itself a protected historic building whose facade was required to remain intact. The property in the 10th and Page neighborhood is being redeveloped by Stony Point Design Build. During the review process, some in the neighborhood noted the potential for gentrification. 
"We're conscious of this history and we are also aware of the positive and negative impacts that a development like Dairy Central can have on a neighborhood," said Virginia Humanities Executive Director Matthew Gibson. "We want to be an asset to the community and be good and collaborative neighbors." 
The $1.7 million move will take place early next year, and has been delayed due to COVID-19. (release)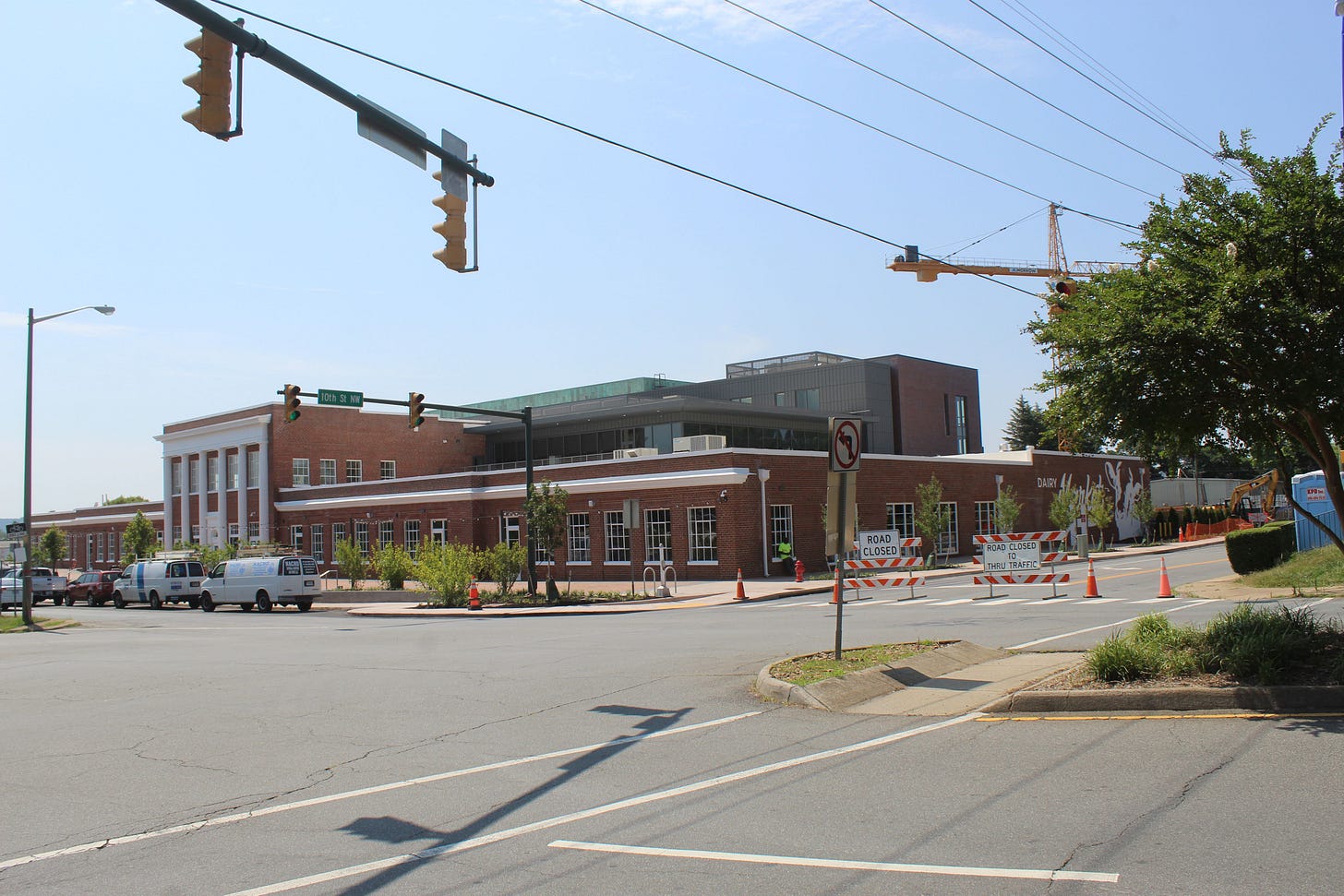 *
When students return to Grounds for classes at the University of Virginia, they will be asked to use public transit only when necessary. Due to COVID-19 restrictions, buses on the University Transit System are restricted to no more than 20 passengers who must also use the rear doors. 
On August 3, routes will also change and buses will not run down McCormick Road, the main roadway through central Grounds. There will also be changes to parking, with some annual spaces being converted into hourly, weekly or monthly permits. 
"For those who want to park by the day or the week, we will have new online options for people to purchase these virtual permits with their credit cards," said Parking and Transportation Director Becca White in an interview with UVA Today. "The customers supply their license plate numbers online, which will be fed into the license plate recognition system on our enforcement vehicles. People who use the meters and the Parkmobile application are already doing this."
Employees are also being encouraged to telework if they can. That strategy was already being implemented as part of a transportation demand management plan adopted in 2019. (transit routes)
*
The Board of Trustees for the Jefferson-Madison Regional Library will hold a special session today to conclude their discussion about when they can move to a new tier in their COVID-19 response. Currently some libraries are open for curbside pick-up under Tier 4, but the Board will continue a conversation about moving to Tier 3, which would allow people to come into the library under appointment. The meeting begins at 3 p.m. (agenda)
Are you enjoying this service? Please consider supporting our Patreon account.