Jul 30, 2020 • 7M
July 30, 2020: Superintendent Atkins recommends online-only start for schools, energy inequity in Charlottesville
Regular updates of what's happening in local and regional government in and around Charlottesville, Virginia from an award-winning journalist with nearly thirty years of experience.
This quick look at what's happening and what's happening is supported today by the Kindness Cafe, open for curbside pickup Wednesday through Saturday from 8 am to 11 am at the Brooks Family YMCA in McIntire Park. Visit the Kindness Cafe website to place your order. 
* 
The Virginia Department of Health is reporting another 911 cases of COVID-19 this morning, with another 16 fatalities. That brings the total number of deaths to 2,141. The seven day average of positive tests is at 7.2 percent today. The latest numbers for the Thomas Jefferson Planning District were not available at recording time, but there were six new cases reported yesterday for a total to date of 1,669.
*
Charlottesville's School Superintendent will recommend that city schools remain online-only for the first nine weeks of the academic year. Rosa Atkins sent a message to school parents and staff Wednesday announcing she will ask the School Board to consider that option and to reevaluate halfway through the quarter, which will begin on September 8. 
"With cases rising in our nation and area, with a higher-than-recommended positivity rate in our area, and with many unanswered questions about how best to protect our staff and students, we have decided to put our efforts into online learning so we can make this first nine weeks rewarding and productive," Atkins wrote.
The School Board will meet at 5 p.m. to vote on the path forward. Atkins acknowledged that keeping schools online raises challenges for many, such as child care and those who did not learn well in a remote setting. There's also concern about student isolation.
"For those who are worried about the mental wellness of your students, our fall plans incorporate social-emotional learning, community building, peer-to-peer engagement, and more," Atkins wrote. "Our teachers are already working on ways to make connections and build relationships with you and your students."
The Albemarle School Board will meet at 2 p.m. to vote on whether it will begin the school year online, or go with a hybrid model that includes face to face learning. The Greene County School Board voted last night to begin classes in person beginning September 8, according to Terry Beigie of the Greene County Record. Elementary schools will be in session five days a week while older students will be in school two days a week. 
*
Radio station WTJU and the Ix Park have canceled their annual Freefall concert series. The weekly events were scheduled to begin on August 29 and run through October 3. 
"Freefall concerts draw thousands of attendees to these free concerts, and there's simply no safe way to do that during this pandemic," reads a press release sent out by the station. "We hope to return with a full slate of Freefall concerts in 2021."
However, the Charlottesville-Albemarle Black Business Expo will still be held on September 26 in a virtual format. That event is part of the festival. 
*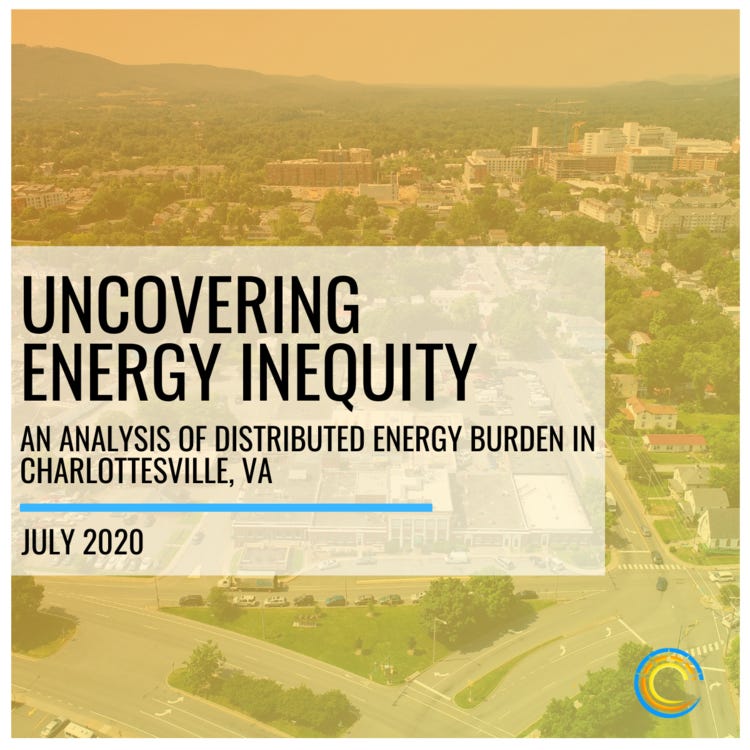 A group that studies the effects of climate change and recommends policies has published a new report that concludes that low-income households pay a disproportionate amount toward energy costs. Susan Kruse is the executive director of the Community Climate Collaborative (C3). She said C3 wanted to do the work after attending a community event at the Southwood Mobile Home Park.  (study)
"Residents in that trailer park were paying $300 and more on energy per month for a trailer," Kruse said. "Unfortunately we gave the survey an artificial ceiling at $500 and there were actually many residents who were actually paying more than on a monthly basis for energy costs." 
Kruse said the Uncovering Energy Inequity report analyzed U.S. Census tracts in Charlottesville and found that those with lower incomes have higher energy burdens. C3 will hold webinars on their Uncovering Energy Inequity study today at noon and 5 p.m. One of the speakers will be Caetano de Campos Lopes, their Director of Climate Policy.  
"Our first key finding after looking at more granular data was that nearly 5,000 households, or 27 percent of the city's population, face high energy burden levels," de Campos Lopes said. "More than 4,000 of them face very high energy burden levels. And more than 1,000 pay more than 20 or more of their income to home energy expenditures."
Other speakers on the webinar include representatives from groups that lobby for more affordable housing options.  Check the C3 Facebook page to register.
*
Charlottesville's former fire chief has been hired as the new chief operating officer for Habitat for Humanity of Greater Charlottesville. Andrew Baxter resigned his position on June 11 after disagreements with City Manager Tarron Richardson. In a release, Habitat said Baxter's experience would help the organization double its home construction program to more than forty a year. 
"Probably the single most important foundational element to a safe, healthy, resilient person, family, or community is safe, stable, and affordable housing," Baxter is quoted in the release. "For much of my career, my focus was on response. After a while you figure out that many of those responses could be avoided by addressing the root causes of those emergencies.
* 
Tomorrow is the last day of work for the city's housing coordinator. John Sales has been in the position for about a year, and he won't be going far. 
"I'll be going over to the Housing Authority to serve as their executive director," Sales said at the July 15 meeting of the Housing Advisory Committee. That group has been reviewing potential changes to the zoning ordinance to increase the number of houses in the city.
Charlottesville is in the fourth year of review for the city's Comprehensive Plan, which is to also include review of the zoning code and a new affordable housing policy. Alexander Ikefuna, the deputy director of the city's Neighborhood Development Services department, said a draft of the zoning rewrite should be completed next summer. (Cville Plans Together page)
*
And finally, the magazine Fast Company has named WillowTree as one of its top 100 Workplaces for Innovators. The company was recognized for development of an app called Vocable AAC that helps those with speech impairments communicate. WillowTree is set to move from its offices in downtown Charlottesville to the redeveloped WoolenMills, despite the pandemic. In May, CEO Tobias Dengel told the Albemarle Board of Supervisors that the company had lost a quarter of its revenues due to the economic slowdown. (press release)