Jul 29, 2020 • 8M
July 29, 2020: Hampton Roads restrictions, Delegate Rasoul's diagnosis
Regular updates of what's happening in local and regional government in and around Charlottesville, Virginia from an award-winning journalist with nearly thirty years of experience.
Today's installment of information comes to you with support from Rapture, open for takeout or outside dining only on Charlottesville's downtown mall. Visit them on Facebook to learn more. 
There are another 999 new cases of COVID-19 in Virginia today for a total of 87,993. Yesterday the number of new cases was 922 and on Sunday it was 1,505. The seven-day positive testing rate is at 7.1 percent. The numbers for the Thomas Jefferson Health District were not available at recording time. 
*
Governor Ralph Northam has announced he is imposing further restrictions on the Hampton Roads area to stop increases of new cases there. Virginia's seven-day positive testing rate is stable in four out of five regions.
"Overall the rate is 10.8 percent positive," Northam said. "As of yesterday, test positivity rates in Chesapeake, Norfolk, Suffolk, Portsmouth and Hampton ranged from 9.9 percent to 18.6 percent."
To combat the trend, Northam has issued an executive order that will take effect July 31 at midnight that would stop alcohol sales on-site after ten p.m. and all restaurants must close at midnight.
"This effectively closes all bars," Northam said. 
Indoor dining will be restricted to 50 percent of capacity and gatherings are capped at 50 people, or what was in place during Phase 2 of the Forward Virginia plan. On Monday, Albemarle and Charlottesville took that step for themselves due to local concerns. 
"This is about stopping the spread of COVID-19 in Hampton Roads," Northam said. "It happens when too many people gather, when too many people are non compliant, and as I've said before, when too many people are selfish." 
More from Governor Northam can be heard in the next installment of the Charlottesville Quarantine Report. 
*
Delegate Sam Rasoul of Roanoke announced over the weekend that he and his wife have tested positive for COVID-19. He said his family likely contracted the disease after meeting with a relative on a family trip. 
"I'm on day 13," Rasoul said on July 28. "I started feeling symptoms that included fatigue, fever, and most concerning was the kind of chest pressure as you're not sure what direction it's going to head in."
Rasoul said he believes he is on the mend. He is calling for more rapid testing to help people know if they are asymptomatic and spreading the disease. The delegate said it's important for people to remain careful.
"We let our guard down around an asymptomatic family member who subsequently tested positive and that's unfortunately how we got it," Rasoul said. 
That family member had tested at a pharmacy, but those results do not usually come back for ten to fourteen days. Delegate Rasoul said he is preparing for the August 18 special session of the General Assembly, and he said police reform will be a major issue. More from this interview will be in an upcoming episode of the Charlottesville Quarantine Report.
*
The Greene Board of Supervisors has voted to withdraw from the Rapidan Service Authority, paving the way for the county to take over planning and implementation for a new reservoir. Last week, the RSA Board voted 4 to 2 to end the collection of facility fees to pay for the project, which has a cost estimate between $45 million and $60 million. Mark B. Taylor is the Greene County administrator. 
"Greene County's water supply project must proceed for existing customers and for future growth alike," said county administrator Mark B. Taylor. "We must get this water supply project done. The problem on July 16 was that the RSA Board did not apply its usual rule of deference in dealing with Greene County."
Greene is in the RSA with Madison and Orange counties,. 
In a press release issued on July 16, RSA said the project was supposed to have been built by 2008, so the facilities fee should not be collected. Taylor said that was false. 
"RSA's website doesn't quite fully describe reality," Taylor said. "The RSA doesn't really work like a partnership, advancing one shared purpose. RSA is really more like a confederation of three counties using the water and waste authorities act to serve the needs of their communities. RSA keeps separate books for each county that it serves. It even keeps separate books for each system that it operates in each of the member localities."
The Board of Supervisors voted unanimously on a resolution to begin the process of leaving the RSA. Read the story on the Greene County Record for all of the details on this action. 
* 
Even in the middle of summer, development continues. Albemarle County Community Development will host a community meeting for a rezoning proposed for 5258 Three Notch'd Road. Developer Katurah Roell is requesting a rezoning of 14.259 acres from rural area to Neighborhood Model District for the creation of a new neighborhood. However, the land is not within the jurisdiction of the Albemarle County Service Authority. Currently only the existing structure on the property is allowed to connect to public water. The applicant will request that connection as well as to public sewer. (meeting info)
*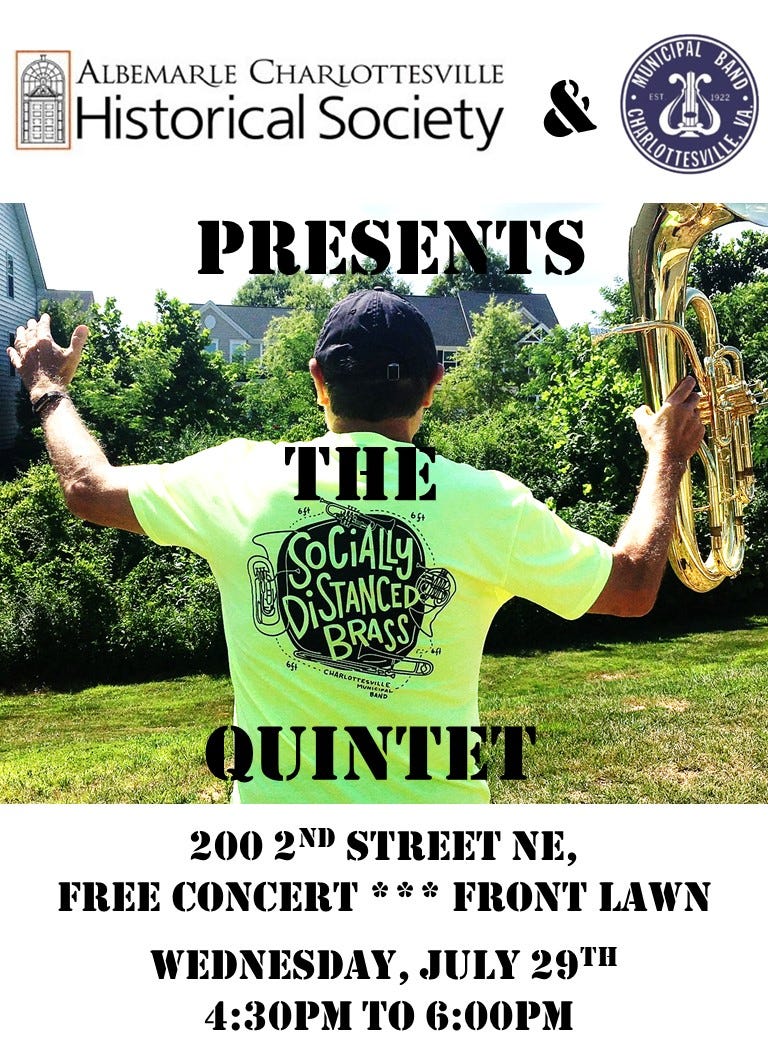 Later this afternoon, the Albemarle Charlottesville Historical Society will present two showings of the 1930 version of the World War I classic All Quiet on the Western Front at the Paramount with showtimes at 3 p.m. and 7:30 p.m. In between, the Charlottesville Municipal Band Brass Quintet will play on the society's front lawn beginning at 4:30 p.m. until 6 p.m. Details on the society's web page.