Jul 20, 2020 • 7M
July 20, 2020: Greene County water, Council action, mobile home park rezoning in Albemarle
Regular updates of what's happening in local and regional government in and around Charlottesville, Virginia from an award-winning journalist with nearly thirty years of experience.
Today is the 51st anniversary of the first people stepping foot on the moon. Today's installment comes to you from Rapture, now serving lunch and dinner on Charlottesville's Downtown Mall weather permitting. Open from noon to nine Tuesday through Saturday, visit Rapture on Facebook to learn more. 
*
There have now been nearly a million COVID-19 tests conducted in the Commonwealth, according to data from the Virginia Department of Health. On Saturday and Sunday the number of new cases increased by around a thousand each day, and the 7-day positive percentage rate for all testing encounters rose to 7.6 percent as of Sunday, up from 6.6 percent on July 12. The Thomas Jefferson Health District added another 41 cases and the positive percentage rate for all tests is at 7.1 percent as of Sunday. 
According to the latest COVID-19 model run by the University of Virginia Biocomplexity Institute, the Thomas Jefferson Health District is experiencing a "surge in cases." That's the same case with the Pittsylvania-Danville District and eight health districts in the Hampton Roads area. The reproduction rate for the novel coronavirus statewide is at 1.137. Numbers higher than 1 represent the possibility for community spread. The model, which was released Friday, estimates that 656,034 cases of COVID-19 have been avoided since May 15 due to physical distancing and facial covering protocols. (July 17 report)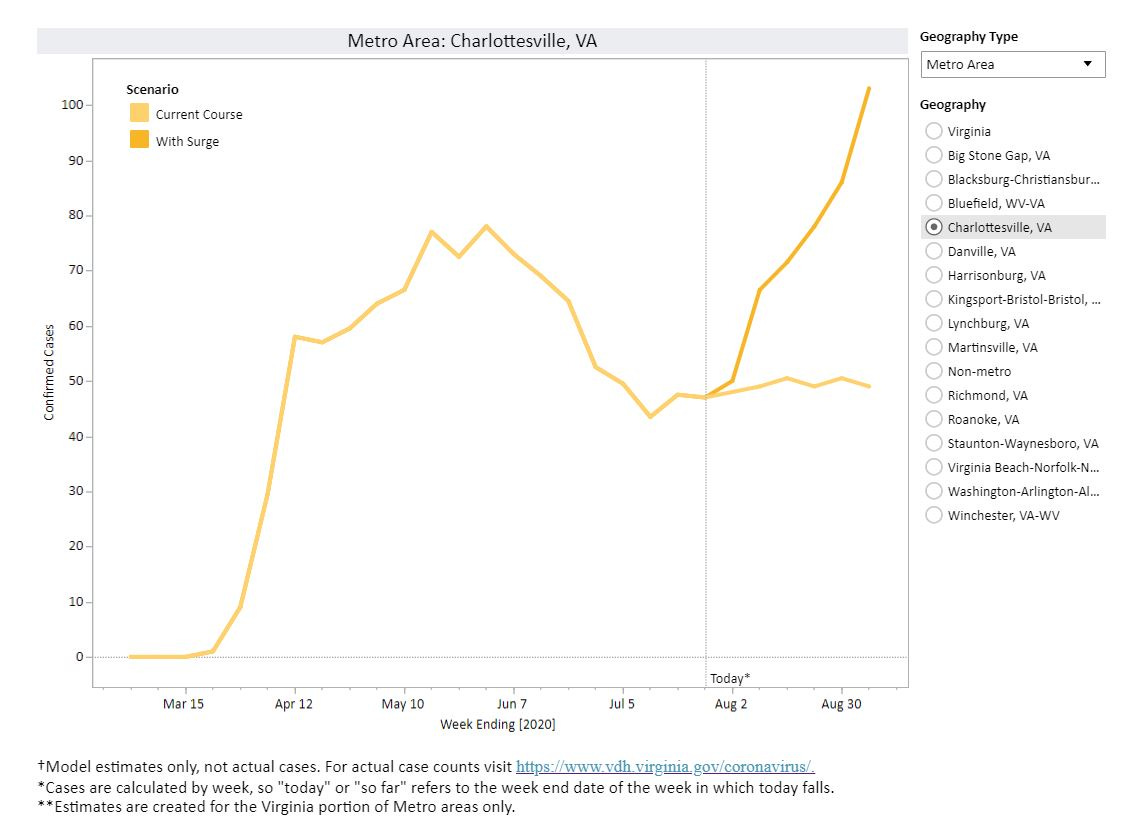 ***
The expansion of Greene County's water supply appeared to be heading toward construction but an action taken Thursday by a regional body with jurisdiction over the matter calls that future into question. According to the Greene County Record, the Rapidan Service Authority voted 4-2 to "assume leadership" of the process to determine the future of the water supply plan mandated by Virginia law. They also effectively overturned a decision last week by the Greene County Board of Supervisors to increase facility fees to help pay for the White Run Reservoir project which has an estimated total cost of between $45 million and $60 million.  The five-member Greene BOS will hold a special emergency meeting Tuesday at 6:30 p.m. to receive information about the project. (agenda) (Greene County record story)
***
A thirty-year old Albemarle County man is dead following a crash Saturday evening at the intersection of 5th Street Extended and Harris Road. Charlottesville police have identified Dustin Ryan Parr as the deceased. According to a press release, Albemarle Police were called to a crash at U.S. 250 and Hunter's Way where a Toyota pickup truck had fled the scene. Several people called 911 to report the vehicle "driving erratically at numerous locations." At ten to seven, the truck collided with a sedan at the 5th Street and Harris intersection and the driver of the truck died. 
*** 
Albemarle County will hand out free masks and facial coverings this week at several locations. If you or someone you know is interested, the procedure is to drive up, roll down the passenger side window, and a member of staff will place the item in the passenger seat. Today's event is from 10 a.m. to 4 p.m at the Greenwood Community Center. Tuesday's will take place at the same time at the  Free Union Country School, Wednesday's at Barracks West, and Thursday's at the Covenant School on Hickory Street. On Friday, staff will give out free masks at the Crossroad Country Store from 11 a.m. to 2 p.m. and at the Yancey School Community Center from 2 to 6. 

***
Ridership is down on transit vehicles, but the head of the one agency is preparing for a future in which it is easier for people to call buses to pick them up closer to their home. Last week, Jaunt CEO Brad Sheffield began an educational campaign for a new on-demand service he would like to see integrated among Jaunt, Charlottesville Area Transit and the University Transit System. Sheffield shopped the idea around to the Board of Supervisors last week. 
"I'm hearing some similar ideas popping up here and there and so as it is the case, we sometimes see duplicate efforts and there's no cross-communication and that ends up wasting a lot of resources and time," Sheffield said. 
Jaunt has applied for a federal grant to help pursue the idea and a pilot project is under way to help people get to the Loaves and Fishes food pantry on Lambs Road. 
"This on-demand initiative looks at shaping schedules around the actual requests that come through so over time we're able to better response more immediately to those needs," Sheffield said. 
Sheffield will make the same presentation with the Charlottesville City Council on August 3 and the Charlottesville Planning Commission on August 11. 
***
It's a busy day for virtual government meetings today. There will be a community meeting tonight at 6:30 p.m. in Albemarle County for a proposed rezoning that would replace a mobile home court and motel on U.S. 29 near Forest Lakes with 370 new residents. RST of Virginia Beach purchased the land for about $6 million last October. (site plan) (register for meeting)
City Council has a packed agenda with action on four transportation projects, a rezoning in Fry's Spring, and allocation of $2.29 million in funding for nonprofit agencies. There are two requests to amend city code. One would ban the "possession, carrying, or transportation of firearms, ammunition, or components or combinations in certain public spaces." The General Assembly passed enabling legislation to allow such prohibitions earlier this year. In the other, the city would make June 19 an official holiday to mark Juneteenth. Another item on the agenda would request legislation to give more subpoena powers to police civilian review boards. (resolution)