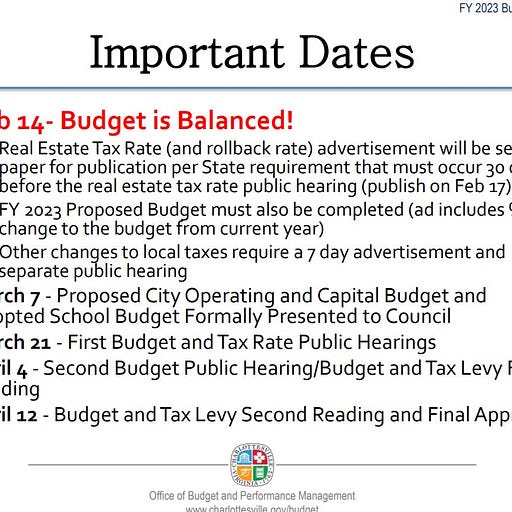 Jan 27 • 10M
January 27, 2022: Charlottesville Council takes first steps towards FY23 budget
Regular updates of what's happening in local and regional government in and around Charlottesville, Virginia from an award-winning journalist with nearly thirty years of experience.
Poetry is a way that might guide our future decisions, and Robert Frost is not alone in writing works about decisions that were not made. Later this year, I may celebrate my 20th anniversary in Charlottesville. Today, I present another snapshot into items happening in the community where most readers and listeners call home.
This shortened edition of Charlottesville Community Engagement is due to a sudden decision I've made to travel to revisit roads I've already driven down at 3 a.m.
On today's program:
UVA sets a record for applications

A new Charlottesville City Council takes their first steps towards adopting a new budget for the next fiscal year
In today's shout-out, a shout-out to the shouters-of out! I want to thank all of the individuals and entities that have supported this newsletter and podcast through a $25 a month Patreon contribution or through some other combination of support. Thanks to the Charlottesville Jazz Society, Code for Charlottesville, LEAP, the Rivanna Conservation Alliance, Lonnie Murray and his penchant for native plants, WTJU, the Albemarle-Charlottesville Historical Society, the Jefferson Madison Regional Library, the Charlottesville Area Tree Stewards, Cville 350, Piedmont Master Gardeners, and of course, the Valley Research Center. More in 2022.
50K apply for UVA undergraduate
The Cavalier Daily is reporting that the University of Virginia has set a new record of undergraduate applications with 50,813 people seeking to be part of the Class of 2026. For more information, read Eileen Powell's article from January 25 to learn more about the demographic make-up of applicants. Twenty-eight percent of applicants are from within the state of Virginia.
In the fall of 2021, there were 18,066 undergraduates on Grounds and 9,049 graduates for a total of 27,115 in Charlottesville. According to the admissions office, two-thirds are from Virginia. Learn more on their website.
Council retreat: The financial portion
The first Charlottesville City Council retreat held during the virtual era era took place yesterday, and the morning session served a last-minute tune-up before the budget season for FY23 begins in February (view the presentation).
Let's hear from Krisy Hammil, the city's senior budget analyst about where we are in the process.
"In January and in February, we're continuing to work on developing the budget, balancing it, and trying to figure out what our revenue forecast will look like," Hammill said. "And then in February, we have to advertise our tax rate."
The tax rate has been set at 95 cents per $100 of assessed property value since 2008. In the past year, the previous City Council indicated theoretical support for an increase to support the reconfiguration of city schools. A bill to allow Charlottesville to hold a referendum on a one percent sales tax for education has passed the Senate, but a companion bill in the House of Delegates remains in a House Finance subcommittee.
"In March, the City Manager will present his proposed budget to Council and then throughout the month of March, Council will meet with the public, review the proposed budget, make its own suggestions, add its own touch to the budget, and then in April you will formally make it your own budget by adopting it and that will become the budget for the following year," Hammill said.
If there is to be a property tax increase, this will need to be advertised to the public 30 days in advance of the public hearing for the budget. Another key piece of information that will be factored in will be the 2022 assessments, which are expected to be mailed out on Friday.
"February 14 is essentially the magic date by which we will have the budget balanced and what I mean by that is we will know the maximum amount that we are willing to increase our budget," Hammill said.
Mayor Lloyd Snook said he did not want to weigh in without the assessment data in hand.
"It would be premature for us today to start talking about the assumptions that are going to be in as a result of that," Snook said.
Snook said a budget work session on February 3 might be a good time to have that discussion.
Councilor Sena Magill said she is expecting the rate will increase.
"I kind of assumed that we were having to raise this taxes year beyond school reconfiguration issues just between the need to make up some grants that are ending, the need to look at collective bargaining and what that's going to cost us," Magill said.
One of the issues is whether any action Council takes with the budget will allow it to retain a AAA bond rating, which allows debt to be floated with a very low interest rate. Kevin Rotty is a financial advisor who helps city staff with capital financing and he said policies will drive whether the ratings agencies will maintain that status.
"Your policies and procedures, your strategic planning, stuff like this is very important," Rotty said. "Council being in line with staff, obviously we've had some change in turnover at the City Manager level and we'll get questions on that, but Council being on the same page and doing planning exercises like this and then your core staff having the history in budget and economic development and finance is very important to the management score there."
The way that will play out in Charlottesville is with the increasing trend for the capital improvement program over the last few years, with Council agreeing to large projects.
But that portion of Charlottesville Community Engagement will need to wait for another day. Listen to the end of the podcast for an explanation why.
There's a lot more of this story to go. And if you can't wait to hear the rest, please go watch the whole thing yourself. I will get to it in future editions, but I hope that you can see in this shortened edition that there's always new information waiting to come down to inform how decisions will be made.
Council will have a budget work session with the School Board on February 2.
The public hearing for the tax rate will be on March 21.