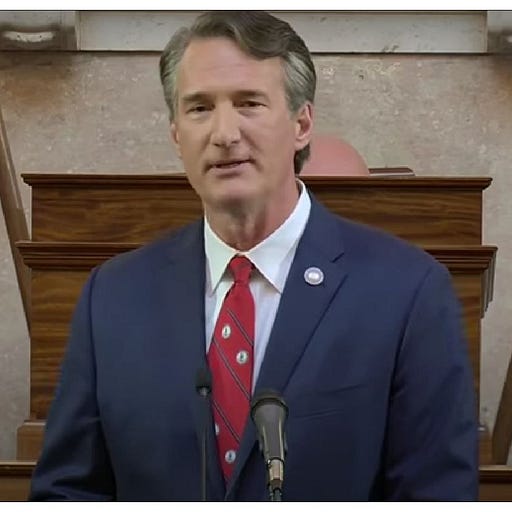 Jan 18 • 17M
January 18, 2022: Youngkin asks General Assembly for tax cuts, charter schools; MPO Tech committee briefed on transit governance study
Plus: Albemarle names a new police chief
Regular updates of what's happening in local and regional government in and around Charlottesville, Virginia from an award-winning journalist with nearly thirty years of experience.
More than half of the first month of 2022 is now in the past, and it's hard to monitor for certain if time is moving faster or slower than usual. In the absence of precise machinery, the purpose of Charlottesville Community Engagement is to document as much of it as possible in the hopes of better understanding all of the forces at work. I'm your host, Sean Tubbs.
This is a free newsletter and podcast so sign up so you can get nearly all of the information!
On today's program:
Albemarle Supervisors are briefed on potential transportation projects, including a funding request for a microtransit demonstration project

Governor Youngkin addresses the General Assembly and lays out his request for charter schools, tax cuts, and more changes to state policy

COVID hospitalizations remain at record levels, but there are signs the omicron surge may be slowing

A very brief legislative update
With winter weather here, now is the time to think about keeping your family warm through the cold Virginia months. Make sure you are getting the most out of your home with help from your local energy nonprofit, LEAP. LEAP wants you and yours to keep comfortable all year round, and offers FREE home weatherization to income- and age-qualifying residents. If you're age 60 or older, or have an annual household income of less than $74,950, you may qualify for a free energy assessment and home energy improvements such as insulation and air sealing. Sign up today to lower your energy bills, increase comfort, and reduce energy waste at home!
Pandemic update
There are signs the omicron surge is beginning to recede in Virginia, though the number of COVID-19 hospitalizations remains high. The Virginia Hospital and Healthcare Association reports 3,948 people in hospital across the state with 676 in intensive care units and 377 on ventilators. However, the seven-day percent positivity has declined to 32.7 percent, down from 36 percent a week ago. The seven-day average for new cases has declined to 15,998.
In the Blue Ridge Health District, there are 114 new cases reported today and the percent positivity is at 27.5 percent. No new fatalities have been reported within the last week.
Youngkin lays out plan to General Assembly
In an address to the General Assembly yesterday afternoon, Governor Glenn Youngkin covered a wide range of his priorities in his speech. The 74th Governor won election with 50.58 percent of the vote.
"After years of fractured politics, a deadly pandemic, lives and livelihoods lost, soaring mental health incidents and drug overdoses, rising crime rates, ever-increasing costs for housing, food and fuel, Virginians have sent us here to turn the page," Youngkin said.
Youngkin gave a lot of specifics. For instance, he said he wants to invest $150 million in state funds to create 20 charter schools.
"Whether they're called charter schools, lab schools, or schools of innovation – it doesn't really matter," Youngkin said. "I don't care what we call it. I just care that we do it."
Youngkin suggested these schools could partner with the state's higher education institutions. He also reminded the General Assembly of his 11 executive actions, including one to ban the use of "inherently divisive concepts" in public education.
"Virginia parents want our history – all of our history, the good and the bad to be taught. And they want their children to be told how to think, not what to think," Youngkin said. "We should not use inherently divisive concepts like Critical Race Theory in Virginia. And why we should not be teaching our children to see everything through the lens of race."
Youngkin also explained why he's ending the mask mandate for public schools, something many school systems including Albemarle have said they will continue to enforce. He also said he will fight federal vaccine mandates, and in his written comments, he said would not use the power of the executive branch in Virginia to call for any more shutdowns.
"The science since the beginning of the pandemic has not been static. We now have therapeutics better testing protocols and fortunately a less severe variant," Youngkin said. "And of course we have vaccines. It means, educating our friends and neighbors and encouraging them to get the vaccine and the booster."
Youngkin also wants the General Assembly to suspend the gas tax increase that went into effect last year, and to raise the standard deduction for Virginia's income tax. He also wants to reduce the tax burden for public safety workers and the military.
"Anyone who wears the uniform risks their life each day on the job. And this includes police officers, firefighters, EMTs, every first responder that keeps us safe."
Youngkin wants to use $100 million from the American Rescue Plan Act for a new training and equipment grant program for law enforcement.
"Furthermore, I'm asking you to dedicate $26 million in state funding for police departments. But only in localities that are increasing funding for their police departments."
Youngkin also announced he wants to create a Coastal Virginia Resiliency Authority. To watch the whole speech, visit this recording by 13News Now or this one from WAVY TV 10.
Albemarle Supervisors name new police chief
Last week, the Albemarle Board of Supervisors has promoted Sean Reeves to be the next police chief in the county. Reeves began his career in Albemarle County as a patrol officer in 2001 and currently holds the rank of Major. He will succeed Ron Lantz who retires at the end of February.
"Major Reeves has played a pivotal role in several ACPD priority projects, including creating the cybercrimes unit, developing a community coalition around mental health crisis response, advancing the body-worn camera program, and serving as the lead ACPD personnel in the County's incident management teams for COVID-19, the At Ready Statue Removal, and the events of August 12," reads the press release.
Legislative update
The perfect record of the 2022 Virginia General Assembly is now broken, as the first few pieces of legislation have begun to fail. As of this reporting, eight bills are listed as having failed. For instance:
A bill from Senator David Suetterlein (R-19) related to municipal elections was defeated in the Local Government committee. That means all localities will need to move their elections to November. (SB147)

A bill from Senator Mark Peake (R-22) to halt the gradual increase of the state's minimum wage was "passed by indefinitely" in the Commerce and Labor committee. (SB173)

Another bill from Peake that would have allowed localities to hold non-binding referenda was also defeated in the Local Government committee.
Other bills have been consolidated into other pieces of legislation, including one from Senator John Edwards (D-21) that would order a review of previous sentences made under mandatory minimum rules. (SB252)
Second subscriber-supported shout-out
What does the phrase "missing middle" mean to you? What does the "missing middle" have to do with the affordability of places to live? On Thursday at noon, the Central Virginia Regional Housing Partnership will hold a webinar with two experts. Suzanne Moomaw is the chair of the University of Virginia School of Architecture and Emily Hamilton is the director of the Urbanity Project at the Mercatus Center at George Mason University. The pair will discuss challenges and obstacles to more density as part of the Regional Housing Partnership's continuing education series. Sign up at tjpdc.org.
Albemarle Supervisors briefed on future transportation projects
There's a deadline this year for localities and regional bodies to submit projects to the Virginia Department of Transportation for potential funding. Four rounds of the Smart Scale process have taken place so far, and planners across the Commonwealth are preparing applications for a preliminary deadline this spring.
Jessica Hersh-Ballering is a transportation planner with Albemarle County and she briefed the Board of Supervisors on January 12. (read staff report)
"The top three projects are Avon Street Bicycle and Pedestrian improvements, Fifth Street Extended Bicycle and Pedestrian improvements, and Belvedere-Rio intersection improvements are all projects that we're considering for smart scale submission as county applications," Hersh-Ballering said.
Hersh-Ballering said the applications will draw from corridor studies recently conducted in all three of those areas. Further study is underway for future projects such as at the U.S. 250 West and U.S. 29 interchange as well as Crozet Avenue and U.S. 250 West.
"We need these studies to wrap up and make their final recommendations so know exactly what infrastructure we would be requesting in each of these applications," Hersh-Ballering said.
Some of these projects may be submitted by the Thomas Jefferson Planning District Commission, which can submit four applications as the TJPDC and four applications as the Charlottesville Albemarle Metropolitan Planning Organization (MPO).
Transportation staff will return to the Board of Supervisors later in the spring to get final thoughts from the elected officials.
As Albemarle County reviews its Comprehensive Plan, transportation staff will be working on a multimodal transportation plan that will become one of its chapters. That work is being overseen by planning manager Rachel Falkenstein
"We're working closely with Rachel Falkenstein's team to determine our next steps," Hersh-Ballering said.
Tomorrow the Board of Supervisors will have a long discussion on transit's future in Albemarle. Hersh-Ballering previewed the discussion of the Regional Transit Vision. (vision website)
"The vision plan was intended to create a community driven vision for the future of transit in our region," Hersh-Ballering said. "There's a need for additional funding and collaboration to meet the community's expectations for transit."
Supervisors will be presented with a request for funding to begin a microtransit pilot project on Pantops and U.S. 29 north.
"We'll have someone from the consulting team here with us next week," Hersh-Ballering said. "He is going to walk us through all of the details of what microtransit is and why they're recommending it for these two locations."
Charlottesville City Council will be briefed on transit today. This morning a technical committee of the MPO Policy Board was told about a governance study that the Thomas Jefferson Planning District Commission is coordinating and are applying to the Virginia Department of Rail and Public Transportation for funding.
"The study is to establish a formal arrangement to support regional coordination and planning around transit operations," said Lucinda Shannon, transportation planner with the TJPDC.
Shannon said the Regional Transit Vision is recommending a formal authority with an authority that could bring in additional revenue. If the DRPT awards the funds, the 18-month study wouldn't begin until the new fiscal year. The consultants are AECOM, JWA and EPR.
"They're looking at the model that Richmond is taking on with their new transit authority so they are suggesting creating some type of a regional authority that would levy a small percentage of sales tax and there is the wholesale gas tax," Shannon said.
In 2009, the General Assembly passed legislation allowing creation of an authority but the Republican-controlled legislature did not pass legislation to allow a referendum on a local sales tax increase.
The MPO Tech Committee adopted a resolution to proceed with the governance study. Charlottesville and Albemarle will be asked to make a local match.
"We want to make sure you were aware of the study," said transportation director Sandy Shackleford.
One reason to plan for transit is to deal with the increasing number of residential units in the area. At the end of the Supervisor's presentation, planning manager Kevin McDermott listed several developments that are under review.
Old Ivy Residences with 490 units off of Old Ivy Road

Heritage on Rio on Rio Road West with 250 units

Southwood Phase 2

North Fork Discovery Park zoning amendment to add up to 1,400 units

Old Dominion Village on Route 240 in Crozet

Willow Glenn in Hollymead seeking to increase residential development
This was the first time new Supervisor Jim Andrews was briefed on transportation issues. He had this note.
"It would be nice to see some maps once in a while where we look at development projects in the context of these reports on the presentations and different road projects," Andrews said.