Aug 4, 2020 • 6M
August 4, 2020: COVID concerns in Lynchburg; Council hears complaints on listening session
Regular updates of what's happening in local and regional government in and around Charlottesville, Virginia from an award-winning journalist with nearly thirty years of experience.
Today's installment is supported today by the Kindness Cafe, open for curbside pickup Wednesday through Saturday from 8 am to 11 am at the Brooks Family YMCA in McIntire Park. Visit the Kindness Cafe website to place your order. 
Health officials in the Lynchburg area called a press conference yesterday to implore people to take the COVID-19 pandemic seriously. Dr. Christopher W. Lewis is the Vice President of Medical Affairs of Centra Health, which operates hospitals and health care facilities. 
"I wish I could bring you good news, but I can't," Lewis said. "We have seen increasing numbers of individuals in the community testing positive for COVID. In the beginning of the pandemic, we were seeing at Centra on the order of single digits, one, two, or three patients or individuals testing positive per day. That number has recently drastically increased. We are seeing on the order of 30 plus individuals testing positive for COVID and that number continues to increase."
  
Dr. Lewis said there were 36 hospitalized patients in Centra facilities yesterday, straining resources in the hospitals in part because COVID patients there spend an average of 20 days. He said people must wear facial coverings to stop the spread. 
"If you leave your place of dwelling, you need to consider potentially everyone you come into contact with as possibly having COVID," Dr. Lewis said. "It is that widespread in our community."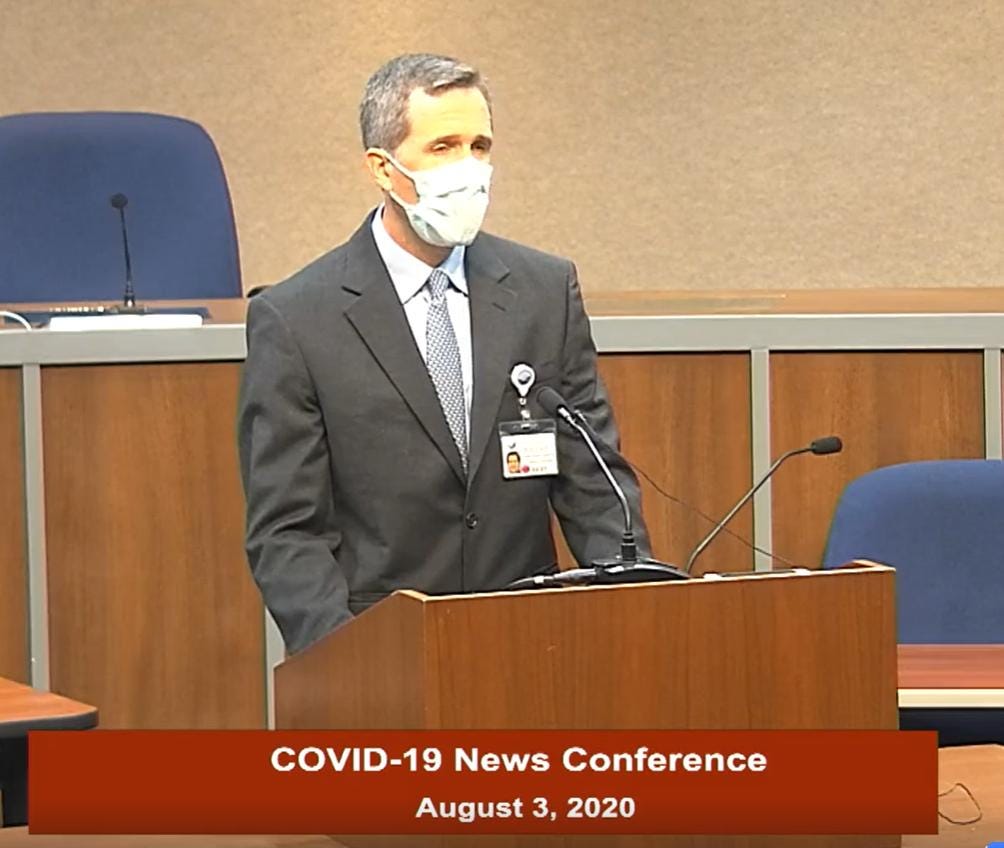 ***
There are another 1,145 new cases of COVID-19 across the Commonwealth as reported by the Virginia Department of Health this morning. Another 26 deaths have been reported for a total of 2,244 to date. The seven day average for positive tests has risen back to 7.2 percent, up from 7.1 percent on Monday. Today's figures for the Thomas Jefferson Health District were not available at publication time.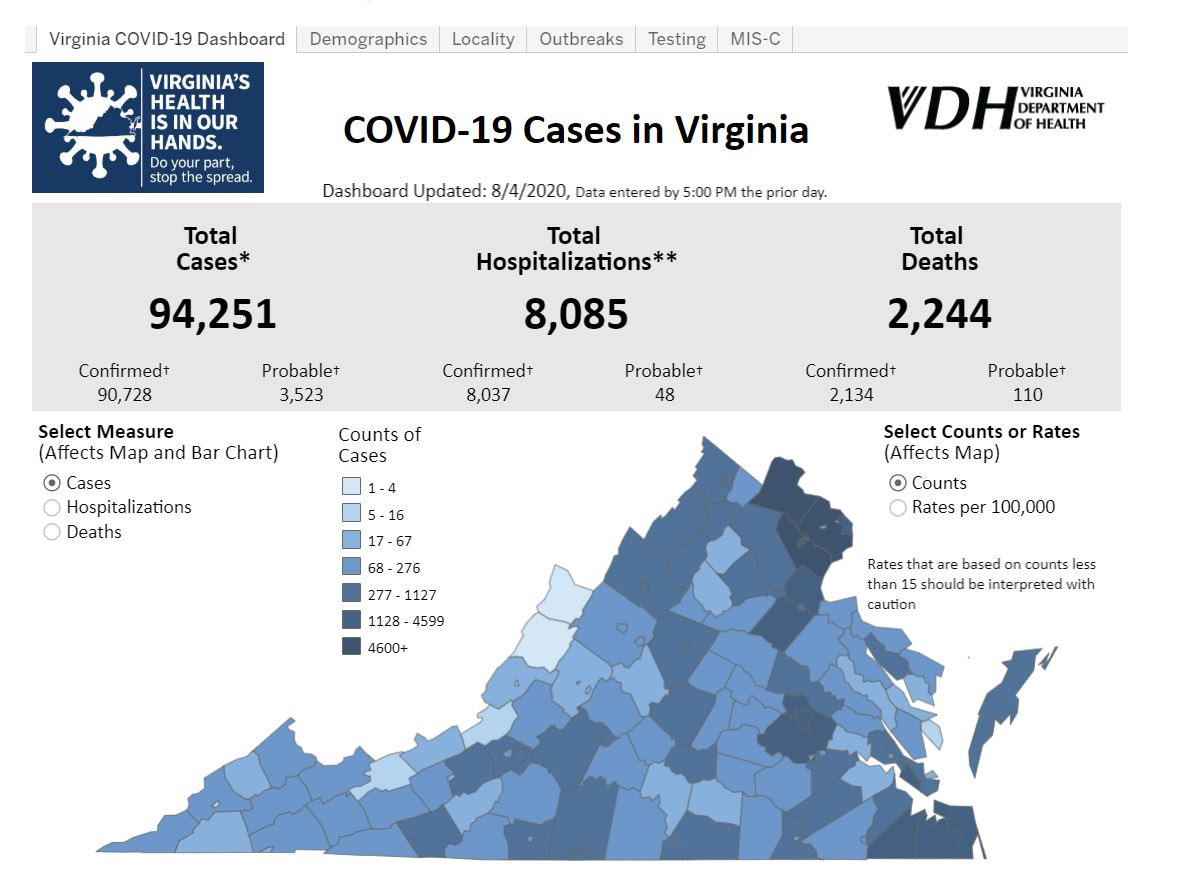 ***
The Charlottesville City Council held the first reading of an appropriation for $15.26 million in state and federal funding for the $31 million Belmont Bridge replacement, a project that is expected to be advertised for construction bids in the fall.
"We still have a few activities left to do," said Jeanette Janiczek, manager of the city's Urban Construction Initiative. "We are finalizing the plans with the Federal Highway Administration as well as the Virginia Department of Transportation. I'm working on updating the Board of Architectural Review based on their Certificate of Appropriateness that we received last year. We have completed the right of way acquisition." 
Construction could get underway next spring if there is a successful bidder. The original bridge opened in 1962 and the city has been planning for a replacement for several years. At one point, Council took a year to determine whether the project should be a tunnel under the railroad tracks rather than a bridge. A final vote will be held on August 17 as part of the Council's consent agenda.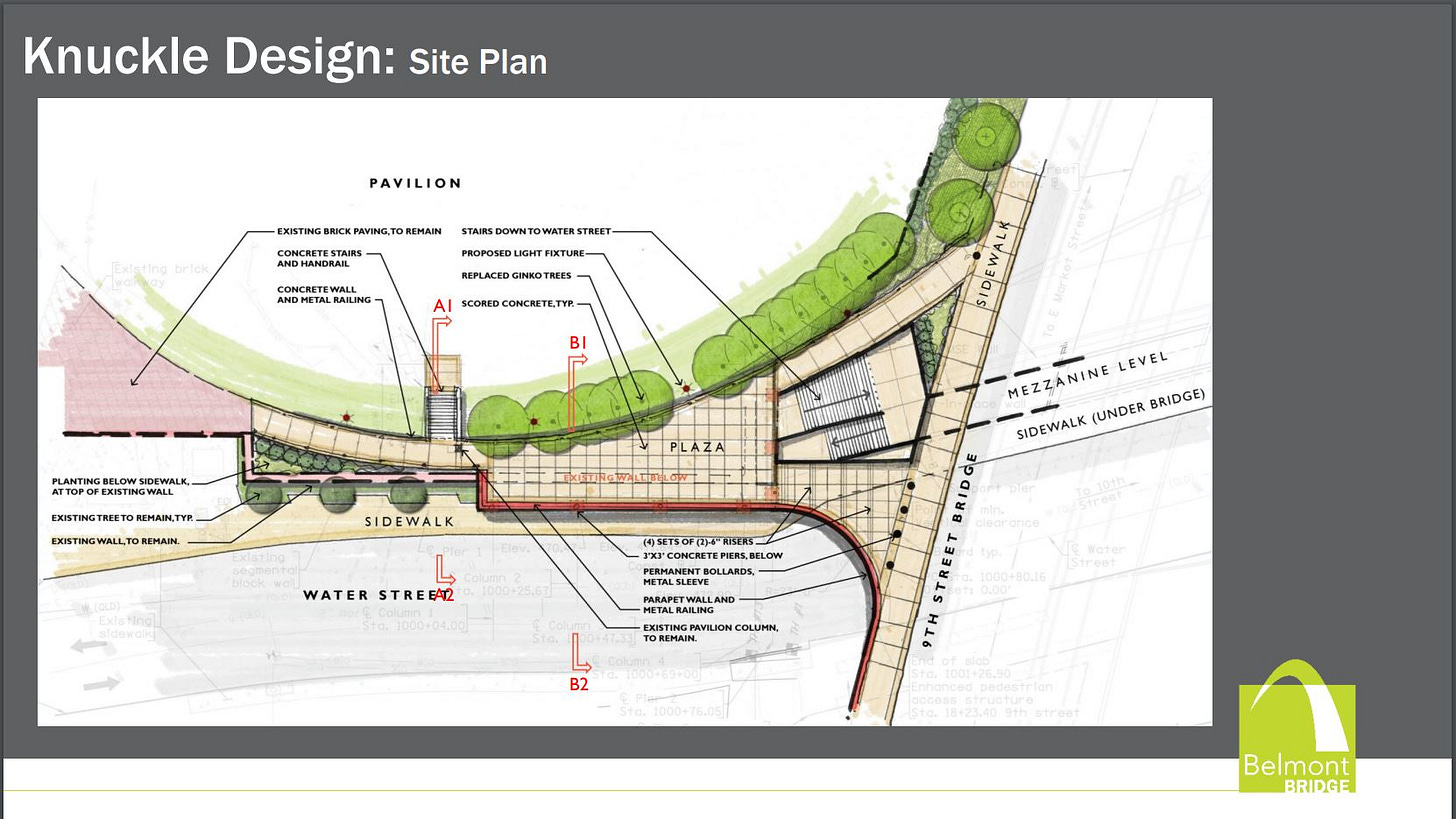 ***

Charlottesville City Council will meet again today at 4 p.m. for a listening session on the police department. Several members of the public told Councilors last night they were suspicious of the event because another body will not be involved.
"You are having a listening session Tuesday regarding a topical matter that is most definitely in the wheelhouse of the [Police Civilian Review Board] yet not one invitation was forwarded for a PCRB rep to be part of the panel," said Nancy Carpenter, is the social justice representative on the PCRB. "When an inquiry was made from the board chair to the Mayor the reply was that this was not a joint session, case closed." 
City Councilor Michael Payne said the event was intended to be a chance for elected officials to have a broader conversation about policing in Charlottesville.
"It sprung up less from the CRB and more from the conversations in Charlottesville and the rest of the country around de-funding police, re-examining policing, and trying to think through and hear from the community in specifics what does that mean," Payne said. "What does it mean to think about next steps and concrete policy steps that can get us there. And [this is] a very basic entry point to begin the community conversation around these topics." 
Vice Mayor Sena Magill said the event is a chance to hear from the entire community on the topic. The event begins at 4 p.m. 
***
The executive director of Jaunt continued a series of community engagement efforts to promote a new pilot project that will integrate on-demand service into existing transit services. Brad Sheffield spoke to City Council last night.
"We see sometimes in the urban area that there are some inefficient or hard-to-serve area, those gaps that exist," Sheffield said. "Sometimes we call them the first and last mile of services. It's really hard to try to serve everybody with transit services, especially fixed route services. We're able to look at implementing something like on-demand that would help connect those hard to reach areas with those backbone fixed-route services."
One of those hard to reach areas is the Loaves and Fishes food pantry on Lambs Road in Albemarle County. Jaunt's pilot project will serve that area. Sheffield said he is working with Charlottesville Area Transit and the University Transit System  to integrate the on demand service with their fixed  routes. Currently all services are running adjusted services due to COVID-19, but Sheffield said the hope is to build a system that can make it more possible for people to get around the community without an automobile. 
***
Heavy rains and storms overnight knocked out power in many places across the community. In Greene County, more than six thousand customers of the Rappahannock Electric Cooperative were without power as of seven this morning. 
***
Thanks for reading today. If you benefit from this service, please consider a contribution through Patreon.