Aug 3, 2020 • 9M
August 3, 2020: UVA Board of Visitors talks reopening, COVID-19 contingencies
Regular updates of what's happening in local and regional government in and around Charlottesville, Virginia from an award-winning journalist with nearly thirty years of experience.
Today's installment comes with help from Mead Oriental Rugs, located on 4th Street NE. Open by appointment, call 971-8077 to set up your visit. Learn more at the Instagram account Rug Merchants Daughter. 
*
The governing body of the University of Virginia met Friday to discuss the upcoming academic year, which is set to begin on August 25. The Board of Visitors (BOV) met virtually in an open session before going into closed session. James Murray, the rector of the BOV, said teams at UVA have been working on the reopening plan for several months.
"I think we have as well-conceived a plan as any university in America," Murray said. "But we have to be clear… this boils down to whether or not we have compliance. This epidemic is going to be the ultimate test of our students and a test of what makes UVA a special place." 
The protocol for students returning to Grounds requires a 14-day self-quarantine and states students "should not attend any large social events or interact with more than a few people (3-5) at a time." Students must be tested for COVID-19 and those who do not comply cannot return. When classes begin, daily health checks are required as are face coverings.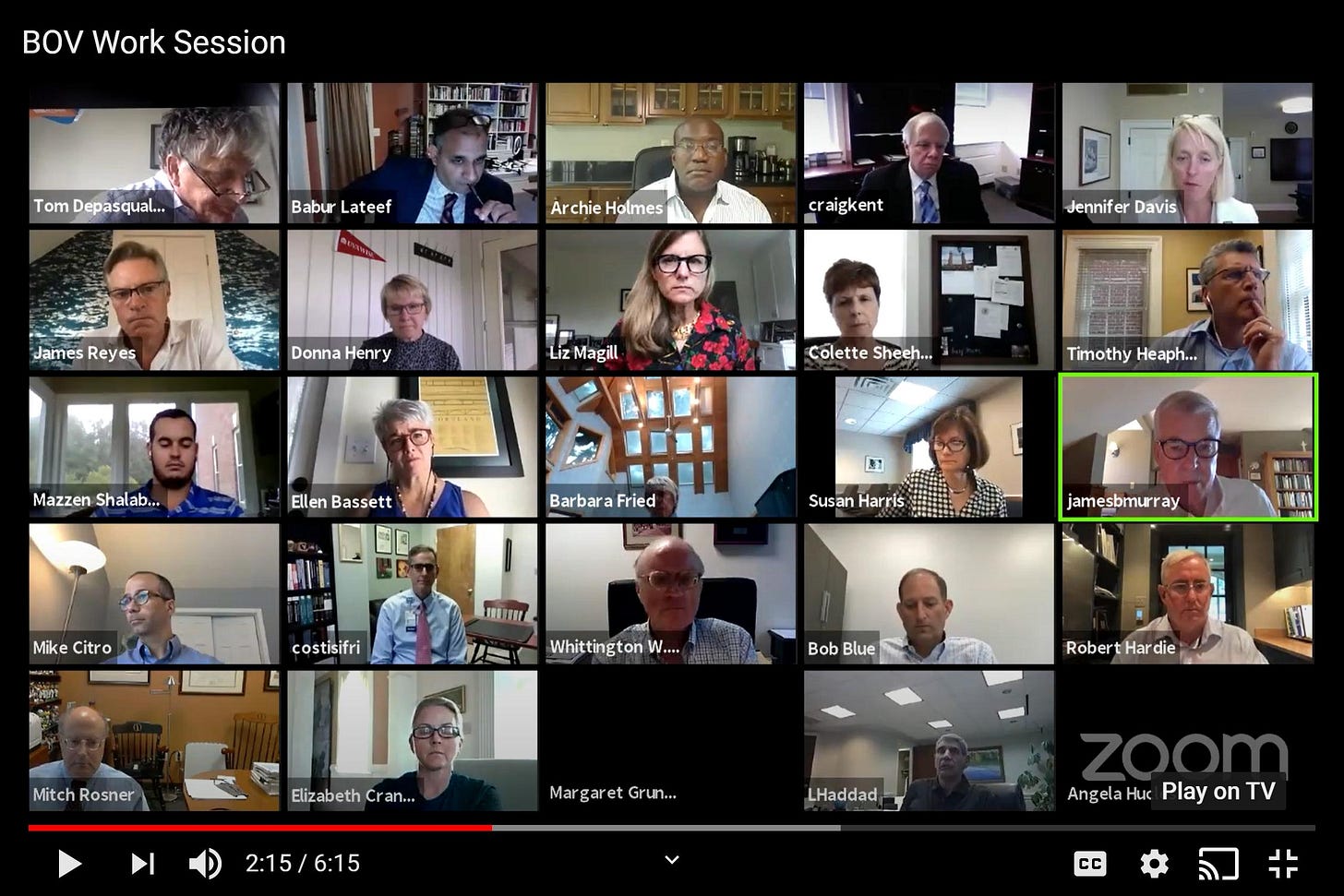 On Friday, Murray asked how many students might already be in Charlottesville. Provost Liz Magill. There is no clear answer. 
"Nearly 20,000 of our 25,000 students live in some off-campus arrangement," said Liz Magill. "Most of the leases in Charlottesville start for August 1 or August 15. We will ask students to tell us where they are as part of the on-boarding process for students which requires them to demonstrate a negative test, comply for the contract we are writing for them to comply with."
Magill said Grounds itself is slowly "repopulating" with research activities, medical education, some graduate work, as well as athletic activity.
J.J. Davis, executive vice president and chief operating officer, said plans are in place if someone contracts COVID-19. 
"Unfortunately we know how this virus works and some people may unfortunately get sick and in that result our highest duty of care is to those students living in our dormitories so we have successfully procured isolation and quarantine spaces for those individuals," Davis said. "We are continuing to work on this question of if there is an off-Grounds student who has no options to safely isolate and quarantine, we are working on that issue as we speak." 
Davis said UVA is working with the Virginia Department of Health on a protocol for contact tracing, but arrangements are a "work in progress." A contract tracing mobile app put together by Google and VDH is expected to go live on August 5. A UVA specific app is expected to be ready by August 10. 
"We are going to be using an exposure native app that will be on every student's phone," Murray said. "It is one provided by Google and Apple. It could well be the most important thing that we do technologically. There is no way we are going to catch cases quickly and more comprehensively than this software is going to enable. I would love to see it in the hands of merchants, people that work around and in close contact with UVA students and faculty. We're not there yet but it's possible. It's not that difficult to do. If we can actually get it in the hands of several thousand people that are those most in close contact like bartenders, those kinds of people, grocery store clerks, we can go a long way, not to prevent the disease but to catching it very quickly and catching everybody that is exposed." 
Davis said there are multiple contingency plans in place if there are outbreaks. The BOV next meets on August 17. (UVA Public Health Measures page)
***
The Virginia Department of Health is reporting an additional 1,324 cases of COVID-19  this morning, but reports no new fatalities. The seven day average for positive tests is at 7.1 percent, down from 7.2 percent. There are 44 news cases reported in the Thomas Jefferson Health District today for a total of 1,793 to date. Of those, 17 are from Albemarle, 16 are from Charlottesville, nine are from Greene, one is from Fluvanna County and one is from Louisa.  
***
The latest COVID-19 forecast model from the University of Virginia's Biocomplexity Institute states that the surge of cases in the Thomas Jefferson Health District has abated, but warns that the Commonwealth is on track to have 13,000 new cases a week by early September. The statewide reproduction rate for the novel coronavirus is below the figure of 1, but is above 1 in far and near southwest Virginia. The model estimates that 827,377 cases of COVID-19 have been avoided since May 15. 
"While cases are surging in Hampton Roads, the model does not project that hospital capacity will be overwhelmed during the projection window," reads the model. The update comes out every Friday. (model)
***
The Thomas Jefferson Health District is holding two COVID-19 testing events this week. One will take place on Wednesday at the Nelson Heritage Center in Arrington from 8 a.m. to 11 a.m. The other happens Saturday from 5 p.m. to 8 p.m. at the Innovage Virginia PACE at 1335 Carlton Avenue in Charlottesville.  Both events require appointments and those can be booked at 434-972-6261. 
***
The Board of Trustees of the Jefferson-Madison Regional Library has voted to keep their facilities closed to the public for now, but will consider adding more curbside pickup hours. The Board met Friday in a virtual meeting and made the move to remain within Tier 4 of the library's COVID-19 response.  
***
In government meetings today, the owners of a shopping center near Forest Lakes on U.S. 29 are seeking a rezoning to allow for an expansion onto property not currently developed. The Albemarle Community Development will hold the required information meeting for the application. The property was rezoned from residential in 1989 and the current project seeks to increase the maximum building size allowed to 110,000 square feet. Currently a maximum of 71,800 is allowed and there is only 14,778 square feet left. (rezoning narrative)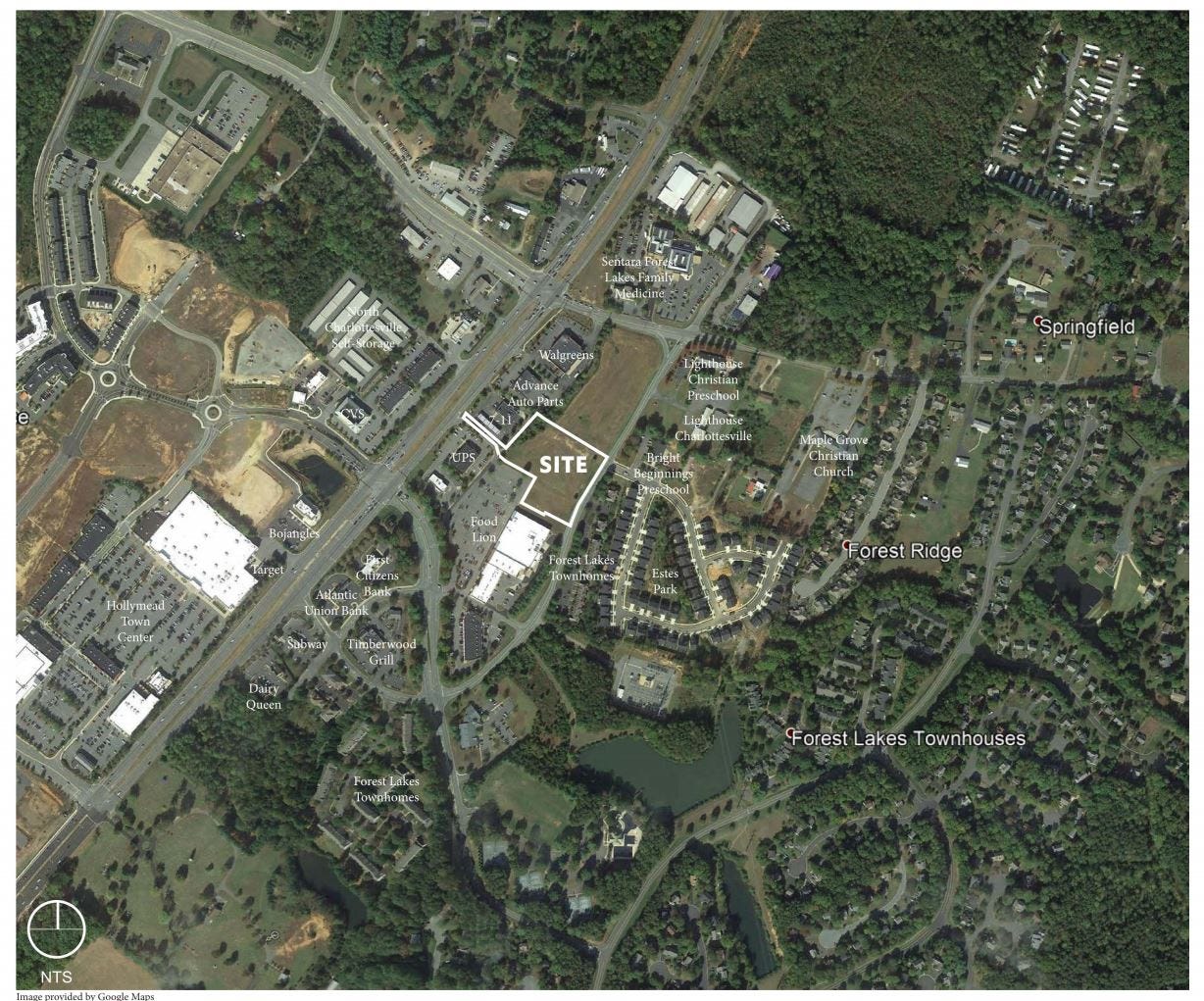 "This rezoning application seeks to increase the allowable square footage on this property and to amend the application to allow for something that is different from suburban strip mall design," reads the narrative for the proposal. The Albemarle Comprehensive Plan designated the land as "urban mixed-use community center." (meeting access information)
The virtual meeting begins at 6 p.m. The land is within the coverage area of the Places29-North Community Advisory Committee. 
Charlottesville City Council meets at 6:30 p.m. for what should be a shorter meeting than the July 20 meeting, which lasted until 2:30 in the morning. 
The main item on the agenda is an appropriation of  $15,263,257.41 for the Belmont Bridge replacement, a project that has been in the planning stages for at least ten years. The entire Belmont Bridge project now has a cost of $31.1 million, and $13 million of that is expected from the city. That includes a $5 million payment in the current year's capital improvement program (CIP), $2.5 million in next year's CIP and $4.8 million in other funds the city has saved for the project.  The city is currently negotiating right of way for the project and construction could begin next spring. (July 20 update)
Following that item, the CEO of Jaunt will present Council with an update on his agency's pilot project to deliver on-demand transit within the region. Brad Sheffield presented that information to the Board of Supervisors on July 15. 
***
Thanks for reading or listening. If you learned something from this service, please send it on to a friend. And consider supporting us through Patreon.