Aug 28, 2020 • 9M
August 28, 2020: Charlottesville takes tough tone on protests; RTP talks transit; book recycling
Regular updates of what's happening in local and regional government in and around Charlottesville, Virginia from an award-winning journalist with nearly thirty years of experience.
Today's shout-out is for the Parent-Teacher Organizations of the Charlottesville City Schools, and their request for donations to the jointly organized Reopening Fund: Ready to Teach, Ready to Learn. Visit their website for more information and to make a contribution. 
*
This is the day that the University of Virginia is expected to announce whether it will continue on with plans to open to in-person instruction on September 8 and whether residential housing will open to students. As of this morning, the University of Virginia is reporting a total of 67 positive cases on its public COVID-19 tracker, with 40 of those being students. (UVA COVID tracker)
The Virginia Department of Health reports another 1,013 cases of COVID-19 statewide today, and an additional 23 fatalities for a total of 2,550 to date. There are another 36 cases in the Thomas Jefferson Health District and another death. Albemarle added another 12 cases, Charlottesville added 19, Greene added two, and Louisa added four. There have now been 49 fatalities in the district.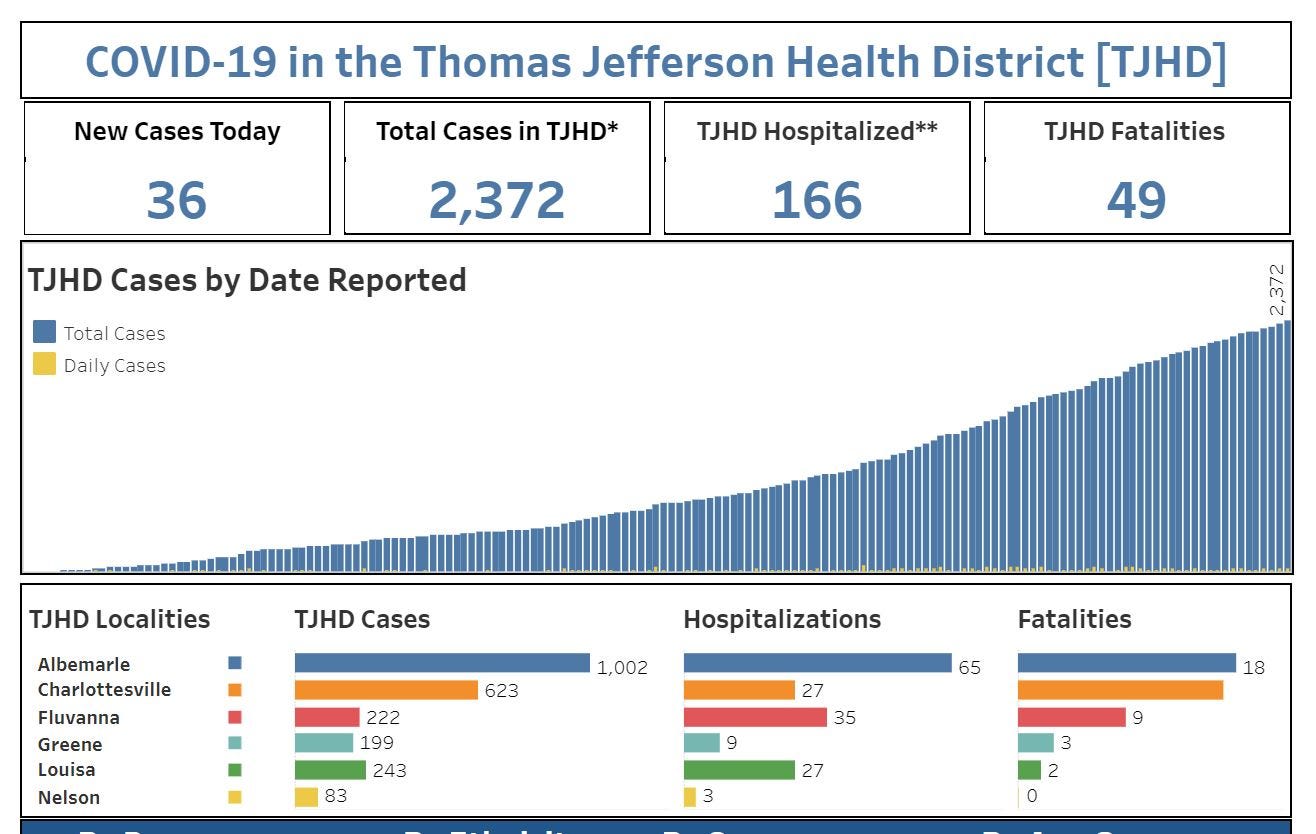 *
The city of Charlottesville has warned drivers to expect road closures and traffic delays downtown this afternoon from 4 p.m. to 6 p.m. for a "planned freedom of speech event." The event is a Black Lives Matter march intended to commemorate the 57th anniversary of Martin Luther King Jr.'s I Have a Dream speech organized by local activists that will go from Tonsler Park to the police department. The city released a statement warning that it will issue fines to  organizers for being in violation of a ban on special event permits that has been in place since the beginning of the pandemic. 
"Over the last three months, large crowds gathered in both Washington Park and Market Street Park," reads a statement from City Manager Tarron Richardson. "These gatherings have obstructed nearby public streets and intersections. While the City of Charlottesville has supported the community's right to peaceably assemble, obstructing city streets and using parks without the proper permits will no longer be allowed
The Daily Progress reports that the city will issue a $500 fine on the organizers of a Juneteenth celebration held in Washington Park. Richardson's statement suggests there will be more charges. 
"While the City of Charlottesville has supported the community's right to peaceably assemble, obstructing city streets and using parks without the proper permits will no longer be allowed," Richardson wrote.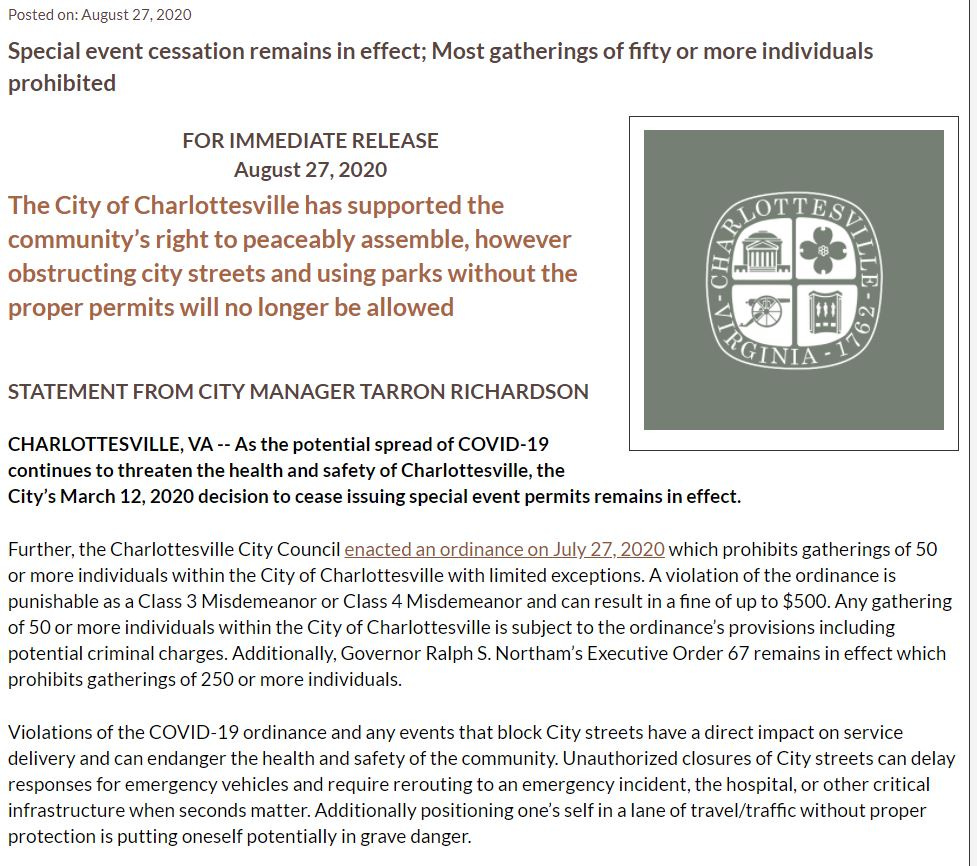 *
Even though the University of Virginia is not yet in session, activity around Grounds has increased. The University Transit Service (UTS) is running on a new set of routes in part because McCormick Road is now closed to motorized vehicles. Becca White is Parking and Transportation Director at UVA and she spoke at yesterday's meeting of the Regional Transit Partnership (RTP). 
"We're already seeing more passengers riding this week than pretty much we had all summer on any route besides our employee routes," White said. "But we are still limiting to 20 passenger boarding. We're still using all the same precautions. Rear door boarding. A barrier in the aisle so that passengers can't get six feet from the drivers." 
White said UTS will continue to run if in-person instruction does not happen, and that there would not be as many buses.  She said Jaunt, Charlottesville Area Transit (CAT) and UTS have created a makeshift transit hub on Whitehead Road. 
CAT director Garland Williams told the RTP Board that his agency continues to run on its restricted "lifeline" service. He said there is an protocol by which drivers get frequent tests. 
"CAT did have one positive case," Williams said. "That individual has gotten over it and we are really fortunate it wasn't a bad case. They have returned back to work. We have a testing program that is in place that happens every other week, every Monday, Wednesday and Friday." 
The RTP also got an update on new daily bus that travels through Charlottesville between Danville and D.C. The Piedmont Express is being funded by the Virginia Department of Rail and Public Transportation as part of its growing fleet of Virginia Breeze bus lines. Neil Sherman with the DRPT said the agency decided to proceed even with the pandemic. 
"For many reasons right now the ridership is very low but we just thought it was time to get the bus operating," Sherman said. "There is a restriction of I think it's 27 riders which is normally a 50 passenger coach and masks are required." 
The Piedmont Express also calls on Dulles Airport. The RTP also learned about another bus service that will soon be launched between Staunton and Charlottesville. The project known as the Afton Express has been shepherded by the Central Shenandoah Planning District Commission (CSPDC). Sara Pennington of the TJPDC said bus line awaits final funding approval, but is moving forward. 
"They have finalized all of their logos, branding and the color schemes," Pennington said. They have gotten the route timings and the stops have been finalized."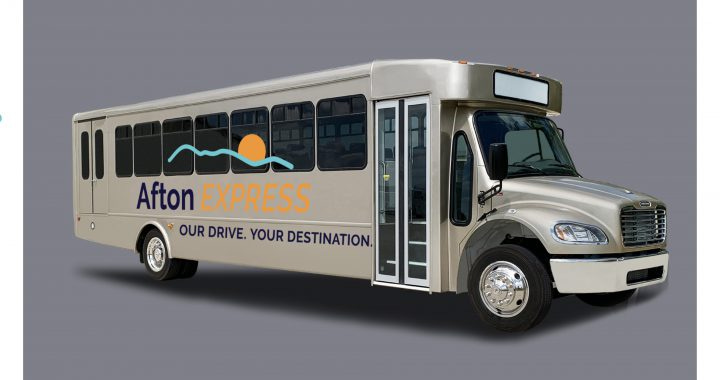 *
The COVID pandemic has meant fewer places for people to discard used books. Neither the Jefferson Madison Regional Library or Goodwill are accepting books and periodicals that people want to get rid of. Since the pandemic began, they have also not been accepted at local recycling facilities. This week the Rivanna Solid Waste Authority (RSWA) discussed the status of the book bin at the McIntire Recycling Center in Charlottesville, which has been in a shipping container that had been modified with shelves with no dedicated staffing.
"Basically it allowed people to bring in books when they did house clear-outs or whatever and the idea was that people could take books as they wished and bring books back and present a book exchange that was free to the public," said Phillip McKalips, the Director of Solid Waste. 
However, McKalips said the book bin has been closed since the pandemic began and its condition deteriorated in the months it was not used. He presented replacement alternatives to the RSWA Board on Tuesday. (staff report)
Albemarle County Supervisor Liz Palmer said the book bin helped promote the reuse of materials, but she was not interested in spending money to staff it. She saw the value in having a larger discussion.
"What is the lay of the land of used books in the area?" Palmer asked. "I do think that it is a value for a lot of folks and I think it is valuable to be looking into trying to relocate it." 
City Councilor Lloyd Snook said the RSWA should seek to work with the Jefferson-Madison Regional Library. 
"I think it might be useful for us to sit down and talk with them and figure out what we would like to see in the way of the entire ecosystem
While their annual library sale has been postponed until spring, the Jefferson-Madison Regional Library and the Friends of JMRL will hold a pop-up book sale on Sunday, Sunday August 30 from 10am to 2pm at Gordon Avenue Library, at the lower level by the parking lot. People who want to purchase books will pay $5 for a "pre-selected bag of 5 hardback and/or trade paperback books." According to their website, people will have a choice of mystery, popular fiction, or literary fiction.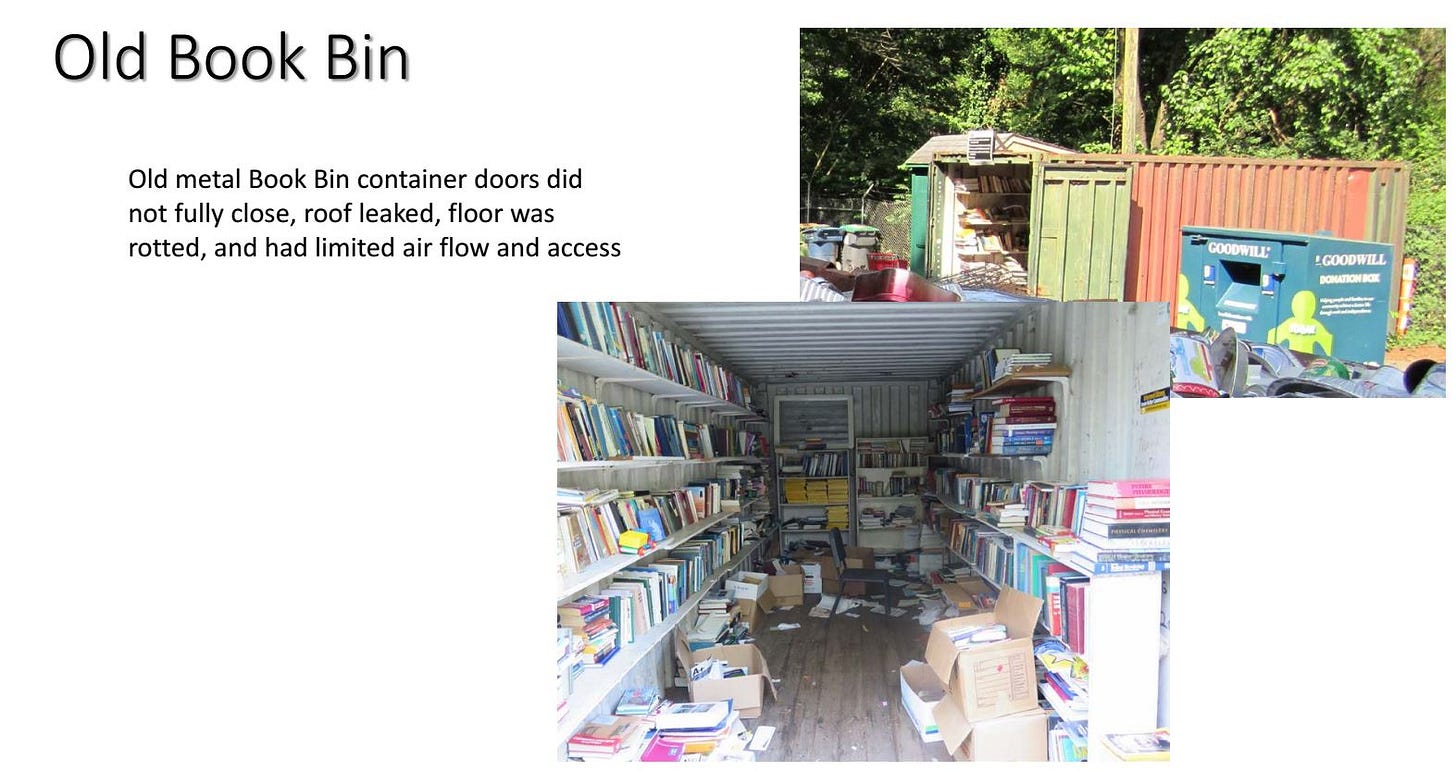 *
In business news, the owners of the Crozet Running store have announced on Facebook they will close their doors on September 30. Since September 2013, they have rented space for the business in the lower level of the Crozet Library. In May, the Board of Supervisors declined a request to provide rent relief to Crozet Running and other entities that lease space on county property. 
"This has been a difficult year for everyone and after much soul searching on the best path forward for our family, we were led to this very tough decision to close the store," wrote the owners of Crozet Running. There will be a sale while their doors remain open.